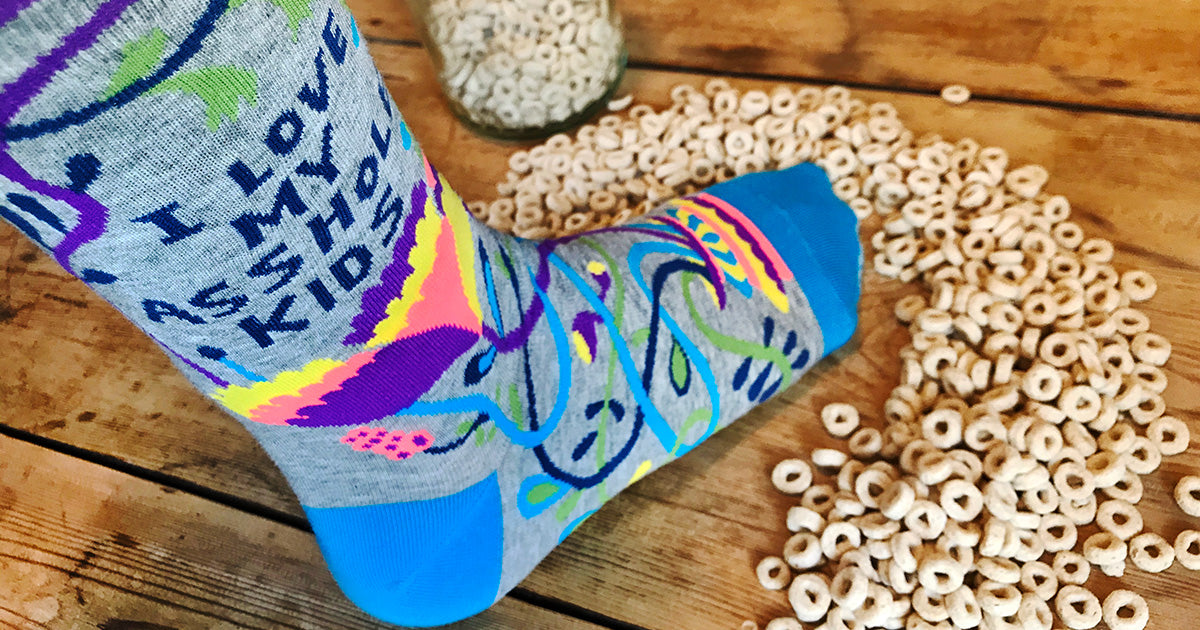 Happy MUTHA'S DAY! While some moms like their Mother's Day gifts sweet and swear-free, other moms prefer presents with a little more punch. 
We consider this a perfect day to celebrate the tough mother who's been fighting in your corner 24/7 since literally before you were born, and refusing to put up with a single ounce of you-know-what. So take time this Mother's Day to celebrate your mom and treat her like a queen — make her laugh with funny mom socks with extra spicy sayings!
Note: This is the "Not Safe For Work" version of our list of socks for Mother's Day. Check out the "clean version" here to find socks for mom that won't make your pure and innocent mother blush!
If you need some help picking out the perfect novelty socks for your badass mama this Mother's Day, any of the crazy socks in our women's collection are a great choice. But if you want to kick up the attitude to an R rating, read on for our naughty-mom-approved socks, all of them sprinkled with swear words and funny sayings that will have the whole family LMFAO'ing.
I Love My Asshole Kids Socks
Kids are great — when they're not being little shits! But even when they're awful, Mom still loves 'em! These "I Love My Asshole Kids" sarcastic socks from Blue Q (pictured above) say it all, even when sheer frustration has Mom tongue-tied.
100% That Bitch Socks
The Gumball Poodle brand has all kinds of funny socks in an athletic fit. These socks tell it like it is, so they are perfect for the moms that do the same. The truth can sometimes hurt, but it will also set you free! Wearing "100% That Bitch" Socks just means you're an expert at keeping it real.
Get the Hell Out of My Kitchen Socks
For those culinary queens who lord over their kitchen kingdom with an iron spatula, "Get the Hell Out of My Kitchen" cooking socks for mom will help her kick teenage grazers and toddling hazards out of her domain.
Mother Fucking Girl Power Socks
The Blue Q brand, ever the queen of swear-word socks, makes respectable contributions to our feminist collection for all the strong women out there. But for moms, we particularly like these "Mother Fucking Girl Power" socks with a cheeky saying and a pretty pink, yellow and cream background.
Nasty Rosie Socks
Another great choice for the strong moms of the world is our "Nasty Rosie" socks, the naughty version of ModSock's house brand Rosie the Riveter socks. This version features badass Rosies flipping the bird on knee-high socks for women.
Badass Socks
You shouldn't have to ask who is the badass around the house, but in case you need a reminder these "Bad Ass" wide-calf knee socks have arrows that will point you in the right direction.
Bitch Socks
Moms can wear the word "bitch" like a badge of honor, but that doesn't mean YOU are allowed to call her one! These Bitch athletic socks have a comfortably thick fit to help your mom stand strong through all of life's craziness.
Delicate Fucking Flower Socks
With a beautiful floral design and the saucy expression "Delicate Fucking Flower," these funky socks are for moms who are both sweet and sassy.
I Heard You and I Don't Care Socks
Sometimes Mommy doesn't care that you're bored, that you want to go buy the last thing you saw on TV, or that your little brother ate a dog treat. "I Heard You and I Don't Care" socks by Blue Q can also be wrapped around your ears, just in case they are above some of your family's reading level!