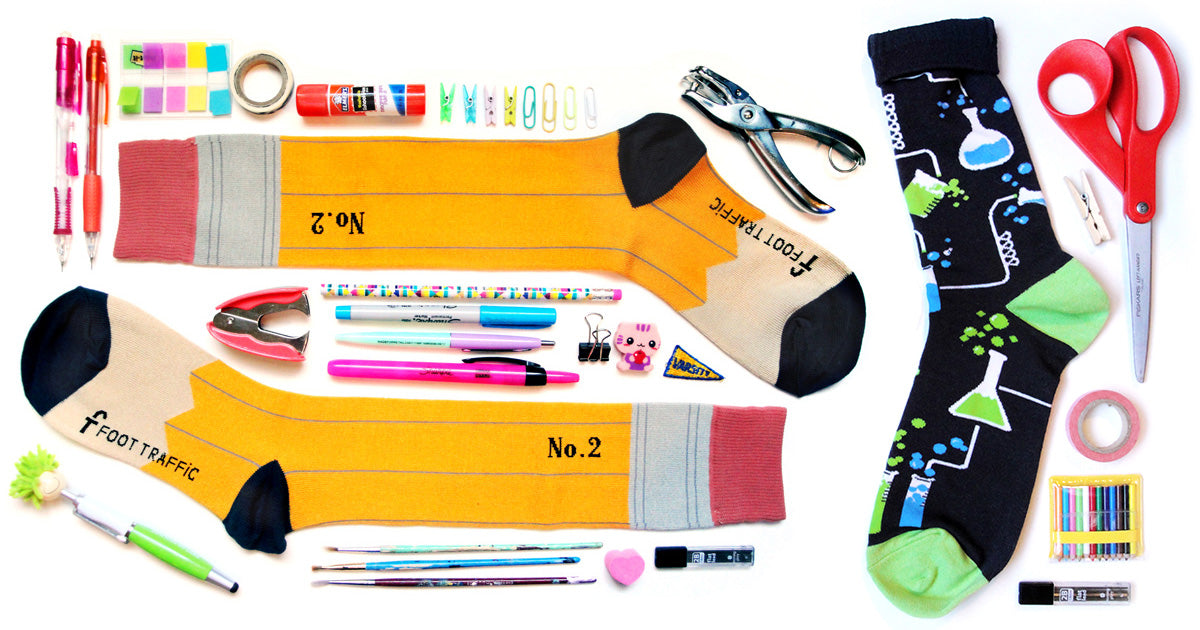 Being a teacher is difficult, thankless and so, so important. Can anyone tell us why all teachers don't get paid a million dollars a year? That seems like a real oversight. At least we can show our thanks for the instructors, professors and teachers in our lives with these fun teacher appreciation socks. If you're looking for a pair of funny socks to wear to school or need some great inexpensive teacher gift ideas, look no further than this assortment of our favorite educational socks.
Pencil Socks
These funny pencil socks turn your legs into a pair of sharp number 2 pencils. We love any socks that incorporate the shape of our legs as part of the illusion, and these knee-high teacher socks do it beautifully. Wear a pair to encourage your students on testing days, but don't be surprised if you get some requests to show and tell. It's no wonder these are some of our best-selling teacher gifts for Christmas!
Book Socks
Looking for some great teacher gift ideas? Most teachers are into reading, so it's no wonder they love to wear these cool book socks. This smart design has everything you want in a reading sock — pretty colorful tomes in big stacks, books that seem to magically take flight, and at the very bottom an open book, a pair of glasses and a nice cup of coffee. We also offer these book socks for men as well as shorter crew-length women's socks, so every teacher can get in on the fun.
Math Socks
Math is a great subject as long as you have the right teacher. If you want to say thanks to your math teacher for helping you understand the ins and outs of the quadratic formula, calculus and the order of operations (Please Excuse My Dear Aunt Sally) thank them with these fun math socks covered in chalkboard equations and available in two sizes for both men and women.
History Socks
History teachers are pretty cool people. They know so much about the past that they can see when it's doomed to repeat itself, which can give a person a pretty offbeat sense of humor! That's where these socks for history teachers come in. If you want to give your instructor a pair of funny history socks, we recommend these Alexander Hamilton socks for men and women. They are a great gift for a teacher who loves musical theater productions about the Founding Fathers! If you're looking for history teacher socks with a face straight from Mount Rushmore, check out these Theodore Roosevelt socks with Teddy's portrait in charcoal gray and black. These men's history socks would make a great new teacher gift for a recent graduate you know is going to do great things.
Music Socks
Cool music socks are a perfect gift for a music teacher, band instructor or choir director. We love these cool Piano Cat socks for men and women, and these women's socks with dancers that say "Me When My Song Comes On" make a fun treat for a dance teacher. For the classical music fans, don't miss these Rock Me Amadeus socks for men, or these playable Beethoven socks for men and women with the sheet music of "Fur Elise."
Science Socks
Science teachers are a special breed, and just about every one we have met loves a good pair of nerdy socks showcasing their specialty. In addition to these fun glow-in-the-dark test tube socks for women and men, we also offer everything from brainy marine biology socks to periodic table socks and fun physics socks. We have the perfect styles to make a science teacher smile! Even your computer class teacher can get in on the action with cool computer science socks with binary code or rainbow computer circuitry socks for men or women.
Art Socks
Whatever your teacher's taste, you can't go wrong with these fun art socks. Socks with classic works of art make lovely and uncommon gifts for teachers of art and art history. Pick a classic like Starry Night socks for men and women, or get unconventional with funny Bob Ross socks with the PBS painter and his happy little trees.
Funny Teacher Socks
Kids can be ruthless, parents can be clueless, and sometimes your school's administration just doesn't understand. Some of the best teacher gifts are things that will make them laugh when they've had a hard day. These ankle socks show a cute apple (the symbol for teachers for hundreds of years) along with the words "Bite Me" lower down on the foot, so you have the option to cover that part with your shoes. These funny teacher gifts will go over a lot better than yet another apple-shaped paperweight, trust us.
Library Socks
Some kids live for recess, while others are perfectly content to spend hours browsing the school library. If your school librarian goes above and beyond for their students, give them a pair of these old-fashioned library card socks, available for both men and women. The socks' yellow color and lined background will bring back memories of the days when the librarian would stamp your books with a due date when you checked them out.
We hope you have found some fun gifts for the amazing teachers in your life. For even more options visit our crazy socks collection, or to give a gift to a student, check out our full collection of kids' socks.