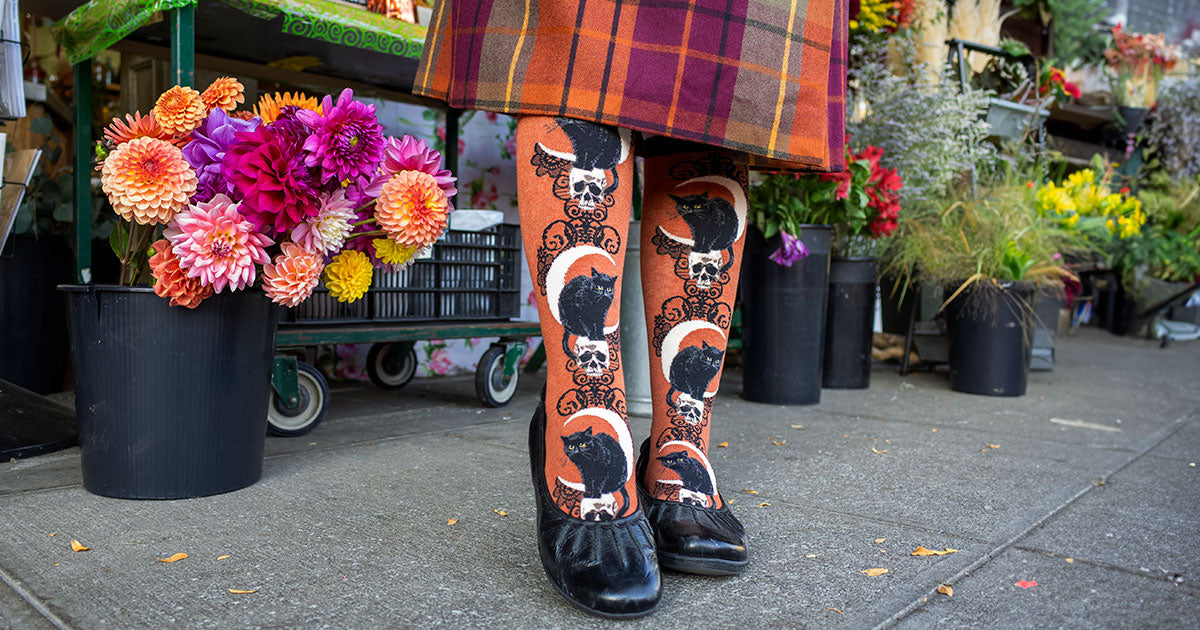 Move over, pumpkin spice. The OG harbinger of fall is the knee sock!
Knee-high socks are considered a schoolgirl staple, meaning they always make the grade during back-to-school season. But even if your student days are done, it's time to learn why knee socks are a chic and versatile fall fashion statement.
Stay tuned as we delve deeper into the world of knee-high socks, offering tips on how to style them with different pieces and providing expert advice on how to pick and wear them according to the occasion. Your guide to nailing this classic fall look is just a scroll away!
Knee Highs Are the Best Socks for Fall
As the leaves begin to change and the crisp autumn air ushers in a season of cozy sweaters, there's one fashion essential that every style maven needs in her wardrobe — the knee-high sock.
Now, you might be wondering, "Do knee socks keep you warmer?" To which I say, "They're like a cozy hug for your legs!" Not only do these elongated women's socks provide an extra layer of warmth as the temperatures begin to drop, but they also serve up a hefty dose of style and self-expression, making them the perfect blend of functionality and fashion.
With the back-to-school season in full swing, it's an excellent opportunity for all fashion enthusiasts to focus on their own fall shopping. And what better way to do so than with a pair of chic knee-high socks? They add personality to any outfit, whether you're pairing them with a pleated skirt for that quintessential schoolgirl charm or with shorts for a playful, offbeat look.
As we bid adieu to summer and welcome in the cozy vibes of fall, knee-high socks are the ultimate transition piece. They let you hold onto the fun of summer fashion while also embracing the snug appeal of autumn. With knee-high socks keeping your legs warm, you don't have to retire your summer skirts, dresses and shorts just yet.
Just imagine sipping on a warm apple cider at a quaint cafe or pumpkin field, your knee highs peeking out from your boots, perfectly complementing your oversized sweater and scarf. It's not just a look, it's an entire mood! Now that we know why knee highs are the perfect fall staple, it's important to note that their popularity isn't confined to a specific group. In fact, the versatility of knee-high socks extends to a wide range of individuals and fashionistas who have totally embraced this trend.
Who Wears Knee-High Socks?
In the fall of 2022, we saw Bella Hadid, the supermodel known for her bold fashion choices and ability to set major trends, frequently pairing long socks with schoolgirl skirts, cycling shorts and even heels!
But don't worry, longer socks aren't solely reserved for fashion show catwalks or models off-duty. Knee-high socks are incredibly versatile and are a fall style staple for all kinds of outfit aesthetics, occasions and personal styles, suitable for anyone to wear!
Knee-high socks are worn by all kinds of people, and the way we wear them is evolving with every passing season! We can't wait to see how these trendsetters — and our stylish sock shop customers — continue to embrace knee-high fashion this fall!
How to Style Knee-High Socks
When it comes to styling knee-high socks, we've got you covered from head to toe. Whether you're a total newbie to the sock styling game or a seasoned sock-wearer looking for a refresh, we're about to serve up some serious inspiration.
Dress to Impress with Knee-High Socks
Styling knee-high socks with dresses exudes a youthful charm while also providing a practical solution to the chills of autumn. It's more than keeping your legs warm; it's about making a statement, turning heads, and proving that you're not afraid to play with layers, prints, colors and textures. Dresses in fall fabrics like wool and corduroy are cold-weather classics thanks to their sturdy warmth, making them perfect for even the chilliest cool girls.
Additionally, to go along with your dress (or skirt!) an absolute favorite of mine is to layer knee-high socks over tights. Not only does this combo of tights and socks guarantee an additional layer of warmth, but it also adds a flirty and playful element to your outfit, ensuring you stand out from the crowd.
Here are a few more ways to pair knee-high socks with dresses. To achieve that classic schoolgirl vibe, combine a plaid mini dress with light knee-high socks and black Mary Janes for a fun and youthful look that will have all the Upper East Siders talking. For those who prefer a boho aesthetic, pair a flowy maxi dress with earthy knee-high socks and tan ankle boots. If you're an urban minimalist, opt for a streamlined, monochromatic 60s-inspired dress, add a pop of pattern with funky knee-high socks, and bring an edge with chunky white platform sneakers.
Wear Knee-High Socks With an Oversized Sweater
Fall fashion is all about layering, accessorizing and experimenting with different textures and styles. This means leaning towards a cozy, chic aesthetic, with knee-high socks and oversized sweaters taking center stage.
When it comes to putting together the knee-high socks and oversized sweater combo, there are a few factors to consider. Firstly, the material: for sweaters, chunky knits are a fall outfit staple ideal for their coziness and visual appeal, and will create a nice contrast with the thinner material of your knee-highs.
Next, consider the color. Fall is synonymous with earthy tones — think burnt orange, deep burgundy, forest green, mustard yellow and rich browns. However, don't shy away from brighter hues or pastels if they suit your personal style.
Now, for some outfit ideas. Styling knee-high socks and sweaters can be achieved in various ways depending on your aesthetic. For a casual chic look, consider a cream-colored oversized sweater with dark knee-high socks, a mini-skirt and ankle boots. If sophistication is your style, a charcoal gray oversized sweater paired with autumnal knee socks, a pencil skirt, and heeled boots works perfectly. Meanwhile, a preppy vibe can be achieved with a striped sweater, light-colored knee-high socks, denim shorts and loafers.
Autumn Chic with Knee-High Socks and a Mini Skirt
Let's dive into another classic style combo: knee socks with skirts. This pairing can be a playful mix of sassy and sweet, chic yet comfortable. Here's how to get it just right.
First, when it comes to your skirt choice, you can never go wrong with a tartan mini skirt to help nail down that fall aesthetic. Aim for a length that's comfortably above the knee to help show off your knee-high socks. If you're not sure where to start, A-line skirts flatter all body types and offer a comfortable, easy-to-wear option.
Now onto the outfits! Experimenting with knee-high socks and mini-skirts can yield a variety of stylish results. For an edgy look, pair a black leather mini skirt with bold striped knee socks, a band T-shirt, and combat boots. A bright or pastel-colored skirt, light knee high socks and a cute crop top are perfect for Cher-Horowitz-wannabes and '90s fashion fanatics. For a distinct retro style, combine a tartan mini skirt with funky patterned socks, a white blouse and brogues.
Rock the Casual Look with Knee-High Socks with Jeans
For days when you want to effortlessly strut your style and keep those legs toasty warm with an extra bit of layering, the denim and knee high outfit pairing is a perfect choice.
Remember, the beauty of knee-high socks is in their versatility. When paired with jeans, they add an extra layer of warmth and subtly enhance your outfit, whether it's a simple errand run or a cozy coffee date.
Firstly, the type of jeans you choose is crucial. Knee-high socks work best with skinny jeans or straight-leg jeans that allow your socks to peek-a-boo from your cuffs, creating a subtle yet chic pop of color. If you prefer a more laid-back style, boyfriend jeans rolled up at the ankles can also do the trick.
Here are a few stylish ways to pair knee-high socks with jeans. For a casual and comfy outfit, light wash jeans coupled with earth-tone knee highs, a baggy sweater and ankle boots work well together. If you're looking for a sophisticated and classy vibe, dark jeans paired with dark-colored knee-high socks such as a deep burgundy or forest green, a fitted blazer, and a pair of loafers can create a polished ensemble. For those who like to push boundaries, go for distressed jeans with bold, patterned knee-high socks that will playfully peek out through the holes in your jeans. Pair them with a classic band tee and a pair of chunky combat boots.
Keep Summer Alive with Knee-High Socks and Shorts
Just because the height of the summer is over doesn't mean you have to say goodbye to your favorite pair of shorts. Keep wearing shorts while adding a little extra warmth in autumn by pairing them with knee-high socks — a combo that style icons and celebrities like Taylor Swift have been rocking for years.
Styling knee-high socks with shorts can create a variety of interesting outfits. For a preppy and professional look, pair tailored shorts with a cozy autumn sweater, earth-toned knee-high socks, and oxford shoes. If you're after a more casual look, denim shorts paired with fun, patterned knee-high socks and comfy sneakers work great. Top it off with a graphic tee and an oversized cardigan.
And finally, if you don't think that shorts can be dressy, guess again! Knee-high socks can easily take your shorts ensembles from day to night with a a pair of stylish black shorts, dark knee-highs, and some classy black heels.
So as the temperatures drop and the height of our socks rise this fall, make sure you're ready for the season in fun socks from Cute But Crazy Socks. Read our blog for the latest sock trends to learn why knee socks are more fun, or to see what happened when we wore knee socks for a week. Knee highs are a fall style staple that aren't going anywhere!