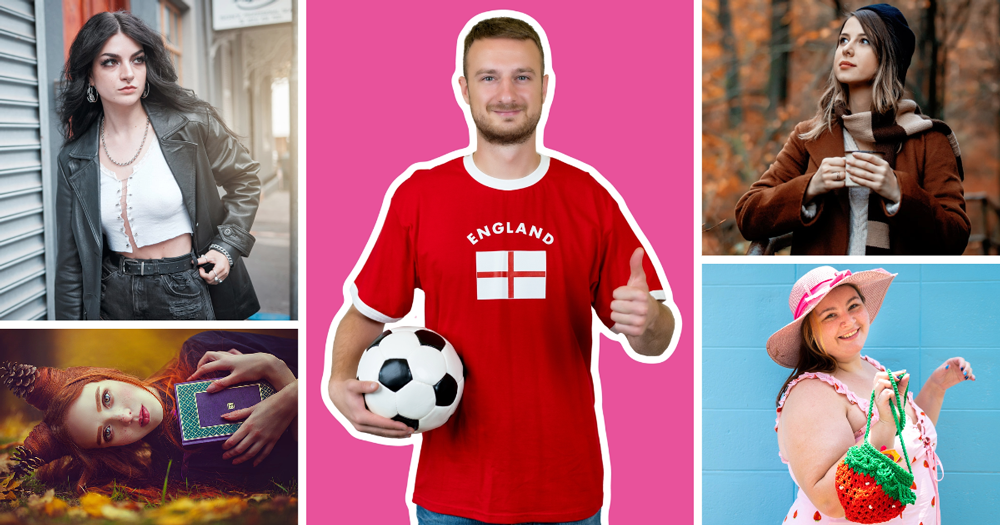 From the enchanting allure of dark cottagecore to the fresh exuberance of the grocery girl aesthetic, TikTok style trends are taking over our feeds and influencing our fashion choices this fall. But, did you know that upping your sock game can be a total game changer when it comes to nailing these aesthetics? Stay tuned as we unravel five of the hottest 2023 fashion trends and show you how to rock them with the right pair of socks!
Score the Blokecore Aesthetic With Funny Gym Socks
With a whopping 346 million TikTok views and counting, this trendy aesthetic is a playful twist on sporty style, taking inspiration from British football (aka soccer) culture. The term "bloke" is a commonly used slang in British English, equivalent to "guy" or "dude" in American English.
In essence, blokecore is a style that embodies the sporty, casual, and somewhat rugged aesthetic of the "average bloke" in the UK, particularly from the '80s and '90s football scene. Think retro football jerseys, low-rise cargo pants, and Adidas Sambas in order to achieve this unique blend of sportswear and street style.
If you're looking for an exceptional pair of socks to go along with your blokecore ensembles, look no further than our collection of gym socks from Gumball Poodle! Their classic gym sock style aligns seamlessly with this trend. Not only do these unisex socks enhance the classic sports vibe of your outfit, but with their funny sayings, like these Sounds Like Bullshit to Me Socks, they are perfect for this tongue-in-cheek style that doesn't take itself too seriously!
Invoke the Dark Cottagecore Trend With Witchy Socks
Step into the enchanting realm of this next trend that's sweeping across TikTok just in time for spooky season, casting a bewitching spell on all who encounter it. This witchy twist on the ever-popular cottagecore aesthetic is a tantalizing blend of nature themes, gothic undertones, and dark fairytale influences—all steeped in a rich palette of black and brown.
Similar to the romantic goth trend making waves this fall, dark cottagecore fashion favors vintage silhouettes, intricate lace, and ruffles. However, this aesthetic is much more rural and earthy compared to the elegance of the romantic goth, with natural fabrics such as linen and cotton and delicate, hand-stitched embroidery being common themes.
Our sock store offers all kinds of spooky women's socks to help you achieve the dark cottagecore aesthetic. Wear these Nevermore Knee Socks as a tribute to the eerie allure of this trend, adorned with ravens, skulls, dusty books, and cursed inkwells—elements that pay homage to the gothic nature and fairytale motifs integral to dark cottagecore.
Black Cat Moon socks in knee high or crew length feature lacy details, skulls and moons along with cute kitty familiars for all the creatures of the night out there.
Additionally, the dark cottagecore aesthetic is all about embracing a rustic, forest-inspired style, and these Mushroom Knee Socks do just that! The earthy tones of these women's socks are a great match for this dark nature aesthetic, which often features rich, warm colors reminiscent of a secluded woodland cabin. Just imagine pairing these knee socks with a flowing, forest-green dress or a cozy, oversized sweater.
Dress Like Rory Gilmore This Fall—With Cozy Socks!
Inspired by the beloved character from the hit series "Gilmore Girls" and the queen of fall fashion herself this aesthetic is a captivating blend of Y2K fashion and classic, preppy style with a contemporary twist. The Rory Gilmore style is all about timeless elegance and understated sophistication, with a nod to Rory's love for literature and coffee, her intellectual pursuits and her charming New England town.
Rory's style is characterized by cozy, comfortable pieces that are fall classics, like plaid skirts and oversized fisherman sweaters. The key to nailing this aesthetic lies in its simplicity and versatility. Start with a pair of classic jeans and cozy cardigan—a quintessential Rory Gilmore outfit that's perfect for casual hangouts, study sessions or coffee dates at Luke's Diner.
If you're looking to master the Rory Gilmore aesthetic, these Bibliophile Knee Socks are a must-have. With their knee-high style and book motif, they perfectly encapsulate Rory's love for literature and her preppy, collegiate look. Pair them with a plaid skirt and a cozy sweater for a quintessential Rory Gilmore look.
Rory is especially known for her fall sweater style, and as we like to say, Solmate Socks are like sweaters for your feet! Made in the USA from recycled cotton yarn, these cozy, mismatched socks embody the comfort and charm of this aesthetic.
Seize the Indie Sleaze Trend with Fun Socks
The latest trend capturing the attention of Gen Z on TikTok is an edgy nod to the "indie" subculture that originated in the late '80s and early '90s, reinterpreted with a contemporary twist. With its shared love of vintage and thrifted style, indie sleaze is widely considered to be the new "hipster," but this time with an overtly grubby, maximalist and slightly chaotic vibe. Think cropped rocker tees paired with low-waisted maxi skirts, dainty ballet flats combined with chunky leg warmers, and oversized men's button-up shirts being worn as jackets. Essentially, the indie sleaze aesthetic is all about appearing effortlessly cool, taking unexpected fashion risks and standing out from the crowd in a big way.
For an aesthetic whose primary goal is to embrace nonchalance and your own natural sense of individuality, edgy novelty socks, whether they feature bold patterns, vibrant colors, or unconventional designs can play a key role in adding that touch of unexpected personal flair to your outfits. After all, fun socks are the ultimate counterpart to minimalist mainstream fashion trends. These Oliver Hibert Skull Socks by the famed artist embody the boldness and individuality inherent in this trend, and could easily edge up any ensemble.
The quirky phrase on the Horny for Thrift Stores socks embodies the bold and unapologetic spirit of this trend, which also often involves incorporating thrifted items into one's wardrobe. Similarly, the Cherries & Lace Knee Socks perfectly encapsulate the eclectic and unconventional vibe of the indie scene, with the delicate bow design contrasted against an edgy and dark color palette.
Check Out the Grocery Girl Trend with Food Socks
A sizzling new trend has emerged in the vibrant world of TikTok aesthetics! Inspired by leisurely trips to farmers markets, pumpkin patches and picturesque picnics, the grocery girl trend is a playful style that features clothing and accessories adorned with food-inspired prints.
The tomato girl summer aesthetic, known for its fresh and playful summertime style, was an influential precursor to this trend. But the grocery girl doesn't have to stick to a certain food or season for her style inspo — she has an entire cornucopia to choose from!
The pandemic has undoubtedly played a significant role in popularizing this aesthetic. As people cultivated food-related hobbies and embraced at-home cooking, their passion for food spilled over into their fashion choices. In essence, the grocery girl aesthetic is a charming fusion of culinary delight and style, reflecting a shift towards lighter, more fun and whimsical fashion choices.
Explore our vast collections of food socks and drinking socks that include fun socks from every aisle of the grocery store. For coffee lovers, our coffee socks offer a range of unique styles that celebrate the joy of a warm cup of joe. Whether you're a fan of espresso or lattes, these socks are sure to add a kick of caffeine to your grocery girl style! For those who prefer a glass of vino, check out our wine socks for a pair that captures the spirit of wine culture in a fun and fashionable way.
And finally, if you're looking to add a vibrant touch to your look, explore our selection of fruit socks. Featuring everything from playful pineapples to sweet strawberries, these socks will add a burst of color to every outfit.
Remember, these five popular aesthetics are just the tip of the iceberg. TikTok is always churning out fresh viral style trends, and we're eagerly anticipating what will grace our feeds next. One thing's certain: there's a sock style to complement every aesthetic, and we're here to assist you in finding the socks that put an exclamation point on your fashion statement!