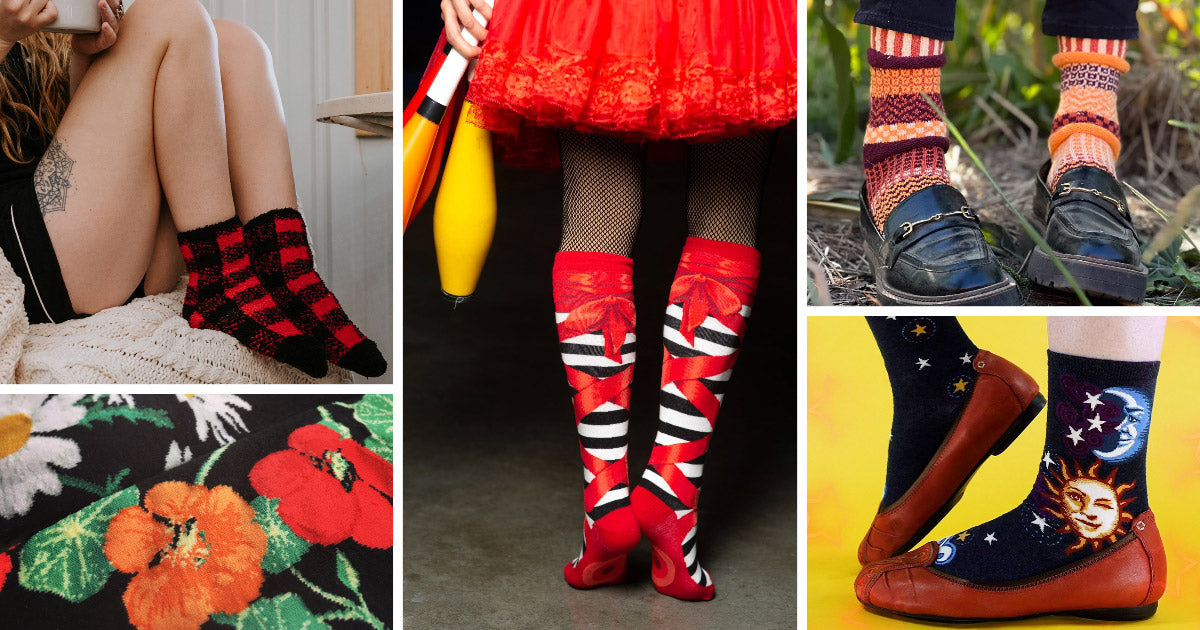 The cozy season ahead is brimming with exciting new styles, from bright splashes of red to cozy faux fur accents.
What if we told you that you could tap into these fall and winter runway trends without overhauling your entire wardrobe? That's right — the humble sock is about to become your secret weapon to nailing this season's hottest fashion styles! Best of all, socks are a budget-friendly way to try on these trending looks, all while keeping you stylishly snug as the colder months roll in.
Let's explore how socks can elevate your style game and keep you on-trend for the upcoming fall and winter seasons!
Star-Struck Style: Unleashing the Celestial Trend
As we approach fall and winter, celestial motifs such as the sun and moon are making a stellar impact in the fashion universe. Heavenly bodies are now not just ruling the night sky, but also the runway!
From the celestial-core beauty trend at New York Fashion Week to celestial attire being highlighted as one of the top upcoming trends, the cosmic influence is undeniable.
Explore our cosmic collection of socks perfect for those who want to embrace this otherworldly trend. Our space-themed socks are a fun and accessible way to incorporate designs like constellations and planets into your daily looks. Let your style reach for the stars this season!
Gothcore Glamour: Embrace the Romantic Goth Trend
A celebration of the dark and the macabre, goth fashion is rooted in a subculture that originated in the late 1970s and early 1980s. While most of us are familiar with traditional goth fashion elements like all black, lace, leather, and studs, the look is evolving in 2023 to include an element of romanticism.
Also known as gothcore, the romantic goth style is replete with bold colors, ruffles, bows and lace trims along with dark florals that seamlessly blend the allure of gothic aesthetics with more romantic and delicate motifs. This killer combination creates a Wednesday-Addams inspired look best described as "dark romance."
Floral goth aesthetic is also on the rise, so watch for flower prints with black and other dark colors for a very Victorian vibe — after all, Queen Vicky herself wore black almost exclusively for over 40 years. Her era also ushered in a floral craze in fashion, decorating and gardening that never really left.
Interestingly, the current shift towards darker aesthetics could be seen as a reaction to the bright colors and eye-catching maximalism that exploded during the uncertain times of the pandemic. After all, fashion trends are often cyclical, with new aesthetics popping up to contrast with trends that have become over-saturated or played out.
This season, we're excited to help you express your sweeter goth side with our collection of goth socks. The Goth Witch Ballet Slipper knee highs with their witchy color palette and elegant bow motif are perfect for those wanting to channel a darkly whimsical look this season.
Another fantastical sock to help nail this aesthetic are the Death's Head Moth Crew Socks. The moth, often associated with darkness and mystery because of its skull-like markings, ties perfectly into the gothic theme. Meanwhile, the intricacy of the design adds a level of sophistication and beauty, tying into the romantic aspect of the trend. Let your style echo the dark fairytales and fashions of yesteryear with the perfect pair of socks. 
Red Alert: This Season's Hottest Color Trend
A color that exudes confidence and spontaneity, red is taking center stage in the fall/winter season, with variations from fiery red to deep cherry shades stealing the style spotlight. The Pantone Color of the Year, Viva Magenta, also plays into this trend, offering a shade of red as deep and classic as a bright red lip.
This shift towards deeper, richer tones signifies a transition from the light-hearted summer trends of Barbie Pink and the bright tomato-red that inspired the tomato girl summer trend, to a more mature, passionate aesthetic for the colder months.
Our selection of women's socks offers an easy and stylish way to incorporate this season's hottest color into your wardrobe. Shop our red socks collection and embrace this colorful trend.
Get Cozy Chic with Faux Fur & Fuzzy Shearling
During the colder time of year, texture becomes a key player in our fall and winter wardrobes. And this season, we're seeing a trend that's all about tactile appeal—think plush shearling, fluffy faux fur, and cozy knits. From oversized shackets to fuzzy shearling collars, this texture trend is not only stylish, but also a welcome companion for the colder months. And it's not just about outerwear—this trend extends to your feet too!
We've got you covered with our collection of fuzzy socks that are perfect for the colder season. These fun socks aren't just warm and comfortable, they are also a unique twist on the faux fur trend and an easy way to incorporate it into your everyday style. With classic prints such as sophisticated animal print and adorable strawberries, these cozy socks are no longer just for lounging around in, transforming into the perfect addition to your winter street style.
Sweater Weather? How About Sock Weather!
As the leaves start to fall and the air turns crisp, it's clear that sweater weather is upon us once again. Cozy knit sweaters have always been a staple in cold weather wardrobes. From classic autumn chunky knits to fluffy oversized options previously discussed, there's no denying that sweaters are a fall and winter must-have for adding texture and warmth to your attire.
However, it's time to extend this cozy trend down to your toes and embrace the "sock weather" season! Just like sweaters, socks are an essential part of your fall and winter wardrobe and offer an opportunity to add a fun and cozy twist to your outfits.
Our collection of knit, eco-friendly Solmate Socks are the perfect "sweaters" for your feet! Crafted from recycled yarns, these mismatched socks will keep your feet both warm and trendy. Merino wool socks are another option for those days when you need a little extra protection, and are as soft and durable as your favorite wool sweater!
As we welcome fall and winter with open arms, there's no better time to update your sock drawer and embrace the latest trends. Check out our new socks collection to make sure you never fall behind on the latest sock styles. And remember: staying trendy is all about embracing change, taking risks — and most importantly, having fun with your sock choices!