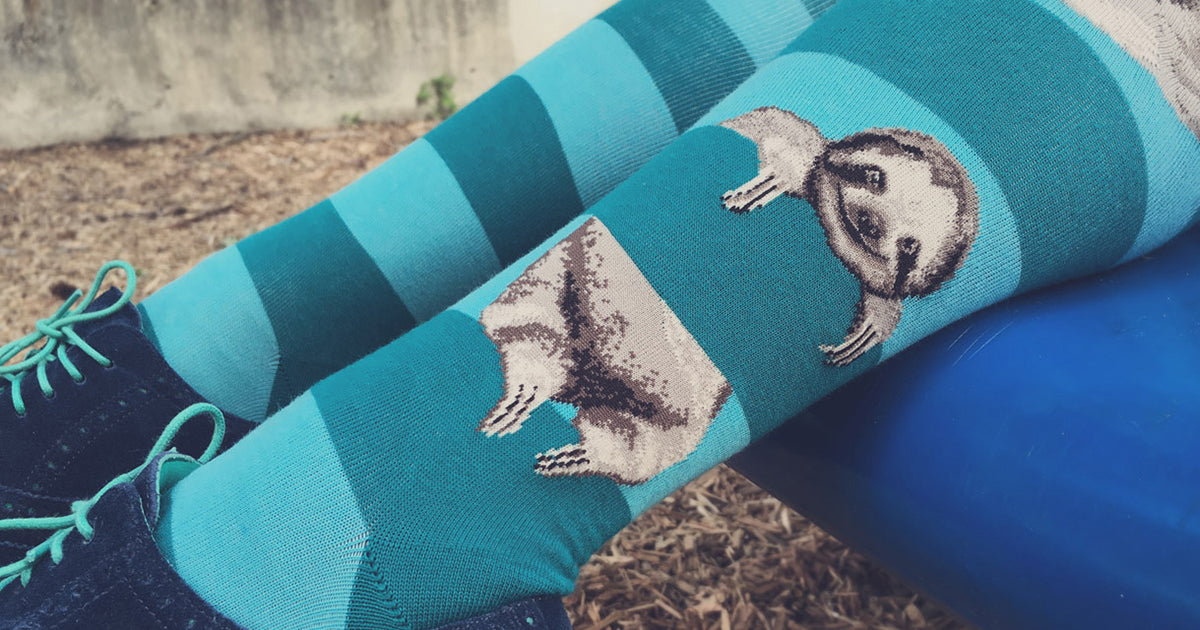 It's time to elevate your sock game and embrace the joy of knee socks! You might be wondering why people even wear knee socks. Well, we're here to tell you that not only are knee socks incredibly versatile and practical, but they are just a whole lot more fun than their shorter counterparts! So, if you're ready to step out of your comfort zone and add a fun twist to your wardrobe, keep reading as we share 10 reasons why women's knee-high socks are more enjoyable, and why you should give them a try!
More is More
Just think about it — if you can have fun with shorter crew or ankle socks, imagine the possibilities with funky knee highs! Why confine your personality to a small area when you can broadcast it from knee to toe? There's just so much more real estate to work with on tall socks, opening up an entire new world of fun sock opportunities. Because novelty knee socks aren't just socks — they're wearable art! Why limit your canvas to ankle height when you can take it all the way to the knee?
They Really Show Off Your Personality
Fun knee-high socks are the ultimate personality billboard. They give you the freedom to strut your stuff while letting your individuality shine. They're not just a part of your outfit — with so many different styles to choose from, fun knee socks offer up a snapshot of your interests, show off your unique personal style and are a reflection of your spirit! With a pair of funny knee socks, you're not just wearing your heart on your sleeve, but your personality on your legs!
They Get Noticed
Crazy knee socks are more than just a fashion statement—they're a conversation starter! Their eye-catching designs and towering presence can't help but draw attention. They're the perfect icebreaker, sparking conversations with total strangers who can't resist commenting on your funky footwear. Imagine rocking your fruit-themed knee-highs to the farmer's market, instantly catching the eye of fellow fresh foodies. Or how about sporting book-patterned socks to your local library, triggering a chat with a fellow bookworm? Because let's be honest, who doesn't love making new friends?
They Look Great
Knee highs add that extra "oomph" to your outfit. The length of these tall socks accentuates the shape of your legs in a flattering way, making them a total confidence booster! The magic of knee highs lies in their ability to create an uninterrupted visual line from the foot right up to the knee. This sleek line subtly plays with perception, making your legs appear longer and leaner, almost as if you're wearing invisible high heels!
Whether you're pairing them with a cute dress or your favorite pair of shorts, knee-high socks can pull together any outfit and emphasize the natural beauty of your legs at the same time. And as we all know, when you look good, you feel good — which brings us to our next point (insert drum roll here). . .
They Feel Great
Knee-high socks just feel good to wear! With their snug fit and soft fabric, knee highs are designed to provide optimal comfort. For many people, tall socks stay up better than shorter socks, thanks to the natural support from your calf muscles.
In our sock store, you can shop several brands and fit options out there to suit your specific comfort needs. ModSocks knee highs are made from cozy cotton with great stretchability, fitting up to a 16-inch circumference around the calf. Some styles even feature a roll-top design, ensuring your socks won't feel too tight at the top. If you have wider calves, Sock it To Me's wide-calf knee highs offer the perfect solution with their stretchy and comfortable design that doesn't dig into your leg, and fits up to a 21-inch calf! And finally, for those on their feet all day or sitting for long periods, compression knee-high socks can be a game-changer, providing added comfort and support.
Along with making you feel good physically, knee socks can also support good feelings mentally! With the power of "dopamine dressing," which means intentionally wearing clothes you love to boost your mood, wearing a fun pair of knee highs that make you feel confident and comfortable can directly impact your mood and self-esteem. So slip on those knee-high socks and let the dopamine flow!
They Can Provide Added Warmth…
Knee-high socks are a warm hug for your legs! In the colder months, they provide a much-needed extra layer of chic coziness. They cover more skin than shorter socks, and are perfect for those frosty mornings, chilly nights or even when you just want to curl up with a good book and a cup of hot cocoa.
Knee socks can also help extend the wear of your favorite summer clothes. In the same way you can add warmth and fall style to your sundresses by layering them with cardigans, you can extend your summer wardrobe into the cooler season with knee socks. Just the same, knee socks can keep you warm in the springtime when it might otherwise be too cold to wear sundresses or shorts. So say goodbye to cold feet and say hello to toasty toes with knee-high socks! Because being cold is never fun.
…And An Extra Layer of Protection
Knee-high socks offer both style and safety. They are perfect for sports and other athletic activities, providing an extra layer of cushioning and reducing the risk of scrapes and bruises.
Planning an outdoor adventure? Don your knee highs to guard against sunburn and pesky bug bites. And let's not forget their role as a protective barrier between your legs and tall boots that might rub uncomfortably. So whether you're kicking around a soccer ball, exploring nature or just rocking your favorite pair of boots, knee-high socks will ensure that your experience is fun and worry-free!
They're Versatile
Effortlessly transitioning from sporty to feminine and anything in between, knee-high socks are the epitome of versatility. Heading for a run? Pull on some knee highs for extra comfort and to pull off a classic sporty look. Dressing up for a fun outing? Knee-high socks paired with a skirt or dress can add a timeless, feminine touch. The wide variety of colors, patterns and styles available enhances their adaptability, making them a fun addition to any outfit.
They're Unexpected
In a world where crew socks rule the roost, knee-high socks offer an unexpected and exciting twist. These fun socks are all about breaking the monotony and adding a unique touch to your style. When everyone else is playing it safe with their sock choices, knee-high socks allow you to stand out from the crowd. And standing out is way more fun than blending in!
They're Nostalgic
Knee-high socks are a nostalgic nod to simpler times. The throwback energy of these women's socks resonates with those seeking a vintage or retro vibe, allowing them to channel a different era, whether it be the groovy '70s or the hella fly '90s into your everyday style. Knee highs can help us remember the past while bringing a piece of it into the present. And due to their timeless charm, knee highs aren't going out of style anytime soon!
Knee socks are all about fun, style and self-expression. So why not break the mold, channel your inner trendsetter and embrace the joy of knee-high socks? Shop our vast collection of knee socks and take your style, comfort and enjoyment to new heights.