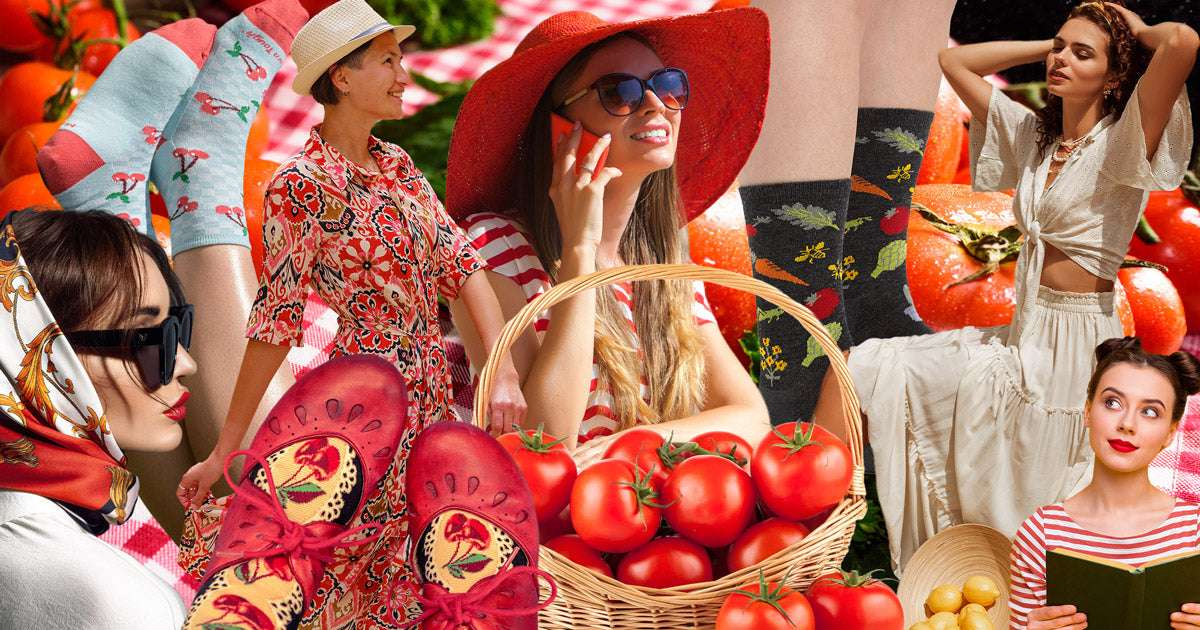 This summer, we're turning up the heat and painting the town red with the latest fruit-inspired craze made popular by social media — the tomato girl summer aesthetic!
Let's delve into the world of tomato girls on TikTok and beyond, exploring what it means to embody this aesthetic, and learn how you can effortlessly achieve this look. The secret? Socks! Often overlooked, socks are incredibly versatile and can easily make or break any aesthetic you're trying to achieve. From cherry reds to deep maroons, to socks with literal tomatoes on them, our women's crew sock collection will help you nail the tomato girl aesthetic and keep you ahead of the trend curve.
What is a Tomato Girl and How Do You Dress Like Her?
Say hello to the tomato girl — a trendsetter who brings the charm of the Mediterranean coast right to her wardrobe! This aesthetic, inspired by regions where tomato-based dishes reign supreme, is all about capturing the essence of European glamor and making it accessible to everyone, everywhere!
At its core, the tomato girl aesthetic is a Gen Z love letter to summer. In 2019, Megan Thee Stallion's hit "Hot Girl Summer" set the tone for sizzlingly hot summer trends. Having a "hot girl summer" is all about a summer spent confident, empowered and rocking what you got. Fast forward to 2023, and the concept of having a hot girl summer has transformed into a complete way of life, making way for other summer vibes and styles that are all about helping you experience summer at its fullest.
The most notable to emerge is the "tomato girl summer" trend. Influenced by the popularity of "White Lotus" Season Two and the rise of the quiet luxury trend, tomato girl summer still carries the ethos of self-love and confidence, but with a European twist. This aesthetic takes inspiration from fresh produce markets, blooming flowers and the radiant sunshine that defines the season. The color palette is a vibrant mix of primarily red (duh), complemented by neutral shades like white, tan and black. Accents of green and blue are sprinkled throughout, adding a refreshing twist to this sun-soaked style.
The fabric choices for the tomato girl aesthetic are as breezy as a summer afternoon. Think lightweight cottons, breathable linens, delicate lace and intricate crochet. Silhouettes inspired by the heroines of our favorite romance novels such as puff sleeves, midi skirts, and maxi dresses are staples in a tomato girl's wardrobe. Patterns also play a huge role in this summer aesthetic, with gingham and florals being fan favorites. Fruit and vegetable patterns also make frequent appearances, keeping the look playful and fresh.
But remember, being a tomato girl is not just about the clothes you wear. It's about embodying an easy-going spirit, radiating confidence and always being ready for a summer adventure. So let's be sure to make this summer one to remember with some tomato girl-inspired socks!
The Perfect Women's Socks for the Tomato Girl Trend
Let's Get Literal with Cute Socks in a Tomato Motif
Get ready to step into the tomato girl summer aesthetic with these vibrant tomato socks. These socks are perfect for adding a playful touch to your summer ensembles. The ripe tomato pattern exudes a charm that captures the spirit of summer, while the soft cream backdrop adds a chic, neutral balance. Pair these food socks with a breezy white midi dress, a straw hat, and some gold jewelry to channel that textbook tomato girl style. Don't forget that sometimes the easiest way to nail an aesthetic is to take it literally!
Sweeten Up Your Look with Fun Socks in a Cherry Pattern
Step into the sweeter side of tomato girl summer with these adorable cherry socks! Splashed with a print of juicy, red cherries against a black base, these socks are a delightful twist on this food fashion trend. Pair them with a flirty sundress in a matching cherry red, or let them add a pop of color to a neutral linen ensemble. Don't be afraid to stray from tomatoes when it comes to picking out socks for this aesthetic — after all, food motifs and bold reds are all part of this trend, and cherries fit that bill perfectly!
Wick Away Summer Sweat with Wool Socks Featuring a Veggie Design
The tomato girl aesthetic is all about embracing the charm of countryside life with a modern twist, and what better way to achieve that than with these cozy, breathable wool veggie socks from Darn Tough? The charcoal gray base color is jazzed up with a vibrant veggie print (tomatoes included), making them perfect for all summer trend enthusiasts. Just picture yourself in a breezy, floral dress with these quirky socks peeking out from your favorite pair of boots. But style isn't the only thing these socks have to offer! They're also made from merino wool, known for its incredible moisture-wicking properties. So, whether you're strolling through a farmer's market or dancing at a summer festival, your feet will stay dry and comfortable.
Oppa Gingham Style in These Foodcore-Themed Socks
The tomato girl trend is all about embracing the freshness of the summer season, with an emphasis on food-related themes, making these funny baking socks an absolute winner! Red and white gingham, a staple pattern for a tomato girl, adds to the charm and makes them a must-have addition to your summer wardrobe. Plus, wordy socks like these are perfect for showing off your fun and unique personality. And don't worry, styling these socks to fit the tomato girl aesthetic is as easy as pie! Pair them with a breezy sundress or some high-waisted denim shorts and a puff-sleeve crop top, along with some retro sunglasses.
Step Right Out of a Romance Novel with These Crew Socks for Booklovers
These Book Person Forever socks are the quintessential pair for anyone looking to work on their summer reading while subscribing to the tomato girl summer trend. Made from heather oatmeal organic cotton, these book socks not only promise comfort, but undeniable style. Their textural basket weave pattern adds a touch of earthy charm, while the stitched-on tags with the words "Book Person Forever/And Ever. The end." in a rich, tomato-red color echo the essence of the tomato girl aesthetic — playful, bold, and unapologetically passionate.
Other Food-Inspired Fashion Aesthetics (and the Socks to Match!)
If the tomato girl aesthetic isn't quite your jam, don't worry! The immense popularity of this Tiktok trend paved the way for a complete smorgasbord of other deliciously chic fashion aesthetics inspired by all your favorite foods, whether you are cooking gourmet farm-to-table fare or just grazing on your girl dinner!
From zesty onion girls to sweet strawberry girls, the foodcore movement is serving up quite the array of vibrant, food-inspired aesthetics that are as diverse and delightful as a well-stocked pantry. Let's explore a couple of the most popular, along with some sock recommendations!
Strawberry Girl Aesthetic
This aesthetic is a delightful fusion of youthful coquetry and balletcore elegance, steeped in a whimsical pink wonderland. This style embraces the charm of strawberries and the grace of a prima ballerina, creating a fashion statement that's sweet, chic, and undeniably enchanting. The perfect socks for this aesthetic? Our sweet strawberries women's socks as well as these ballet slipper socks.
Onion Girl Aesthetic
Being an onion girl is all about embracing the charm of nature and outdoor activities. It's a style that's both rustic and comfortable, perfect for those who love to explore the great outdoors. These vegetable garden socks, adorned with vibrant illustrations of carrots, onions, potatoes, lettuce and more, celebrate the beauty of home-grown produce and the joy of gardening, which is an essential part of the onion girl lifestyle. Or try, these women's Northwoods hiking socks, or really any of our Darn Tough styles, since these outdoor socks not only keep you cozy during your adventures, but also symbolize the onion girl's love for nature.
Mango Girl Aesthetic
To be a mango girl is to live life with a vibrant, fun, and youthful vibe that's all about embracing the tropical lifestyle. Picture this: a girl who loves the sun-kissed beaches, the rhythm of the waves, and the taste of fresh fruit straight off the tree. She dresses in bold and rich oranges, yellows, and blues. These pineapple socks perfectly encapsulate this aesthetic with its lively pineapple print against a light blue background. On the other hand these "Let's Talk Some Shit" ankle socks bring a dash of humor to your tropical wardrobe. They feature colorful parrots and lush green plants and capture the free-spirited, easy-going character of a mango girl.
Baked Beans Girl Aesthetic
This trend is all about embracing a thirst for adventure. The color palette for a baked beans girl remains very true to the source material with different shades of brown being the choice for the cozy, travel-friendly apparel that these girls like to wear. These cool beans socks, with their fun, brown and beige color palette and quirky pattern embody the playful and bold spirit of baked beans girls. On the other hand, these travel socks that say "Not all who wander are lost" perfectly capture the adventurous essence of this aesthetic.
Just like reading your horoscope, identifying with a foodcore aesthetic is a fun and playful way to express your personality and style. It's not just about fashion — it's about embracing a lifestyle, a vibe, and a feeling! And the best part? There's no wrong choice. So whether you're vibing with the effortless, Mediterranean feels of a tomato girl summer, or would rather draw inspiration from a different dish, Cute But Crazy is here with fun socks to kick your aesthetic into high gear.