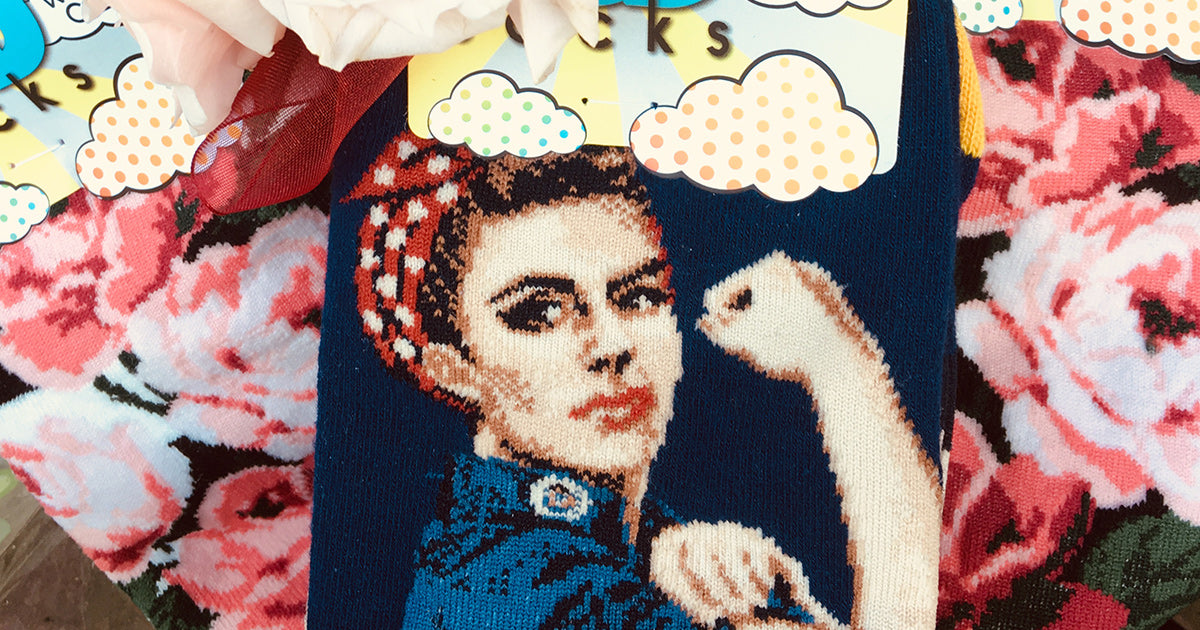 Mother's Day is a magical, maternal holiday dedicated to the phenoma-mamas out there! If you wonder why socks should be on your gift list this Mother's Day, it's because they make great personalized mom-mentos that can be used and enjoyed again and again. We would love to help you celebrate with fun socks for your mom, so read on for some of our favorite socks for celebrating the special lady you call Mom.
Note: This is the clean version of our Mother's Day Socks list. If you mom is more of a "mutha," click over to the naughty version of our Mother's Day sock blog featuring NSFW sarcastic socks for this special day!
Rosie the Riveter Socks
We are in constant awe at all the mighty tasks moms accomplish on a daily basis. These determined women who can wrangle their kids, partners, households, hobbies, work, and personal lives deserve some tenacious socks to match their talents! Moms definitely get it done, and we think ModSocks' house brand Rosie socks for women can also rise up to the occasion.
Atomic Mom Socks
Blue Q brand has funny mom socks aplenty, including these "Atomic Mom" socks. After all, your mom's the bomb! Check out more crazy socks from the Blue Q company here.
Floral Socks
Why not turn a thoughtful sentiment like socks into something next-level lovely by giving mom a bouquet of socks this Mother's Day? We can show you how with this helpful guide! Floral footwear like these socks with nasturtiums are perfect for sock bouquets or any other Mother's Day gift you may be putting together. We have a whole garden of beautiful floral socks to choose from.
Mama Bear Ankle Socks
Like a mama bear protecting her cubs, you can stand watch all day (or join in on the play!) when you wear these comfortable athletic women's ankle socks designed for action! SockGuy is an athletic sock brand with a lot of comfortable funky socks to choose from, and they come in both small and large sizes.
One Tough Mother Ankle Socks
While Blue Q is popular for their swear word socks, these "One Tough Mother" ankle socks manage to toe the line while still remaining rated PG!
Proud Plant Mom Socks
Maybe you use your maternal gifts to raise plants, flowers, and gardens. If you're a "Proud Plant Mom," these cute gardening socks with potted plants on them can be your companion next time you tiptoe through the tulips.
Giraffe Family Laurel Burch Socks
The entire Laurel Burch sock collection is a dazzling menagerie of brightly colored animals and intricate designs that captivate passers-by.  Any of these gorgeous women's crew would make a perfect Mother's Day gift, but we especially like these lovely Giraffe Family Women's Socks for mom.
Girl Super Power Socks
Being a girl is definitely a super power! Moms are saving little worlds all day long. Show your mom she'll always be your shero with fun socks that say "I'm a Girl, What's Your Super Power?"
Need more gift ideas for Mother's Day? Browse our entire collection of women's socks — it is full of great gifts for mom!