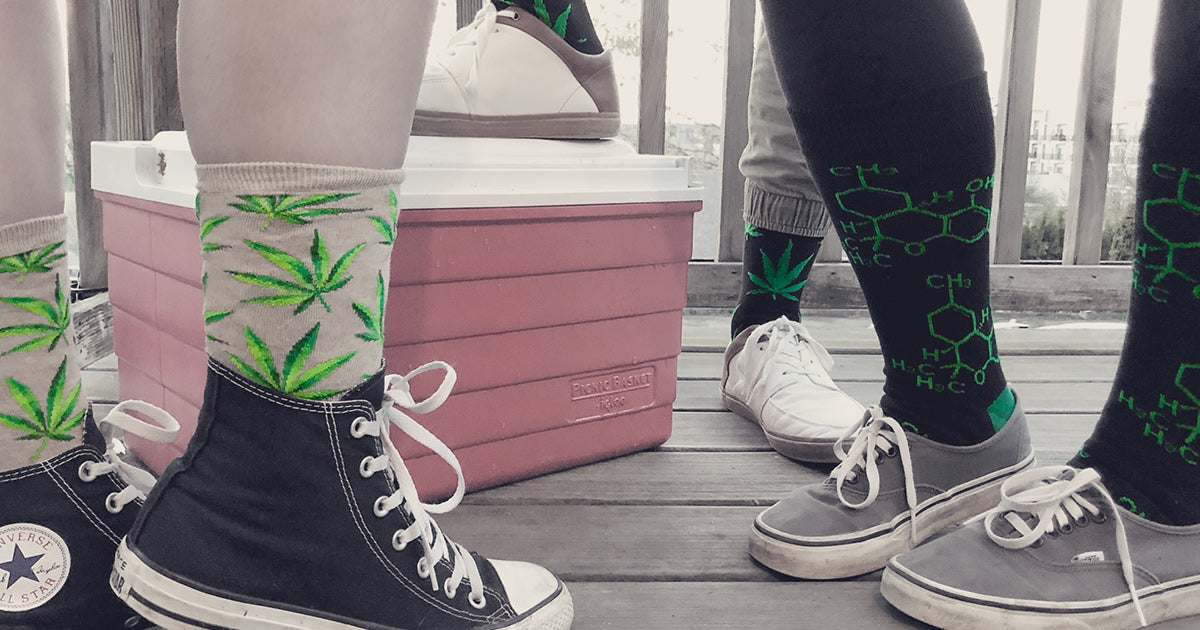 Not to brag, but Washington (our home state) was the first state to legalize recreational marijuana, beating Colorado to the punch by just 4 days. Luckily, pot socks are fully legal across the USA! These fun stoner socks for men and women are covered in pot leaves, THC molecules, funny sayings and more. Funny weed socks will keep your feet cozy during a 4:20 smoke sesh on the couch, a stoned nature walk or a pilgrimage to the supermarket to buy a bunch of munchies. Browse our full collection of weed socks or read on and let the reefer sock madness begin.
Socks with Pot Leaves
Pot leaf socks never go out of style, probably thanks to the popularity of weed and the beauty of pot leaves themselves. Just look at the lovely green foliage on these socks! The simplicity of natural growing green ganja makes these some of the most attractive Mary Jane styles on CrazySocks.com. Get some matching pairs for the whole choom gang this 4/20 or graciously gift some weed socks to your friends who like to grow their own.

THC Molecule Socks
If you are a stoner, a scientist or both, you will love these THC socks for men. Cannabis is a natural herb filled with potent chemical compounds known as cannabinoids, and one of the most important of these cannabinoids is tetrahydrocannabinol, or THC for short. In a nutshell, THC is what gets you high when you smoke weed. THC Molecule Socks are perfect for people who love digging into the chemistry of their marijuana or who just enjoy this unique, subtle take on weed socks.
High On Life Socks
Take the high road in a pair of these funny unisex marijuana socks with words "HIGH ON LIFE" and a pot leaf motif. These stoner socks have a retro athletic vibe with bright orange and green contrasting stripes, taking you back to the era when dime bags really cost a dime, ya know? With their cushioned bottoms and ribbed legs, these "HIGH ON LIFE" socks look and feel great.
Christmas Weed Socks
It is always fun to enjoy a bit of greenery at the holidays, and these Christmas pot socks capture that festive spirit! A design with pot leaves covered in Christmas decorations makes these funny socks the ultimate gift for a stoner at the holidays — you can even tuck in a bag of weed for bonus points. Wear Pot-Mas Men's Socks or Merry Juana Socks for women during the winter holidays and remember to leave out some edibles and a loaded bong for Santa on Christmas Eve!
These funny women's socks with the words "It's Lazy Time" are not explicitly about 420-induced laziness, but their abstract green brushstroke pattern certainly gives the impression of pot leaves, and what stoner doesn't enjoy a little lazy time once in a while? Smoking indica-dominant strains of cannabis is known to induce lazy feelings, leading to the mnemonic "indica = in-da-couch." For those who love a strong body high and smoke weed to relax, these funny "It's Lazy Time" socks for women signal your smoker lifestyle without being too overt. Pick up a pair today and relax away!