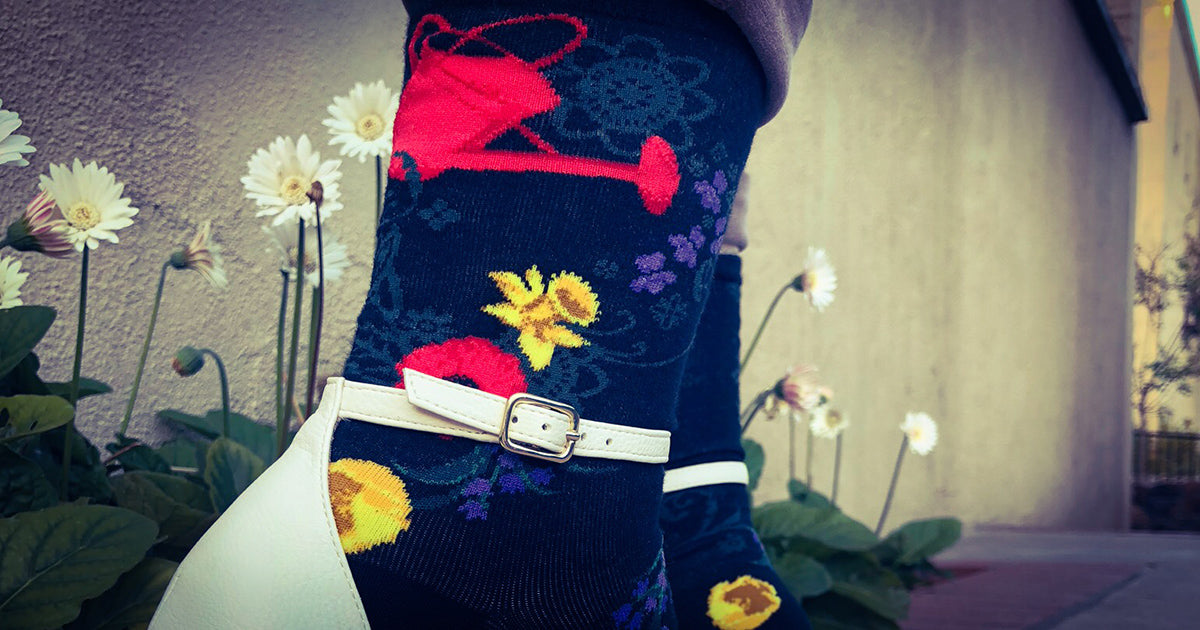 Welcome to our garden full of flower socks! Some flowers never grow very tall, but that doesn't make them any less beautiful. On this floral socks blog we explore some of our favorite flower ankle socks and flower crew socks for women and men. These fun floral socks may be shorties, but they all make big statements!
If you like your florals a bit taller, look to our knee-high flower socks blog post. And for even more flowery socks check out our complete floral socks collection.
Rose Socks
Roses are a classic that never goes out of style, and these women's socks with pink flowers are everything you ever wanted in a pair of rose socks. With two versions, one black and one black-and-white stripe, these rose socks for women will appeal to the romantic in you.
Lavender Socks
If you love lavender as much as we do, your sock drawer is probably already full of fragrant sachets of these fine purple flowers. In that case, why not get some women's socks with lavender on them so the smell can match the socks? Women's socks with lavender flowers are also perfect gifts for moms and grandmas, and along with some scented soaps and bath products these socks make a great addition to a pamper-yourself kit.
Funny Floral Socks
You're fancy, you're schmancy and you like to wear fun floral socks that say "You Fancy Bitch" on them. Looks like these are the socks for you! With their cute sprigs of floral fun, these women's flower socks look pretty while packing a punch.
Flower Garden Socks
Show off your green thumb with a little floral fun by wearing these watering can socks for women with flowers like poppies, tulips, daffodils and pretty greenery. These floral women's crews are great socks for gardeners, florists or anyone who needs a little beauty in their life.
Daisy Socks
Daisy flowers symbolize innocence and childhood. These fun daisy socks for women will take you back to your days as a kid picking flowers and making daisy bouquets, garlands and flower crowns. With a black background covered in big blooms, these short daisy socks for women are simple but beautiful.
Floral Wool Socks
You're no blushing flower, and you need a pair of socks that are as tough as you are. That's where these floral wool socks from Darn Tough come in. These sturdy socks are guaranteed to be practically indestructible, a claim that the company backs up with an unconditional lifetime guarantee. If you need a strong sock for walking around and smelling the flowers, or just for keeping your feet looking great while gardening, these fun floral socks made from merino wool are here for you.