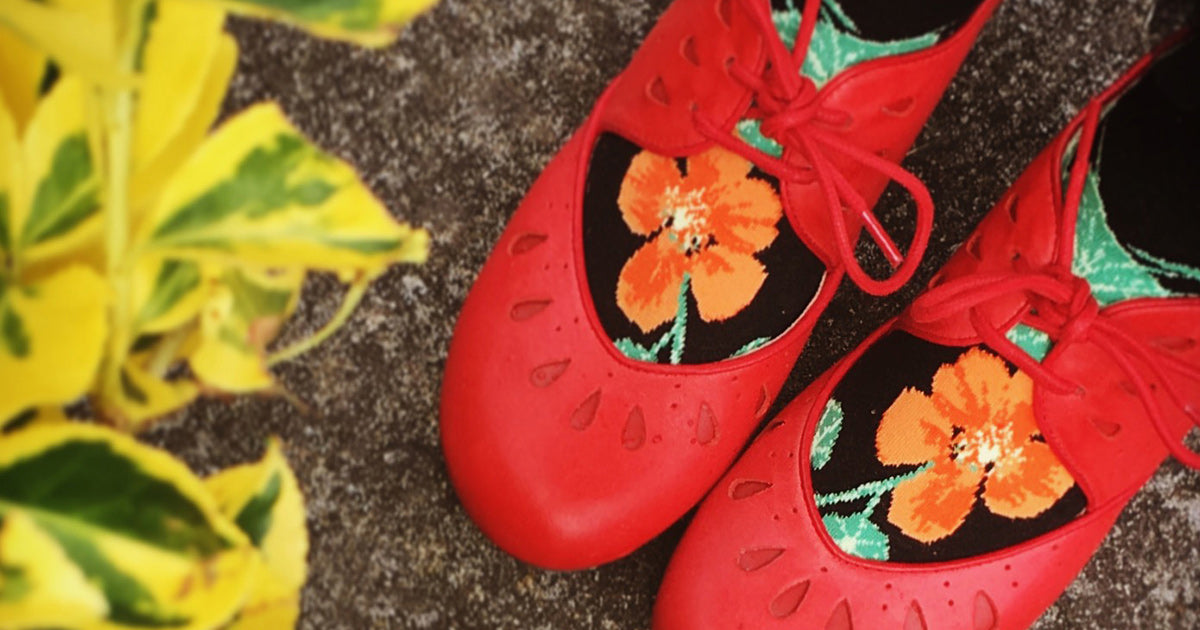 A pair of floral knee socks looks beautiful beneath dresses and skirts, or worn with your garden wellies when it's time to start planting. These tall flower socks aren't for shrinking violets — they are made for getting out there and embracing your flower power!
Find a fun pair of floral knee-high socks below, or read our or blog featuring our favorite floral crew and ankle socks. Check out our full collection of plant and flower socks to see every pair we offer.
Pink Roses Knee Socks
It's always the season for these lovely rose knee socks for women. Pink roses put forth their pretty petals against striking background of either solid black or black and white stripes. Give a pair of these women's rose knee socks when you might normally give someone flowers. The rose socks may not smell as sweet as the real thing, but they will last a whole lot longer!
Poppy Flower Socks
Feeling bold? Put on a pair of poppy socks for women and get out in the sunshine! "Tall poppy syndrome" is a phrase that describes what happens when you gain success and rise above the rest, but then people start trying to cut you down. It isn't always easy being on top, but these lovely tall poppy socks for women will remind you to be bold and stay proud of your success.
Tall Tulip Knee Socks
Tulip season is a big reason to get excited here at the shop! Tulip socks are perfect for taking a trip to the tulip fields every spring. Socks with tulips or any other flower print socks will make a sweet statement at a garden party or other springtime gathering. Plus, these tulip socks are knee-high, so the flowers are nearly life-sized!
Fun Floral Daisy Socks
To those of us of a certain age, daisy socks represent peace, love and flower power. For everyone else, though, they are just plain gorgeous floral socks! These fun knee socks with daisies are a little reminder to seek out peace in your daily life. Get a few pairs of fun daisy knee socks for yourself and your friends and get a daisy chain gang going.
Nasturtium Socks
Call these flowers nasturtiums if you're nice, nasties if you're nasty! These very nice nasturtium knee socks for women are covered in everyone's favorite easy-to-grow, edible flower. Biting into a nasturtium gives you a burst of peppery flavor, and we hope these nasturtium floral knee-high socks for women will spice up your sock drawer in a similar fashion.