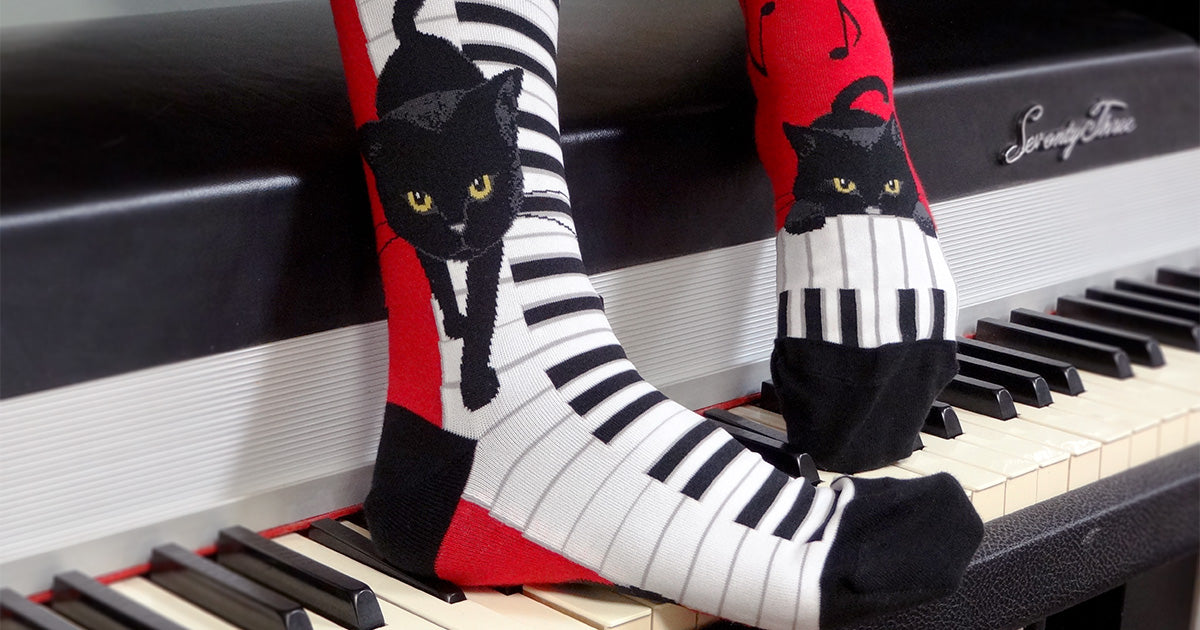 Anyone with a song in their heart can appreciate a great pair of music socks. Tap your feet to the beat in a pair of our music socks for men or women with pianos, guitars, music notes, famous composers, dancers and enough musical instruments for the whole orchestra. Rock out in cool music socks for your band, socks that show off your dancing skills or women's music socks for your musical mom! Browse our full music socks collection or read on for our biggest hits.
Acoustic & Electric Guitar Socks
Join the fun and strum along in socks like our best-selling Classic Guitar Socks with electric and acoustic guitars, or wear artsy Old Guitarist Socks for men with the famous painting by Pablo Picasso. Guitarists favor our Classic Guitar socks for men and women's guitar socks because they show iconic rock and roll guitars from different brands and eras. Old Guitarist Men's Socks are both music socks and art socks since they feature the famous Pablo Picasso painting "The Old Guitarist."
Piano Socks for Jazz Cats
Pianists and cat fanciers find men's and women's Piano Cat socks with piano keys and black cats on them to be the cat's pajamas. What is black and white and red all over? These cool musical cat socks!
Musical Instrument Socks for Band Geeks
You can take the band geek out of high school, but you can never take away their love for their instrument. For everyone from orchestra musicians to high school hobbyists, wearing a pair of one of these musical instrument socks is a great way to say you know how to play! If you play trombone, trumpet, tuba or horn you will love bold Brass Instrument Women's Socks. For violinists, cellists and viola players, Stringed Instruments Women's Socks might be more your style. And if you know your way around a clarinet, flute, oboe or sax, you will love Woodwinds Women's Socks. For jazz fans, All That Jazz Men's Socks are packed with jazz instruments like upright bass, saxophones, piano keys and trombones.
Percussion Socks for Drummers
For the men who march to their own beat we offer Drummer Men's Socks with drums on them just waiting for someone to step in and pick up a pair of drumsticks. If you are the queen of the percussion section, our Percussion Women's Socks with timpani, bass drums and cymbals are hard to beat!
Classical Music Socks
For music lovers who avoid anything written after the 1800s, we have classical music socks with Beethoven's "Fur Elise" composition, ballet socks for women, as well as musical socks with the original bad boy of the classical music scene, Wolfgang Amadeus Mozart. These funny Mozart socks for men show Mozart with a pair of sunglasses and the words "Rock Me." For something a little more subtle, sheet music socks with Beethoven's music will make anyone who can read music take notice. These cool sheet music socks are available in two sizes for men and women. Or for the prima ballerinas out there, we have art socks with Degas' famous ballerinas practicing their craft.
Dance Socks for Music Lovers
Speaking of dance, these funny dance socks are here to help you cut a rug in style! You will rave about unisex music socks that say "DANCE" in neon rainbow lettering. You will love their rainbow raver attitude, and their light cushioning means no sore feet out on the dance floor. For the ballerinas out there, these ballet slipper socks with faux ribbons in either pink or red are on point! Then, keep on dancing with funny music socks for women that say "Me When My Song Comes On." The body-positive sock design has women of all shapes and sizes showing off their moves as the beat goes on.