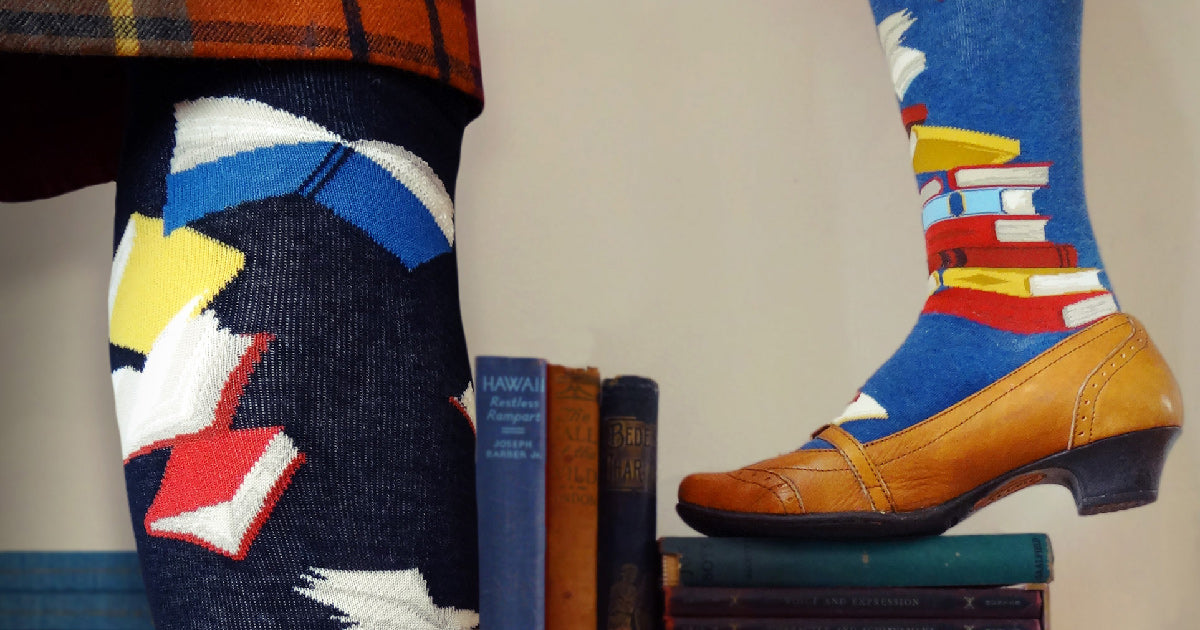 If reading is your passion, let a pair of book socks keep your feet cozy while your mind wanders to strange and interesting new places between the pages of a book. These fun book socks for men and women will let you show off your favorite book on a pair of socks, make a statement against censorship or let the eye-catching design of a book cover on your socks add a splash of fun to your outfits. Read on for our top picks or check out our full collection of book socks for even more great styles.
Edgar Allan Poe Socks
For those days when you are feeling dark and gloomy, there is no author who understands your mood quite like Edgar Allan Poe. Master of the macabre, Poe was a writer and poet who used his writing to explore mystery, murder and the darker things in life. Poe lends his likeness to funny
Edgar Allan Poe-ka Dots Socks for men
 and
women
 that turn his head into polka dots! His poem "The Raven" takes center stage with 
Nevermore Men's Socks
 with ravens, skulls and inkwells.
Banned Books Socks
Shouldn't everyone decide for themselves which books to read? Protest censorship and support the First Amendment with a pair of these cool mismatched Banned Books Men's Socks and women's socks. A unique mismatched pair of socks, one shows the titles of commonly censored works while the other has the same titles but they have been scribbled out with black lines.
Bestselling Book Socks
These book socks are at the top of our bestseller list! They have stacks of books and books that are flying through the air as if by literary magic. Lower on the feet are reading glasses on an open book and a cup of coffee for the perfect cozy reading experience. Three styles are available to fit everyone in the book club: Bibliophile Men's Socks, Bibliophile Women's Socks and Bibliophile Knee-High Socks for women.
Library Card Socks
Free books and audiobooks sounds almost too good to be true, but that's just the library, baby! These cute Library Card Socks for women and men show old-school library cards that were used for borrowing books in the pre-digital era. Show you love your library in a pair of library card socks.
F*** off I'm Reading Women's Socks
These funny women's swear word socks that say "F*** Off, I'm Reading" will keep people from bothering you while you're engrossed in an exciting book. They also make a great conversation starter by helping other introverted book-loving people recognize you as one of their own.
Hitchhiker's Guide to the Galaxy Socks
When the character Arthur Dent in the Hitchhiker's Guide series first picks up a copy of the Guide, he notices that the cover says DON'T PANIC, just like the bottoms of these socks! The universe is a very big thing indeed, but these funny Hitchhiker's Guide to the Galaxy socks for men and women help us keep it all in perspective.
A 
Clockwork Orange Socks
These bold A Clockwork Orange Socks for men and women are a fashion statement and a representation of the Anthony Burgess book and the Stanley Kubrik movie all in one. Based on the cover of the 1972 paperback, these socks capture protagonist Alex Delarge in bright colors with a cog for an eye. Pop on a pair and settle into a quiet evening of reading or watching movies, or show them off at a busy night spot like the Korova Milk Bar!