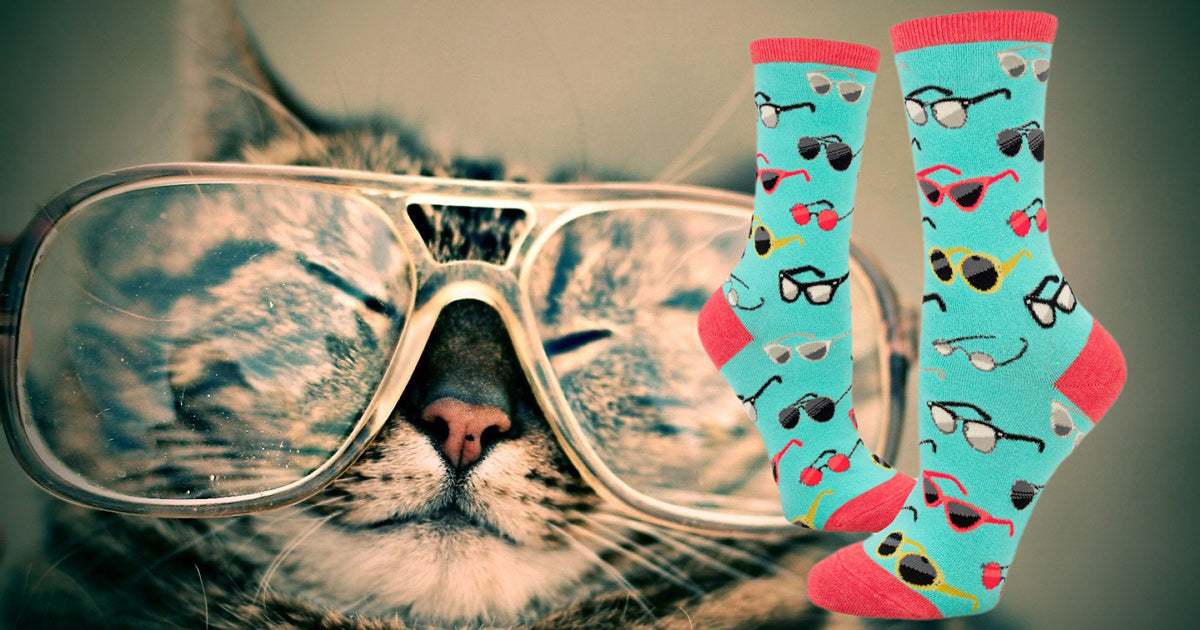 Thanks to COVID-19, the landscape for the class of 2020 has changed about as dramatically as it did for Earth in the 1995 film "Waterworld" starring Kevin Costner. The prospect of physically walking at graduation is now dead in the water, and any hope to party with fellow seniors has been dashed to the waves. High school graduation, college graduation and even kindergarten graduation are all being conducted from a distance or not at all, which has left a lot of hard-working graduates at sea. (Sorry, I just watched "Waterworld.")
At the very least, we think these students deserve fun socks. With it being so difficult to meet up with friends and family, many graduation gifts will be sent long distance this year.  Funny graduation socks are an uplifting essential in any grad's gift pack. Stay safe during quarantine by shopping and sending socks right from our online sock shop.
Want to say thanks to the teachers who helped you along the way? We also have crazy socks for teachers of every subject and more traditional gift options if the following sassy socks are too out there for your graduate.
With schools moving to online classes, graduation parties cancelled and an alarming amount of people without jobs, graduates might be feeling like an impossible road lies ahead. Take the challenges day by day and you will come out on the other side shining. Graduates, wear these Rosie the Riveter socks and remember, "We can do it!" For more politically involved graduates, check out the "nasty Rosie" version, available in multiple lengths for men and women.
Everyone is feeling a thorn in their side these days by the name of COVID-19, but it's the students who have been cultivating a garden of knowledge and skills for years who are really hurting as classes move online and celebrations are postponed indefinitely. Do not despair, grads. You are still a beautiful flower, ever-growing and bearing the fine fruits of your education. Sure, right now you might be a "Delicate Fucking Flower," but you're still a flower nonetheless! These sweet swear word socks from Blue Q fit women's shoe sizes from 5 to 10.5.
Sophisticated fans of literature are well aware that 99 out of 100 times "The Book Is Better" than the movie, but just in case the plebes around your savvy graduate don't get it, these unisex athletic socks with a scholarly palette of blue and cream will let them know.
The year 2020 has been a big ol' steaming pile so far, but funny socks help us to forget about all that shit. We think graduates with toilet humor will appreciate these goofy poop socks that fit men's shoe sizes 8 to 13.
We're supposed to avoid contact with others, and so students are forced to stay inside and "Look Within" as it says on these antique-style crystal ball socks. Perhaps COVID is a blessing in disguise, gift-wrapped in worldwide trauma and topped with a bow of existential crisis. After all, if there's one thing the pandemic has done for us, it's forced us to be present. We have no choice but to live our lives day by day and find harmony in the current moment. There is no such thing as a definite future plan anymore. Perhaps there never really was? Groove on that nug of wisdom in these mystical psychic socks for women.
Zany socks have been getting a lot of us through Tough Times 2020, and we know students and graduates alike are finding ways to stay cozy while still expressing themselves. "Cry Hard Dance Harder" soft athletic socks for men and women give solid advice for handling these heinous times. Whether it's through tears or through dance moves, when in doubt, let it out! 
If you were to sum up 2020 in one in, it would be a dumpster on fire. Between the actual fires in Australia, vague threats of World War III in America, murder hornets and oh yeah. . . CORONAVIRUS, there is absolutely no doubt that 2020 should be thrown in the trash, followed by a match. Graduates get the added distress of having all their plans cancelled and paths forward abruptly blocked. Watch the world burn in these Dumpster Fire socks for men. 
Is your 2020 vision not quite as clear as it was before? It might not seem like it right now, but pretty soon you'll see that the future is so bright, you gotta wear corrective lenses! Listen, we know times are tough now that that all your beautiful 2020 dreams and plans got cancelled. We're really sorry that happened to you, but real truth: you've still got a glorious path ahead of you. The new normal might be something we're unfamiliar with, but we're going to need smart minds like yours to help guide us into a better future. Graduates and students, we salute you!