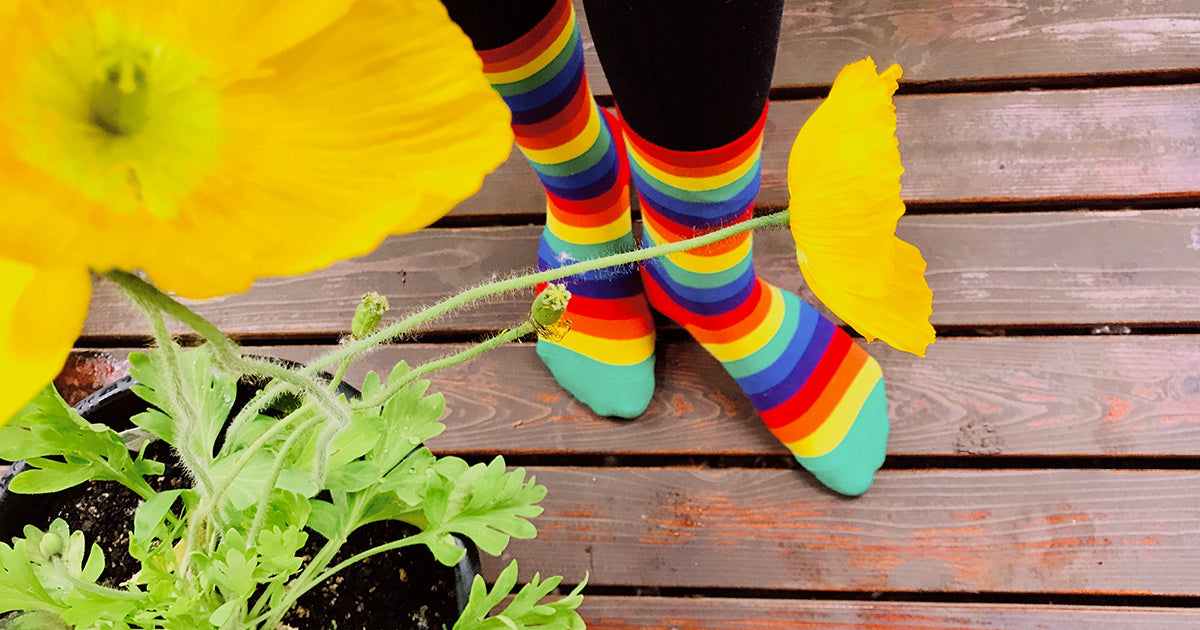 We know that a lot of Pride 2020 plans have been put on hold due to COVID-19, but we're here to shine some color and love into your life anyway with our crazy, beautiful socks! You might have to wear your Pride looks inside the house this year, but never hide them inside the closet, because where's the fun in that?
From men's Pride socks to unisex socks with slogans supporting LGBTQ+ people, to women's Pride socks in a range of different lengths as well as fun rainbow socks for kids, we've got everything under the rainbow! Strut your own sock Pride parade fearlessly through your house with these new novelty socks perfect for LGBTQ+ and allies, or check out our full collection of fun Pride socks to see everything we have to offer.
Rainbow-Striped Pride Socks
These bright rainbow-striped socks are Pride essentials! Bold and classic ROYGBIV colors pop like whoa, and with these classic knee-high rainbow socks, shorter women's rainbow crew socks and matching men's rainbow socks all available, there are classic rainbow socks for everyone in your party.
City Pride Socks
These USA-made athletic Pride socks are perfect for peeps reppin' (or stuck in) cities, states and island paradises including Seattle, Los Angeles and Hawaii. They are also unisex, because it's weird to gender socks in the first place. We might be under quarantine and practicing social distancing this Pride season, but that doesn't mean we can't show our communities that we're here, we're queer and we're ready to steer clear of COVID!
Funny Pride Socks
Always coming through with the humor, these novelty socks by Blue Q encourage you to be true to yourself with "I Identify as Me" in big beautiful letters. Whether you fall within the LGBTQ acronym or fly your own flag, these bold ankle socks will have you dancing to your own groove all summer long.