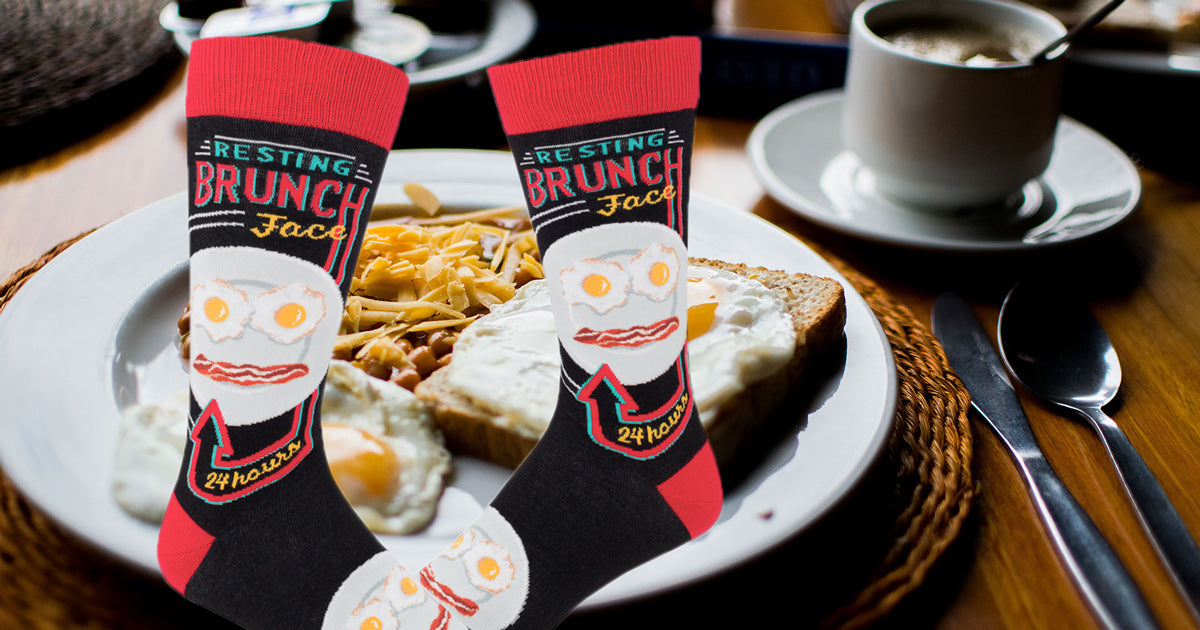 Dads can be tough to shop for, but crazy socks have consistently proven successful because you can easily find personalized socks for even the most difficult daddio. These days we need dad's good sense of humor more than ever, and men's novelty socks make excellent, affordable Father's Day gifts, all of them new for 2020. Can't remember which pair of socks you got dad for Father's Day 2019? We got your back! Er. . . we got his feet? What we mean to say is: here's what's new in fun socks for men this Father's Day 2020, with no repeats from 2019!
Breakfast Socks for Hungry Dads 
Why should Mother's Day be the only holiday to start by bringing someone breakfast in bed? Dads love breakfast, too! The funny men's breakfast
food socks
shown above have a face made from two egg eyes and a bacon mouth, and the words "Resting Brunch Face."
President of the Local Gas Company Socks
We all know dads are full of hot air, but for the exceptionally gaseous gentleman we bestow the honorable badge "President of the Local Gas Company" with these funny fart socks for dad by Blue Q.
Vegetable Garden Socks
These striped vegetable garden socks make thoughtful Father's Day gifts for dads who love to garden. A bountiful harvest of delicious carrots, onions, potatoes, beets and radishes planted in neat little rows awaits dad on these Father's Day socks.
Trout Fishing Socks
Socks catered to dad's favorite hobby make fun and sentimental Father's Day gifts, like these Trout Fishing socks for the angler dads out there. You're one with the fish when you sport the colorful rainbow trout on these soft detailed men's crew socks by ModSocks.
Grumpy Old Man Socks
For dads with a good sense of humor and more than a few decades under their belt, a popular Father's Day gift from a son is sarcastic socks like these "Grumpy Old Man" crews from Blue Q.
Love Donuts Socks
Mmmm. . . donuts! If your dad is a fan of those tasty little glazed rings of fried dough, be a sweetheart and share the love with a box of his favorites paired with our Love Donuts socks by ModSocks.
Where's My Burrito Socks
If your padre is loco for Mexican food, why not whip him up something muy bueno like a yummy burrito and these socks to match? "Where's My Burrito" socks with retro athletic stripes are asking the important questions this Father's Day!
White Element Light Cushion Wool Socks
Some dads like to stick to function over novelty, and we've got them covered too! These USA-made Darn Tough socks are simple yet luxurious Father's Day gifts that work hard across all terrains and through all kinds of weather. Bonus — if you ever happen to wear a hole in them, you can send them back to Darn Tough and get full credit for a replacement pair! Ideal for the highly active (or destructive) dads out there blazing the trails.
Sasquatch UFO Socks
Got a cryptozoologist for a dad? Spend some time this Father's Day helping him track down those elusive creatures of folklore like Bigfoot! The truth is out there with Sasquatch UFO socks for men, designed by ModSocks right in Bigfoot's backyard here in the Pacific Northwest.
Cheers! to Dad!
Hip hip hooray for Father's Day! If you want personalized Father's Day gifts to pair with dad's favorite alcoholic beverage, Gumball Poodle has soft athletic socks for every liquor lover. Pick your poison between Tequila, Whiskey, Bourbon, and Beer socks and say CHEERS to dad!