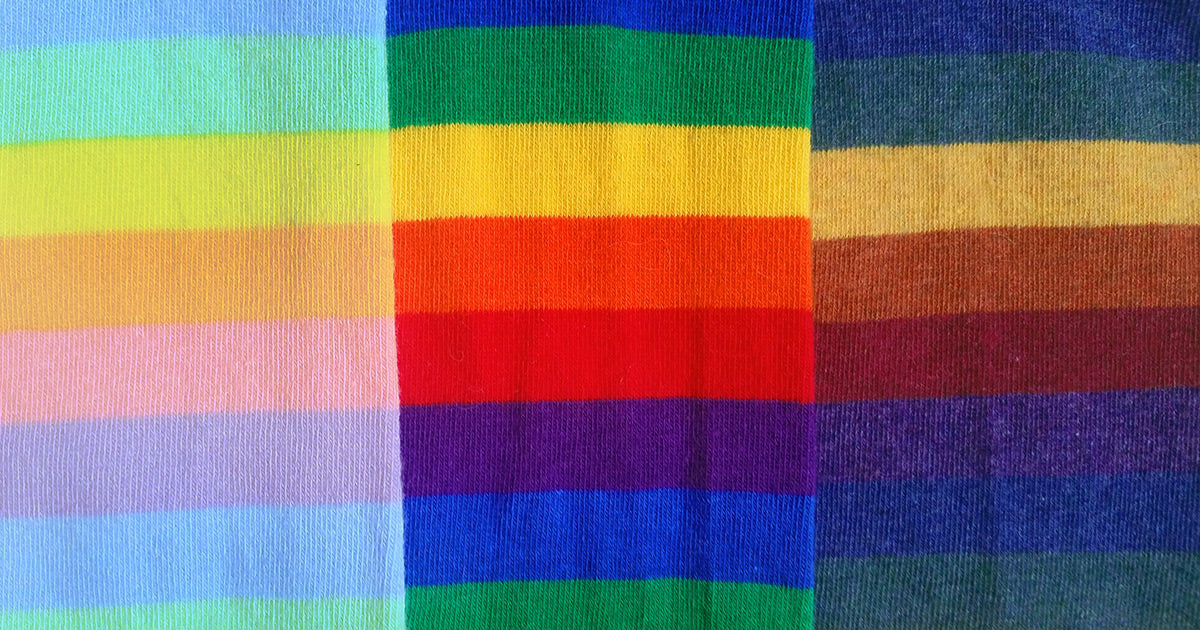 When you see a rainbow, you might think of hope, beauty, magic and pride. When you see a double rainbow, you probably think of the late Paul Vasquez (RIP) and his viral video "Yosemitebear Mountain Double Rainbow 1-8-10," in which he can be heard expressing his awe and emotion at the sight of a double rainbow in the sky.
So what does it mean? We have seen our share of single and double rainbows at the shop, and right now it's starting to even look like a triple rainbow! Colorful socks are our jam, but rainbow socks give us LIFE. We love them so much that our store brand ModSocks went ahead and made three original rainbow novelty socks in pastel, regular and dark heather variations. So if you want some funky socks to enhance your outfit, knee high Pride socks to celebrate love or just want to wear colorful cool socks, check out our triple threat of rainbow socks below!
Traditional Rainbow-Striped Socks
These are THE classic rainbow-striped socks, boldly boasting every color of the rainbow in proper ROYGBIV form (except for indigo, which let's be honest is really just dark blue). They're super soft and reinforced in the heel and toe, so we are not surprised the whole family wants a pair. Luckily, they're available in a variety of styles: knee-high rainbow striped socks, women's crew-length rainbow socks, and rainbow-striped colorful socks for men. These crazy socks brighten any outfit and make the perfect Pride socks!
Pastel Rainbow Socks
Fun socks don't have to be loud. Check out these refreshing springtime pastel rainbow socks available in pretty pale pale knee-high socks and cool crew socks for women. These cute socks are striped with fresh Easter-egg hues: pink, orange sherbet, daffodil yellow, mint green, light blue and lavender.
Heather Rainbow-Striped Socks
For the subtler, more subdued rainbow connoisseur we have these heather rainbow striped socks in a shorter length for women, lovely women's dark knee highs, and deep and daring men's socks. With a darker color palette and flecks of heather, these unique rainbow novelty socks are suitable for both business and pleasure.
Now get out there and let your double rainbow legs shine bright!