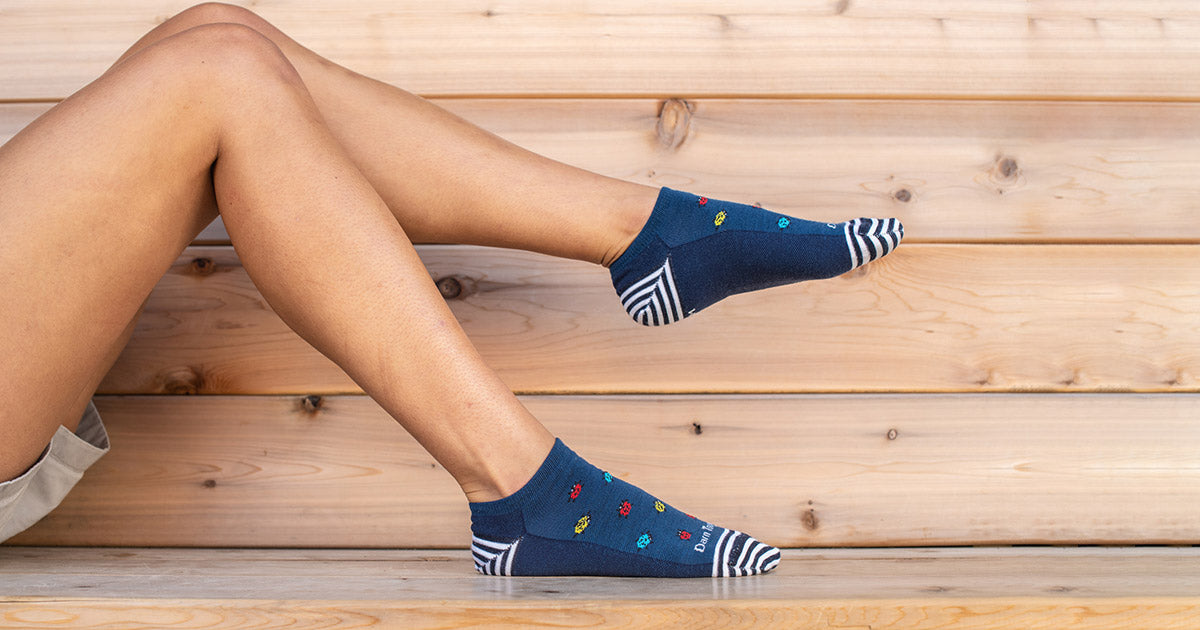 We love a good pair of ankle socks, sometimes known as shorty socks, low-rise socks or low-cut socks. The thing about these socks is that they can vary in length, so sometimes an ankle sock will just barely show above your shoes, or sometimes it can come up a few more inches and display a cute design or a funny saying. One thing that unites all ankle socks is that they are longer than no-show socks and shorter than crew socks. But how long is that?
How Long Are Ankle Socks?
There are several lengths of socks that can all be called ankle socks. A lot of the information online about these socks is contradictory and confusing, but as the sock authority and a business that has been selling socks since 2011, we are calling it — these are the official names for each ankle sock length. By length, we mean height, or how far the sock comes up your leg (not the total length of the sock from the toe to the top). Use these terms or be wrong!
Low-Cut Socks
A low-cut ankle sock is the shortest length of ankle socks. It just barely covers your ankle bone, or might rest slightly below it. This length is still going to show when you wear sneakers, but only a little bit. The only part you see might be the top of the band or a heel tab to keep your heel from rubbing against your shoe. For people who like short socks, low-cut ankle socks are a great choice.
Quarter Socks
Quarter socks, sometimes written as 1/4 socks, are slightly longer than low-cut ankle socks and come about one-fourth of the way up your leg, hence their name. Crew socks are longer than quarter socks and could be considered half socks because they come up halfway to the knee. It follows then that quarter socks are half the length of crew socks.
Turn-Cuff Socks
Turn-cuff socks let your change your sock length any time you feel like it! These fun socks can be worn with their cuffs pulled up and reach the height of a crew or micro crew sock, or they can be cuffed and end up around the length of a quarter sock. Sometimes they even have fun hidden messages that are revealed when you flip the cuff.
What Socks Are Shorter Than Ankle Socks?
There are some lengths of socks that are below the lowest low-cut ankle socks. These are typically known as no-show socks or liner socks because they are made to line the inside of your shoes without being seen at all. Some of them leave an open area on the top of your foot like a pair of ballet flats. Others cover most of the tops of your feet but still won't show when you are wearing shoes.
Socks That Are Longer Than Ankle Socks
Quarter socks are the longest type of ankle socks, and above them you get into the crew sock category. A little higher than quarter socks are micro crew socks, which in turn are shorter than full crew length. Next is the knee-high sock that full covers your calf. Above that is over-the-knee and thigh-high socks. Check out our sock length info page to see all the different lengths compared.
When Should You Wear Ankle Socks?
Ankle socks can be worn almost any time, but these socks really shine with summer outfits, workout clothes, running shoes and all kinds of activewear.
You might want to avoid ankle socks in situations where it could be rude to show your calves. Business casual and formal suits usually call for longer socks like crew or knee highs so your legs stay covered even when you sit down. You also might choose a longer sock sometimes for one of these reasons. Other than that, ankle socks are a go!
Many athletes prefer a short sock that fits well so they can put it on and forget it's there. We offer ankle socks from the SockGuy and Darn Tough brands that are made to wick away moisture and keep your feet dry and comfortable when you are working up a sweat.
On the fashion side of things, a fun way to wear some of our longer ankle socks is with shorts and summer dresses. These show off socks with funny sayings or fun designs while still letting your legs breathe and stay cool on warmer days.
Enjoy the different styles of ankle socks — they are fun, practical, short and sweet! Shop our full collection of ankle socks here.