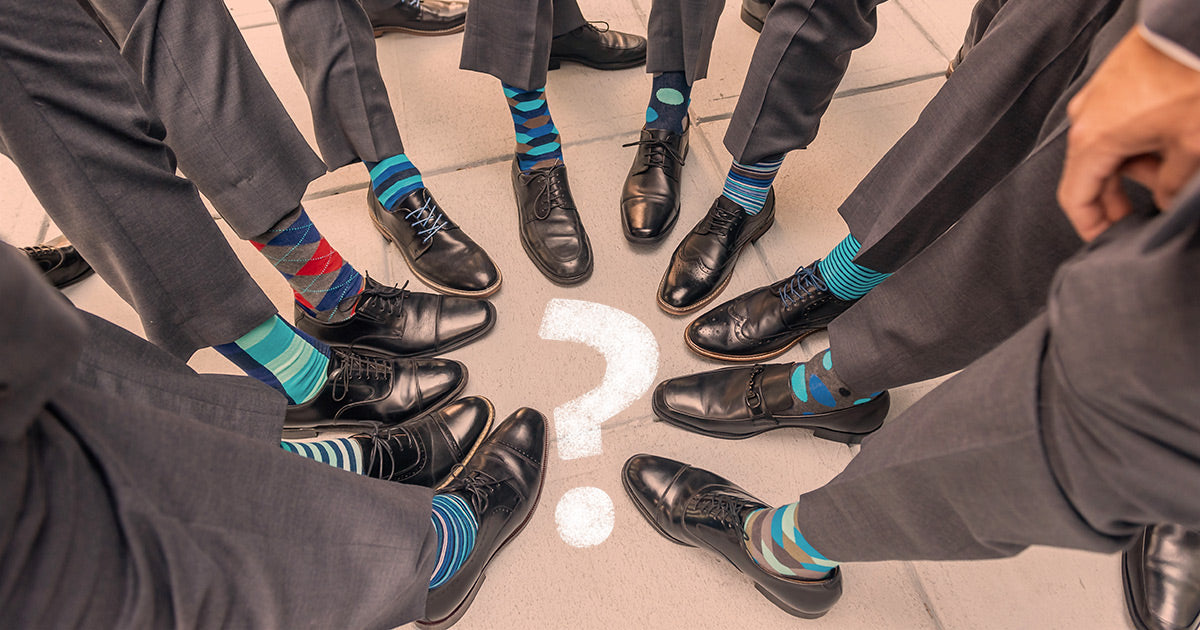 As a fashion-conscious man, when you look down at your feet you may be wondering: Should I wear crazy socks? Fads come and go, but are novelty socks for men still in style?
The answer is yes! Just ask politicians, fashion models, businessmen, doctors and all the other professional men who are wearing fun socks every day and looking great doing it. Of course, it isn't quite as simple as just putting on any old pair of men's novelty socks. Check out our style tips below to figure out if you are a guy who should wear novelty socks. Once you learn how to pick the right crazy socks, you may want to fill your sock drawer with them!
What Are Crazy Socks?
Crazy socks — also known as funky socks, novelty socks, fun socks, funny socks and wild socks — are any socks with an interesting pattern like tacos, dinosaurs, cats, dogs, Sasquatch or hundreds of other unique styles. Some crazy socks have abstract shapes in bold colors or classic patterns like argyle, stripes or polka dots. Usually crazy socks are not solid color socks, and they are definitely not solid black or white socks — however, if their solid color happens to be hot pink, we could definitely classify them in the crazy socks category.
Five Reasons to Wear Fun Socks
You might like the look of crazy socks but wonder if they are right for you. Here are some of our top reasons you should become a crazy sock guy!
1. Fun socks are a great icebreaker.
If you are first getting to know someone and they comment on the fact that your socks have lobsters on them, maybe you will discover that you are both from Maine (or just big seafood fans).
2. You will get cool socks as gifts.
Everyone who sees you in your funky socks will file that info away for your next birthday, Christmas or Father's Day, and they will be sure to get you a new pair that fits your personality. Soon you will have a whole drawer full of funny socks!
3. Funny dad socks will delight your kids, nieces and nephews.
Socks are closer to a kid's eye level, so it makes sense that they pay more attention to them. Make your little one laugh by wearing socks with a funny dad joke or a pattern you think they would love. What kid wouldn't enjoy seeing dad wearing these men's socks featuring a farting unicorn?!
4. Funky socks are easier to match when doing laundry.
If all your socks are white but come from different brands and are slightly different lengths and thicknesses, matching can take forever. If you only have one pair of red pineapple socks however, you will be able to pair them almost instantly!
5. Unique socks make every outfit a little more interesting.
Don't be a dull dresser — liven up your wardrobe with funny socks and make a strong statement with your style.
When to Wear Crazy Socks
This may surprise you, but a pair of fun men's socks can be a classy and appropriate choice for even the most traditional dresser. Crazy socks can be worn in casual situations like a backyard barbecue, with casual business attire at the office or a work meeting, and even with formal attire to a party or wedding, depending on the tone of the event.
From skater shorts to tuxedos to golf pants to business suits, every situation can be an opportunity for a pair of bold men's socks. Wearing interesting socks shows others in your social circle that you are a man with good taste and a sense of fun that will get you far in life.
How to Wear Colorful Socks
Wearing colorful socks is as simple as wearing plain ones, but there are a few things to keep in mind.
First, we recommend wearing your fun socks pulled all the way up rather than slouching them down, which can distort the pattern. Second, it is a good idea to wash crazy socks inside out to protect the designs and keep them looking good for more wearings.
In casual situations, feel free to wear your loudest socks. They can show off your interests and are a cool way to express your personality.
When you wear colorful socks in business casual, semi formal and formal settings, wear them in a way that accentuates the rest of your outfit rather than drawing all the focus to your feet. Even though the sockless look with loafers has become more common, we still recommend you wear socks with all shoes except those with open toes — otherwise sweat, bacteria and odor can work their way into your shoes' material and never leave.
Matching Your Socks, Shoes and Pants
When wearing wild dress socks, you might think it's OK if they clash with your clothing, but we are begging you to consider matching your socks to another element of your outfit. It looks a lot better and makes people more likely to look your way instead of averting their eyes!
Some guys make sure the background color of their crazy socks matches the color of their shoes. If your shoes are black, this means picking a pair with a black background. This is always a safe bet fashion-wise, however there are other options.
You could match your socks to your pants, or pick a color on your socks that matches your pants. Try wearing socks with a bright contrasting background color and a secondary color in the sock that matches your pants — it's a bold move, but it can look bold and daring when done right!
If you are wearing a gray suit and brown shoes, wearing blue socks and adding a subtle touch like a blue tie or pocket square will also add to your outfit and make it more cohesive. Remember, not everything in a man's outfit should match. Coordinating the colors of your accessories will often create a better effect than outright matching them.
Can Fun Socks Be Formal?
At formal events, not every part of your outfit has to be stuffy and plain. Sometimes it is wise to tone down your sock looks at events like very formal dinners or funerals — however, George H.W. Bush wore a pair of these book socks by ModSocks to his wife's funeral in order to honor her dedication to literacy. This proves that novelty socks can sometimes be acceptable to wear at funerals if they are a tribute to someone you love.
Most people break out their formal dress for weddings — and when it's your wedding, you get to wear crazy socks with your tuxedo and no one can stop you! Wedding parties often have rigid dress codes when it comes to suits and ties, but wearing fun dress socks at a wedding is a great way for a group of otherwise identically-dressed guys to express their individuality. Choose a different pair of men's novelty socks to fit the personality of each person in your party and let them all stand out in their own way. Socks make a fun and practical groomsman's gift and will also be a lasting reminder of the big day.
As you can see, men's novelty socks can be worn in many ways to suit almost any outfit and situation.
To see our full selection of fun and fashionable men's socks, check out our men's sock collection.