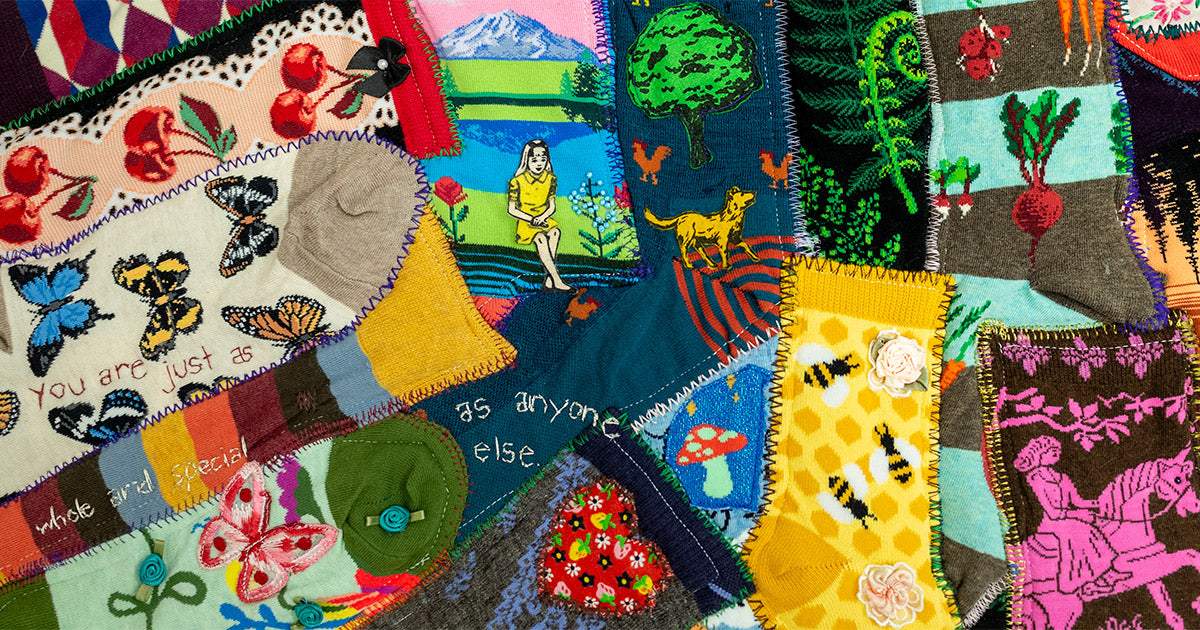 May is a good month to take stock of things — is your garden planted? Spring cleaning tackled? And hey, what is going on with your mental health?
May is Mental Health Awareness Month, a great time to get involved in supporting mental health, whether that means your own, that of a friend or family member, or the health of your community.
Here at Cute But Crazy Socks, this May marks the first anniversary of our partnership with NAMI, the National Alliance on Mental Illness, including our ongoing pledge to give 1% of all product sales to the organization. We just wrote our second check for $3,409.53. We donated our first check in November 2021.
Of course, our commitment to mental health goes beyond just donating money.
Advocacy, Awareness and Action
Later this month, our staff will participate in a local de-escalation training in our home town of Bellingham, Wash. to learn how to better work compassionately with customers and community members in crisis, and to increase our communication skills with individuals experiencing mental illness, trauma, addiction and homelessness.
Each May NAMI chooses a different campaign theme for Mental Health Awareness Month. It is a way to focus on and highlight different aspects of mental health advocacy.
This year's campaign is Together For Mental Health. It was chosen because the number of people experiencing mental illness is on the rise in America, so now is the time to join our voices together and advocate for improved mental health care in our communities.
For us, taking part in this deescalation training is a part of how we get "Together For Mental Health" — by joining with our neighbors to help people resolve conflicts and improve mental health outcomes in our community.
Our Mental Health Mission, One Year In
One year ago, we changed our name to Cute But Crazy Socks, embarking on a new mission to advocate for mental health through our words, actions and charitable giving. Here are a few more things we have done in the past year.
Our Partnership With NAMI
Fighting mental health stigma starts at home, so we became a StigmaFree brand partner with NAMI. Businesses that pledge to be StigmaFree offer a supportive workplace for their employees where everyone feels safe talking about mental health.
Internally, we worked to raise awareness among staff of our health care options (which include high-quality mental health coverage), plus flexible paid time off that can be used in cases of both mental and physical illness, with no stigma attached.
Since partnering with NAMI we have received a lot of feedback from customers and community members who are excited about what we are doing. Some have used NAMI's resources themselves or know a friend or family member the organization has helped through a crisis. In a review of our website, Marguerite G. from San Francisco wrote, "Great company that support mental health. . . through donations AND socks that make you laugh or smile."
Talking about our partnership to customers in the store and online has also helped make people aware they are in a safe space, leading to many positive and frank conversations about mental health — which is the kind of openness and honesty that being stigma-free is all about!
We also sponsored the StigmaStomp event last October with our local NAMI chapter NAMI Whatcom, where we met and talked with people who are passionate about improving mental health outcomes in our community. It was an incredible event, and we hope to attend many more in the future.
Why We Give to NAMI
NAMI does great work, from lobbying efforts to make mental healthcare a priority for lawmakers, to offering education and support to individuals and families dealing with mental illness.
Thanks to an act of Congress, in July 988 will become a nationwide mental health hotline — an alternative to calling 911 for those experiencing a mental health crisis. This is a step in the right direction, but without 24/7 call centers with trained individuals, as well as health crisis response teams in every community, just a phone number is not enough. We need more help for people when and where they need it, because increased access to care is necessary to help the one in five Americans who will experience mental illness this year.

If you are moved to take action, NAMI has collected petitions to sign and lawmakers to contact as well as opportunities to share your personal story. You can also check in with your local NAMI chapter and see what kinds of events they have planned for May and the rest of the year. It is a great time to get involved!