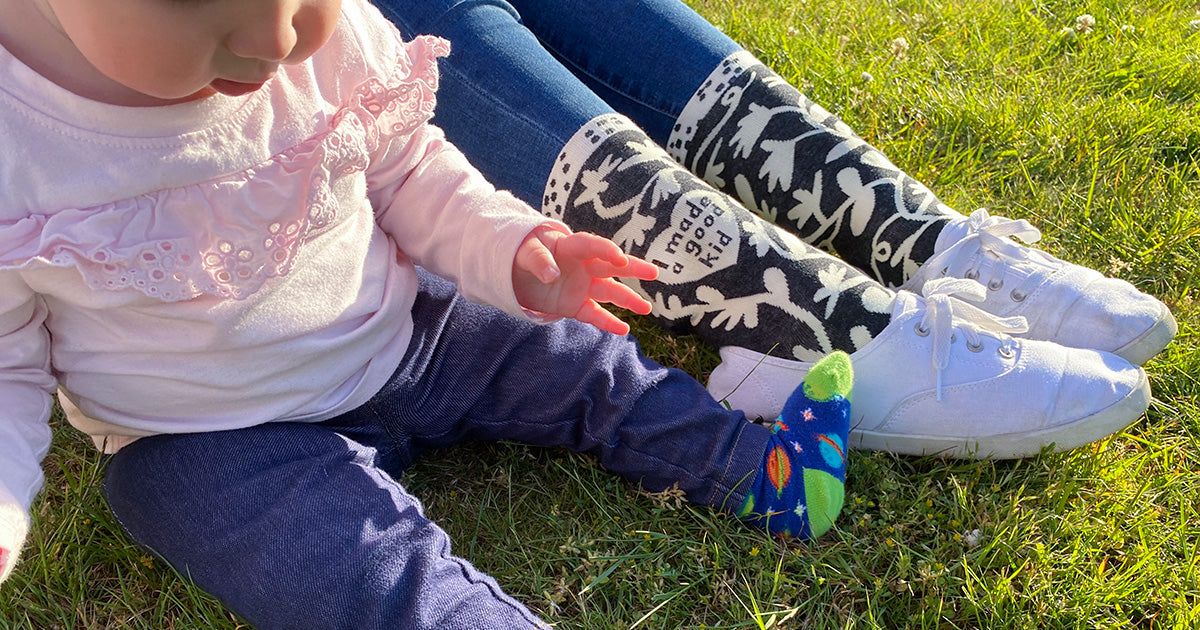 There are all kinds of moms in this world — dog and cat moms, plant moms, and of course, moms to human beings! Regardless of whom or what they are caring for, they all work hard and deserve to be showered with love. Here you will find thoughtful gifts for mom's birthday, Mother's Day gift ideas and little ways to say thanks for all she does. Read on for unique gift ideas for every mom on your list. 
Meaningful Gifts for Mom
On Mother's Day, there is nothing a mom loves more than a gift thoughtfully chosen by one of her children. Moms have many different interests, so if you are in search of fun gifts for mom from daughter or a great gift idea for a mom from a son, there is no better place to start looking than our women's sock collection. It is a fantastic place to find gift ideas for hard-to-buy-for moms because you can choose from hundreds of her hobbies and interests, from book socks to birdwatching socks!
Sweet Gifts for Expecting Mothers
For mamas-to-be, look no further than these pregnancy socks from the brand Coucou Suzette that celebrate moms of all skin tones with pregnant bellies on the heels of the socks and cute bright red accents on the lips and the fingernails.
Gifts for Mom Who Doesn't Want Anything
"Don't worry about me," she tells you on the phone. "I don't need anything; being your mom is my greatest gift." Ok, but don't you still want to give her a little something? Socks make great small gifts for mom, and they are also one of the most useful gifts. The American-made Darn Tough brand is knit with non-itchy merino wool and are available in thin profile or thicker cushioned socks for hiking and walking. She will think about you every time she puts them on, and with their unconditional lifetime guarantee that is bound to be a very long time!
Funny Gifts for Dog Moms
Show your favorite dog mom you understand just how precious her sweet little pooch is to her with a pair of funny dog socks for women. At Cute But Crazy we have dozens of unique dog gifts. Peruse our selection of socks with dogs on them for more gift ideas for dog moms.
Crazy Cat Mom Gifts
Anyone with a beloved feline friend will relate to the sentiment of these funny cat mom socks that say, "I just want to be a stay-at-home cat mom." They show a woman happily baking treats for her kitties and pushing them to the park in a stroller. That is just one of our huge collection of cat socks for women, where you can be sure to find a gift for every cat mom.
Cute Gifts for Plant Moms
Do you have a pal with a green thumb? Plant socks make totally trendy gifts for her! These "Proud Plant Mom" socks that feature adorable houseplants in smiling face planters are a perfect match, or check out of our many socks with plants and flowers for women. The best part? These little plants will stay green even if your recipient forgets to water them! 
Female Empowerment Gifts for Her
Motherhood hasn't taken the edge off of these mamas; if anything, it's made them even more proud of being women. We love the empowering message of these Rosie the Riveter knee socks with Rosies of different skin tones rocking "Nasty" tattoos and raising a middle finger — or find even more fierce feminist Mother's Day gifts in our Girl Power collection!
Gifts for Surrogate Mom
A surrogate mom could be a person who is gestating your baby (a tough job that definitely calls for a great Mother's Day gift!) or a woman who takes a motherly role in your life, whether or not you are biologically related. She's an extra shoulder to cry on and an extra role model with whom you can share your challenges and triumphs. These Aunts Are the Shit socks make a fun gift for an aunt, and they are also perfect if you call your extra mom "auntie." If you like those, be sure to check out our collection of sassy swear word socks for women. 
Mommy & Me Matching Socks
Need some unique gifts for a mom and her son, daughter or child who love to dress alike? Matching socks for kids and adults are a great gift for a parent and kid who share a special bond. These sweet s'more socks are ideal for moms who love spending time outdoors, and come in a women's size and two kid's sizes as well as some larger s'more socks for men.
Funny Gifts for Grandmas
As moms to moms, grandmothers have been around the block a time or two. Give your beloved granny this funny pair of socks that says, "This Grandma has seen some shit" with funky patterns in orange, burgundy, and mustard.
As this list shows, there are many caregivers and nurturers who aren't moms in the traditional sense. Whether your favorite person's beloved babies walk and talk, grow in pots, bark or meow, you can honor their sweet relationship with a pair of novelty socks!
And if you just need a simple Mother's Day gift for your own mom? Shop our Mother's Day sock collection and find something truly special!