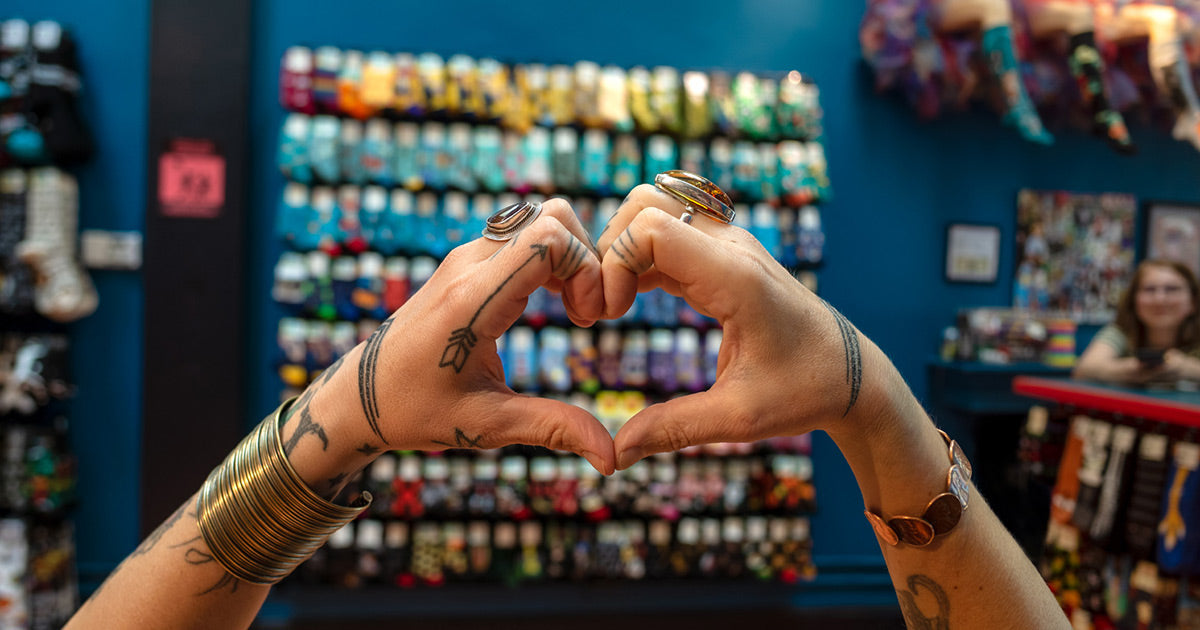 Change is Afoot
We have some exciting news! We have changed our name to Cute But Crazy and we have a new online home at CrazySocks.com. What hasn't changed is our ownership, our staff, our great customer service, our fast shipping or our huge selection of fun socks.
Our brick-and-mortar store in Bellingham will remain open and will continue to be our headquarters for shipping your online orders, answering your calls and everything else.
We decided to change our name and refresh our brand to better reflect our vibes, values and our new mission to give 1% of all product sales to support mental health through our partnership with NAMI, the National Alliance on Mental Illness. 
Why Cute But Crazy?
We have been called crazy before, and it wasn't a compliment. For far too long, this word has been used pejoratively by people with hatred in their hearts to tear down others who see the world differently ― from people living with mental illnesses, to people who fight for change and justice, to women who choose to lean in and speak up.
We want to reclaim the word crazy because to us, it has always had a positive side ― after all, it is the word most commonly used to describe the fun, wild and colorful socks that we love! 
When we looked back to the earliest definition of the word, we were surprised to learn that it originally meant "to shatter or break," and was used to describe beautiful objects like "crazed" pottery with stunning crackle glazes, or Victorian crazy quilts sewn with care and creativity by resourceful women making the most of their fabric scraps. As a woman-owned business, Cute But Crazy is proud to break boundaries, shatter stereotypes and redefine what a sock company can be.
How We Got Here
We launched our business in 2011 under the name ModSock when we opened our doors in Bellingham, Washington. Since then we have added online shopping, doubled and tripled our selection and even started a separate sister business, ModSocks, an in-house sock design company. The ModSocks brand continues to be designed here in Bellingham, with the entire selection available at our Cute But Crazy storefront and on our website CrazySocks.com.
Our new logo design features a topsy-turvy magician's hat with a pair of rainbow socks emerging like colorful bunny ears.
We think it captures some of the whimsical, magical energy that fills our entire company. Our website has a new aesthetic with colors that make us happy, including plenty of pink, rainbows and bold black and white. With new search and browse options that don't require you to sort by gender, we hope everyone will feel at home shopping here.
Let's Be Friends!
Finally, we are excited to announce a few fuzzy faces who will be joining the sock crew at Cute But Crazy. Our new sock puppet entourage is full of fun characters ready to share their unique view of the world with you. We have had a blast getting to know them better, and we hope you will too. Follow us at @CuteButCrazySocks across social media to see them in action!