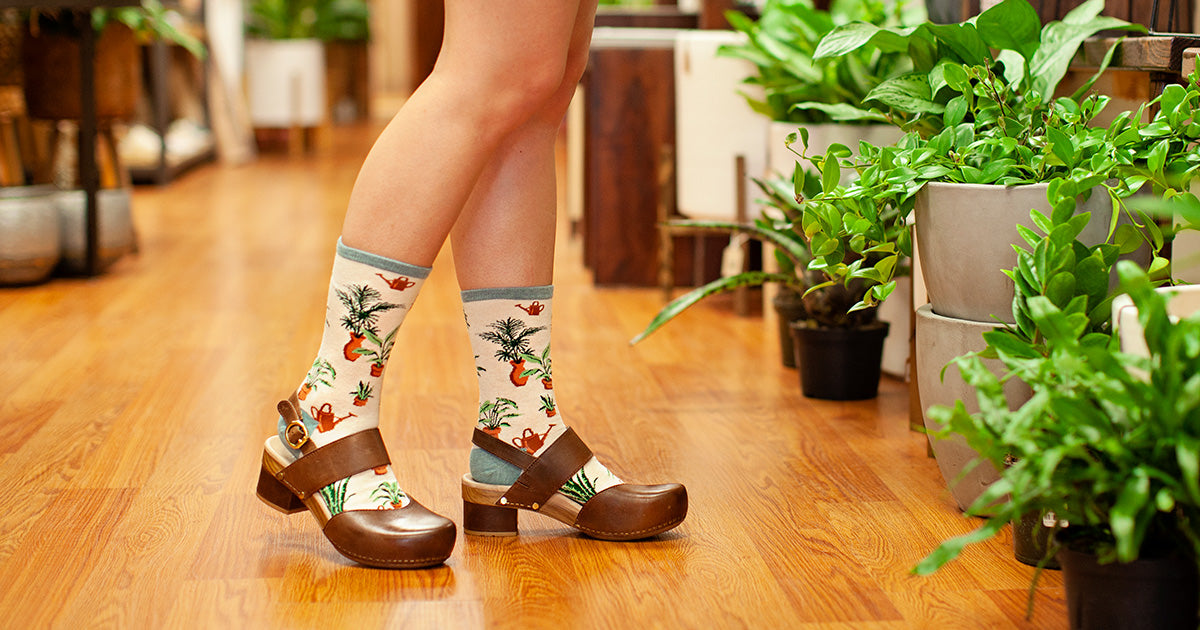 When it comes to fashion, popular prints and patterns change with the seasons. That is also true for socks! Each spring and fall we bring you new styles. Some designs reference a part of pop culture, a hobby that is in vogue or even a moment in the wider fashion industry.
We have rounded up some of the key fashion trends for 2021 according to our hot and new socks this spring. Check out our spring and summer trend forecast and put your best foot forward this year.
Book Club
After 2020 it's no surprise that many of us are finding comfort between the pages of books, and our book socks are reflecting this trend.
Show the world you did the reading when you wear new styles from our book socks collection. Some of our socks for readers have witty sayings, others show famous book covers and some just have colorful piles of reading material, like your stack of books you know you'll get around to reading eventually!
Stay Golden
Each year the Pantone company declares the Pantone color of the year, which is said to both predict and influence color trends in decorating, graphic design and fashion. For 2021, Pantone announced two colors of the year — Ultimate Gray and Illuminating, a bright and sunny yellow. The yellow is what we want to focus on here.
This year, yellow socks are having their moment in the sun. Our new sunny styles with bold yellow backgrounds and fun prints prove that gorgeous gold and yellow are going to be a big part of summer 2021's fashion trends. This year has also seen the emergence of several new styles of sweet sunflower socks featuring big, beautiful yellow flowers!
Can You Dig It?
In addition to sunflowers, socks with flowers, plants, veggies and gardening gear are a fashion must-have in 2021. During COVID, many of us turned our attention to beautifying our living spaces. The already booming houseplant market has grown even larger as a result, and houseplant socks for the indoor gardener are gaining popularity, too.
For the outdoor gardeners, we are also seeing a shift toward gardening prints with fruits and veggies, gardening tools and fun flowers. Sales are also rising for classic Nasturtium Knee Socks and Vegetable Garden Socks. It's clear that people are excited to get out and grow this year!
Eye Catchers
One of the boldest fashion print trends we are seeing this year is all in the eye of the beholder. No 2021 trend report would be complete without mentioning eye designs. Suddenly we are up to our eyeballs in eye socks!
This could be a response to a larger fashion trend: evil eye jewelry. These eye-shaped charms are meant to ward off supernatural misfortune caused by someone looking at you and wishing you harm, and are popular in different cultures around the world.
So it makes sense that many of our eye socks are focused on the mystical powers of the eye, like an eye floating in a crystal ball, glow-in-the-dark eyeballs, skulls showing the mythical "third eye" and cute eye socks with witchy vibes. 
To see more of our new styles, keep checking our new socks collection and never miss a sock trend!