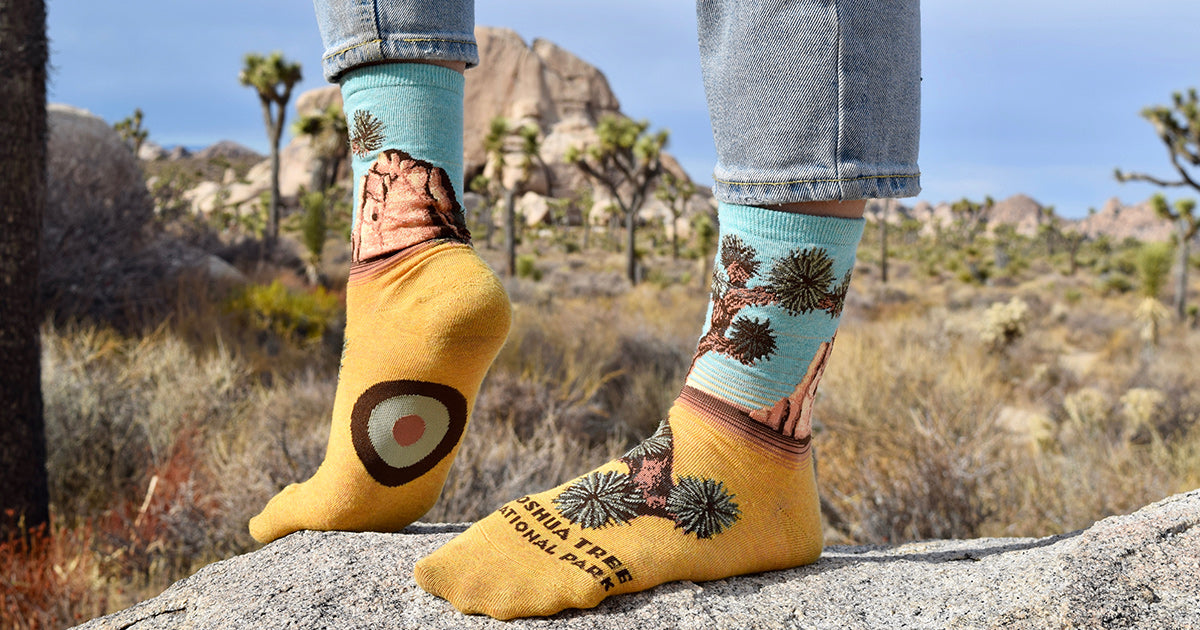 One of the most dazzling features of the United States is its diverse and widespread national parks. These federally protected, vast and scenic landscapes not only offer outdoor enjoyment for the public, but sanctuary for wildlife that might otherwise be at general risk or even endangered.
To celebrate America's national parks, we offer vibrant depictions of some of our parks' most beloved locations on soft crew socks. You'll never forget your adventure when you commemorate them with fun socks!
Joshua Tree National Park
In California's high Mojave desert, a peculiar plant makes its home. Yucca brevifolia, also known as the Joshua tree, is known for its twisting branches and dagger-like leaves. You can observe the spiky species at Joshua Tree National Park, 790,636 acres at the junction of the Mojave and Colorado deserts, with the Little San Bernadino Mountains to the southwest.
In addition to the plant it was named after, Joshua Tree National Park is a great place to encounter the other desert flora and fauna living there including creosote, cactus, desert tortoises, roadrunners and jackrabbits. Visitors love to come to the park to hike, camp and rock climb — and at night, stargaze! Our Joshua Tree National Park socks for men and women capture some of that natural beauty, showing the park's golden sand, blue sky and of course, its plant life.
Yellowstone National Park
Yellowstone is the OG of national parks. The first national park in the U.S. (possibly the world), it spreads across a whopping 2.2 million acres and three different states — Wyoming, Montana and Idaho. Yellowstone is a volcanic hotspot with half of the world's geysers and hydrothermal features. It forms the centerpiece of the Greater Yellowstone Ecosystem, filled with hundreds of species of native plants, mammals, birds, fish, reptiles and amphibians. Yeah! It's kind of a big deal.
What better summer socks to commemorate your trip than Yellowstone men's socks featuring bears at the Grand Prismatic Spring at Yellowstone's Midway Geyer Basin? Also available for women.
Monument Valley
Yellowstone might seem like a tough act to follow, but Monument Valley located on the Arizona-Utah border has some wonder yet to unfurl. Towering skyscrapers of sandstone ranging from 400 to 1,000 feet erupt from the rust-colored sands of the great valley while in a wide blue sky, big fluffy clouds roll overhead. Specifically a Navajo Tribal Park (the Navajo equivalent to a national park), Monument Valley is one of the most overwhelmingly beautiful places in America, with its next-level sunsets and colorful, stratified buttes.
Next time you're taking a scenic drive through this gorgeous landscape, don't forget your men's or women's Monument Valley Park socks (above, right) to match. You'll never want to forget a view like that!
Glacier National Park
In Montana near the Canadian border is mountainous Glacier National Park, spreading out across 1 million acres and multiple ecosystems. Famous for housing some of the best example of early life fossils on earth, Glacier is also home to native plant and animal species including grizzly bears, moose, wolverines, lynxes, and hundreds of species of birds. Day hikers, back-country campers and climbers frequent this breathtaking expanse of near-perfectly preserved nature. So don't forget your hiking socks!
Next time you're camping in Glacier, you can keep your feet warm and immortalize the scene with Glacier-inspired camping socks (above, left) featuring a lakeside campsite. Available in men's crew and women's crew.
Arches National Park
Grand County, Utah is home to Arches National Park and over 2,000 natural sandstone arches formed 300 million years ago by a wildly fluctuating North American inland sea, thick salt deposits, layers of rock, tectonic shifts, and millions of years of erosion. What a wild (yet slow) ride! Most famous of all the arches is the Delicate Arch, known to cowboys as "the Chaps," "Mary's Bloomers," and "Pants Crotch." (I bet you can't unsee it now!)
The Delicate Arch is so famous, you'll even see the it on the Utah state license plate — and now on novelty socks for men and women!
If you enjoyed these U.S. National Parks socks, we've got more for outdoorsy folk! Hikers, backpackers, and mountain-climbers will appreciate these hiking socks that celebrate being outside in Mother Nature's great outdoor gym!