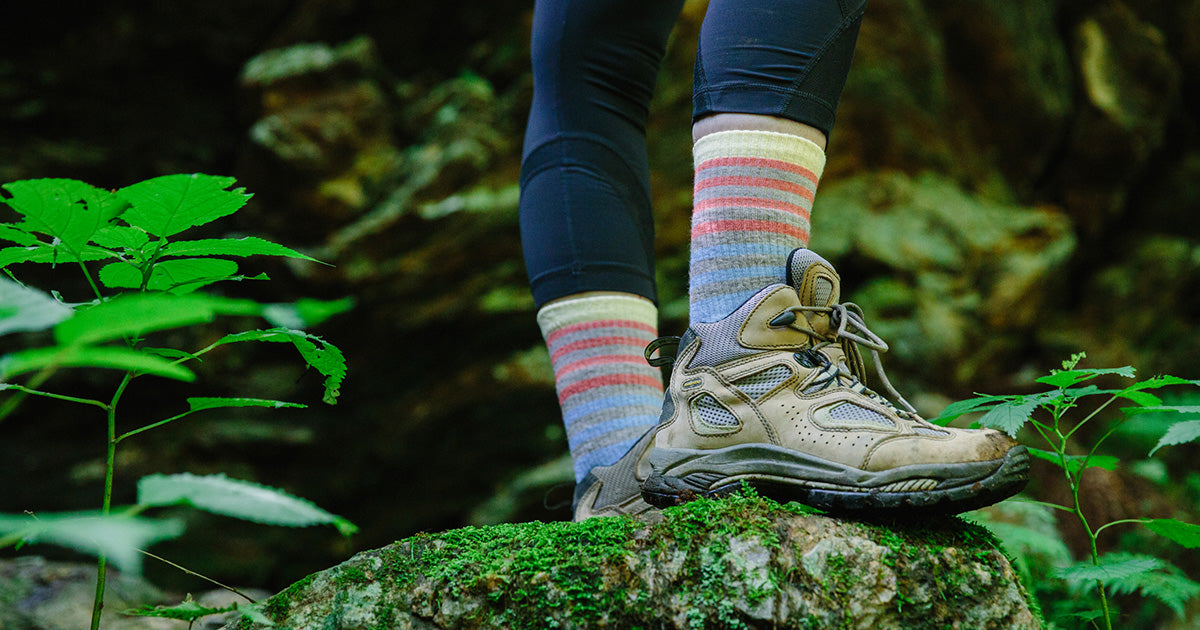 Take a hike in a pair of our incredible hiking socks! We want to help keep your feet cozy and blister-free so you can enjoy nature to its fullest. At our headquarters in Bellingham, Wash., we are here to help you find the best technical hiking socks and fun socks to reminisce about the trail. We carry merino wool hiking socks from Darn Tough Vermont, with their great features and lifetime guarantee. We also carry SockGuy, a company that makes both wool socks and breathable synthetic socks you can wear when you're allergic to wool. Want the aesthetics of a PNW outdoorsy vibe? We also have novelty socks from ModSocks, Blue Q and other brands to remind you of your favorite trail.
Our Guide to Sock Height
Picking the right sock height for your hiking boots or other footwear to reduce friction and abrasion is incredibly important, so if you're wondering about how long your socks should be you can consult our handy sock height guide. If you own hiking boots with ankle support, you want to make sure and pick a boot sock or a crew sock that rises above your shoe to prevent chafing. For those of us opting for lighter-weight hiking shoes with a lower profile, a quarter height sock may be the way to go. We have many crew length and quarter sock options to help meet the needs of your trail conditions.
Cushioning. How much or how little?
How do you choose the right level of cushioning for your socks? Thicker cushioned socks will keep your feet warm during cold winter hikes, and socks with light cushioning that let your feet breathe are great for warmer days on the trail. The right socks for cold temperatures will have additional cushioning to keep your feet warm. Darn Tough Vermont has many heavy cushion and light cushion socks to give you options for fall, winter and spring hiking. If you're in luck and the weather forecast is sunny and 70, then you my want to choose from their light cushion or ultra-light assortment of socks. Don't let the lack of cushion fool you, these socks prevent blistering just like their thicker counterparts!
Fiber Content
Wicking away moisture to keep your feet comfortable is very important regardless of the duration of your outdoor adventure. Merino wool socks are a great option because they are both wicking and anti-microbial. If you can't wear wool, try SockGuy's synthetic technical socks. These wool alternative socks have been put to the test by our staff, and hold up to all trail conditions.  
Socks that Fit Perfectly
Making sure your socks fit well to help you avoid blisters is our goal. To break it down, we typically carry socks in two sizes, one is larger and fits most men and the other is smaller and fits most women.
The SockGuy brand calls their two sizes S/M and L/XL. The S/M will fit woman's shoe sizes 6 to 10 or men's shoe sizes 5 to 9, and the L/XL will fit men's shoe sizes 9 to 13 or women's shoe sizes 10 to 14. It's important to know the size of your feet when choosing the right hiking socks, because socks that are too loose will cause blisters, and socks that are too tight will wear through and develop holes faster.
For Darn Tough socks, sizing is a little bit different. Because they are made from wool and are less stretchy, we actually offer three separate sizes each for both men and women. These sizes actually overlap slightly — the men's size medium is technically the same dimensions as the women's size large. Here is what Darn Tough's size breakdown looks like:
Size Chart
Men's Darn Tough Sock Size
Men's U.S. Shoe Size
Women's Darn Tough Sock Size
Women's

 U.S. Shoe Size

S
4.5

–

7
5.5

–

7.5
M
7.5

–

9.5
M
8

–

9.5
L
10

–

11.5
L
10

–

12
12

–

14
XL
12.5

–

14.5
Fun Outdoorsy Socks.
If you already have plenty of hiking socks but want to let everyone know in your daily life that you love the great outdoors, a pair of novelty socks will help you find that adventurous feeling off the trail. We carry funny forest socks from Blue Q highlighting the euphoric feeling of being out in nature with the phrase "I Fucking Love It Out Here." If you'd rather have a more G-rated sock, we also have these pinecone socks from ModSocks, available for both men and women. For something less hiking-oriented but still woodsy, we have our ever-popular mushroom socks available in crew length for men and women, as well as stretchy knee-high socks. Finally, for the road trippers and campers out there we offer a line of National Park socks from Sock It to Me.
If you didn't make it through this entire blog post we hope it's because you were so inspired to go hiking that you left this page open on your browser. If you did make it through this whole post, then congrats — now take a hike!