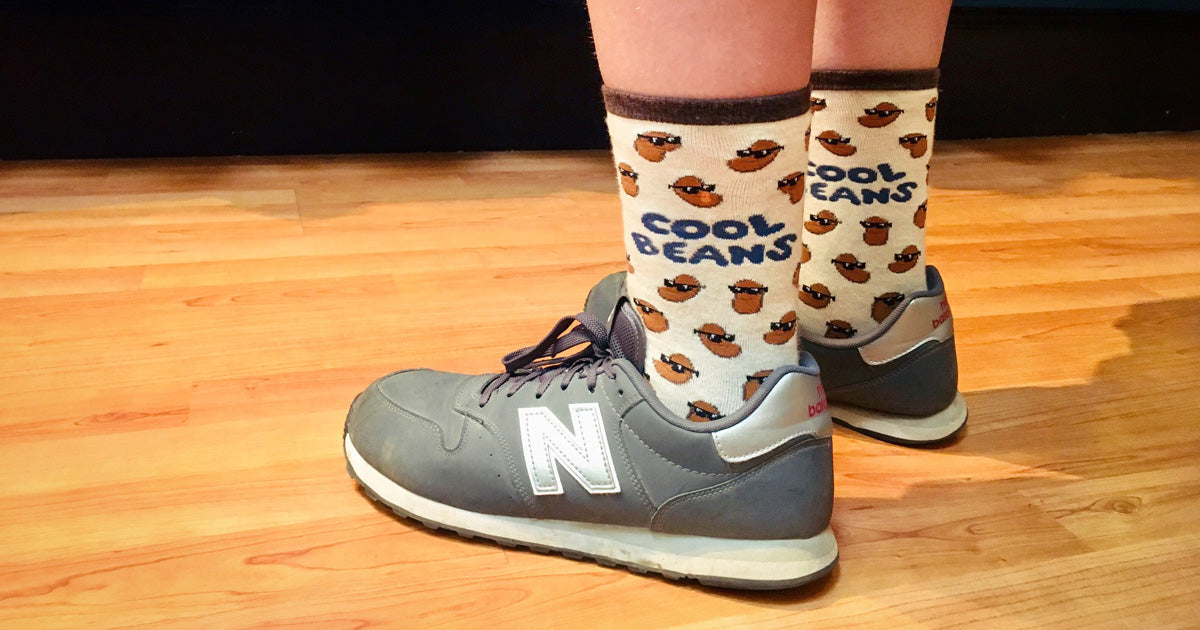 Espresso machines, moka pots, French presses and pourover gizmos — however you prepare your coffee, make sure you do it while wearing our fun coffee socks!
Coffee Bean Socks
If iced coffee is your jam, we recommend these funny Cool Beans socks — they are just about as cool as it gets! While their variety isn't specified, we like to think the funny beans wearing sunglasses on these socks are coffee beans ready to jump into your cup and give you a much-needed boost.
Classic Coffee Socks
Most people working a 9 to 5 shift can't wait to take their hard-earned coffee break. That's why we made the best coffee socks for men and women featuring French presses and percolators. Our women's coffee socks come in two colors, black and seafoam green.
Coffee Cup Socks
Slave to a coffee cup, many of us can't get the day started without a warm latte. These Java Coffee Socks from SockGuy are great athletic coffee socks making it possible to take the aesthetic of coffee with you on your next run or bike ride. Available in both S/M and L/XL sizing, SockGuy caters to all unisex and gender-neutral sizing. 
Fresh Coffee Ankle Socks from Socksmith are the perfect early morning coffee socks to put on while you walk to the kitchen in a bathrobe or head in for a full day of work. There are so many coffee lover gifts out there, but these socks would be perfect for the coffee lover in your life.
Funny Coffee Socks
We have so many great gifts for coffee snobs, but sometimes you need a pair with some humor. For all you die-hard coffee drinkers who don't believe that decaf coffee is 'real' coffee, our men's and women's Death Before Decaf Socks from Socksmith are for YOU! Buy a pair for a barista and make their day. 
Caffeine Socks
Calling all you chemists out there who enjoy coffee-themed socks! These caffeine molecule socks from Socksmith are perfect for a day in the lab. Available in men's and women's sizes, these chemistry socks will have you counting your single and double bonds.