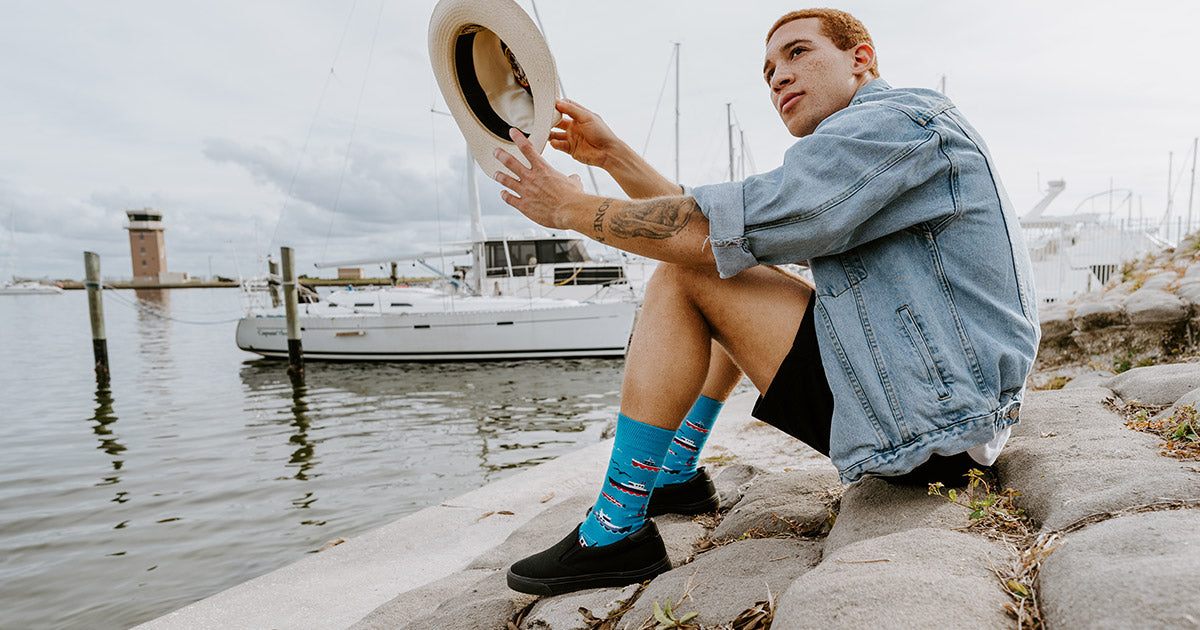 The sunny season is here and that means it's time to break out the shorts! But if you want to take your summer style up a notch, don't forget about one essential piece of the puzzle — socks! That's right, guys can look stylish and stay cool at the same time by pairing their go-to shorts with a great pair of men's socks. Whether you're looking for a bold statement or something a little more classic, we've got all the tips and tricks to help you rock the sock game this summer. So grab your favorite pair of shorts and let's get started! 
Is It OK to Wear Long Socks With Shorts? Yes!
It's time to set the record straight — we know a thing or two about killer sock style, and it's perfectly okay for men to wear tall socks with shorts! In fact, not only is it okay, but wearing shorts and high socks can be a great way to add a splash of fun and personality to your summer outfits.
Going sockless in the summertime is a thing of the past. Many current guy style trends encourage wearing socks with shorts, including skater and streetwear styles. Later on, we'll discuss how to follow these trending styles with socks and shorts of your own.
"Ah, but what about summer heat? Who wants to wear socks then?" Sounds counterintuitive, right? Yet, there are some sock styles designed to keep your feet cool even in the hottest of weather! Some breathable options like merino wool and bamboo socks are moisture-wicking and lightweight — perfect for keeping your sweat-prone feet dry and comfortable. These socks work their magic by drawing sweat away from your skin to the sock's surface where it can evaporate. So, if you're worried about keeping your feet cool, opt for moisture-wicking socks.
What Socks Do Guys Wear With Shorts?
When paired with shorts, the right kind of socks can add that extra bit of panache to your summer outfits, helping you look stylish and put-together even when rocking a casual look. Whether you're looking for classic crew socks or something more daring like knee socks, there's a sock style out there for every kind of guy! So if you want to take your shorts game to the next level, take a look and discover all the different kinds of socks that guys wear with their shorts nowadays.
A Classic Look: Styling Crew Socks with Men's Shorts
These mid-length socks are the go-to choice when it comes to pairing socks with shorts and are perfect for guys who want to look fashionable without going over the top. For a classic look, opt for crew socks in neutral colors like navy, black, or gray. To take things up a notch, look for bold patterns and vivid colors that show off your personality. With the killer combination of timeless style and comfort, crew socks can be the key to nailing any men's shorts and socks outfit.
Rock Ankle Socks with Shorts for Superb Summer Style
Perfect for men who plan on staying active in the warmer weather, short socks offer up a subtle touch of style to any shorts ensemble. Ankle socks are lightweight and breathable, keeping your feet cool and comfortable in even the hottest temperatures. Go for a sporty, casual look with the ankle socks and shorts combo.
Make a Statement with Knee Socks for Men
When it comes to looking stylish in shorts, one of the easiest ways to make a statement is by pairing them with knee-high socks. The height of these socks when paired with shorts can create an eye-catching contrast, adding visual interest and fun to any outfit. Plus, for guys who want to add a bit of pattern or color to their look, knee socks are a great way to do so due to their wide range of fun novelty designs. Check out our collection of wide-calf knee highs for bold patterns and an inclusive size range with knee socks ranging from a men's shoe size 7 to 13.
No-Show Socks: The Stealthy Sock Solution
So far we've learned that taller socks look great when paired with shorts, but can you wear no-show socks with shorts? Although they don't offer the same pop of style or personality as longer socks do, no-show socks can be a great option for guys who want to let their legs do all the talking. Besides, no-show socks are always a better alternative than no socks at all! If you're wearing any footwear besides flip-flops or sandals, we highly advise against going sockless in your shoes — give your feet that extra layer of protection that only socks can provide!
Solidify Your Style with Solid-Color Socks and Shorts
Looking to add some pizzazz to your warm-weather wardrobe? If you're going for the preppy vibe, wearing black socks with shorts (or any other neutral, solid-colored sock) pulled up to mid-calf will definitely do the trick. Bonus points if you add a pair of loafers! Plus, there are endless color options when it comes to solid-colored socks — from keeping it classic with whites and blacks to switching it up with solid blues or grays. 
How to Wear Novelty Socks With Shorts Like a Pro
When it comes to pairing socks with shorts, why not push the envelope a bit and make your footwear a real conversation starter? Novelty socks are an excellent way to inject some fun into a classic summer look. Eccentric designs, funny sayings and patterns are included in the plethora of novelty sock options out there. Pair them with shorts and a classic white T-shirt or polo to let your fun socks take center stage.
How to Wear Socks With Shorts
When it comes to men's fashion, rules are made to be broken! So why not take a risk and make a bold statement by wearing socks with shorts? Whether you're sporting cargo or running shorts, this guide details what socks to pair with all the different shorts you own.
Socks Make Cargo Shorts Cool
When pairing socks with cargo shorts, it's all about finding the perfect balance between fashion and function. You want something that looks great, but also keeps you cool and comfortable in the summer heat. We recommend pairing your cargo shorts with a crew length or knee-high sock in a neutral color palette in order to compliment the casual, sporty look of the cargo. Happy sock hunting!
Elevate Your Style with Pleated Shorts and Socks
To avoid looking like a tourist on vacation, pair your pleated shorts with a mid-calf crew sock in a neutral tone, like beige or gray. This will give a subtle nod to the classic, preppy style while still keeping your look modern and fresh. If you're feeling adventurous, don't be afraid to go for a patterned sock. Just make sure the color palette of your socks don't clash with your shorts. For example, pair khaki-colored shorts with socks that have a background color of a similar shade, such as light brown or beige. 
Step Up Your Game by Wearing Running Shorts with Socks
You may think that running shorts are strictly suitable for the gym, but the right socks can transform them into a laid back fashion statement that you could wear to all sorts of occasions. Our recommendation? Go for a crew or ankle sock in a bold color or pattern. Not only will it add some personality to your workout ensemble, but it will also show off those toned calves you've been working so hard on.
Socks and Bermuda Shorts are a Killer Combo
With the simple, classic style of the bermuda short, almost any socks would look great! For a timeless look, a crew sock in a complimentary color is always a safe bet. But, why play it safe when there are endless opportunities for sock experimentation? Consider a bold graphic print for some edge or a textured sock to add some depth to your outfit. No matter the case, let your sock game be the talk of the town when you step out in your bermuda shorts.
Unleash Your Inner Highlander: What Socks to Wear with Utility Kilts
The utility kilt is a true symbol of manhood for those seeking an alternative to the classic shorts style. But what socks should you wear with such a unique garment? If you're going for a more traditional Scottish look, then knee-high socks will do the trick. For a fun, modern twist try them out in a bold and colorful pattern! Rock that kilt with confidence, and let your sock choice be a true reflection of your unique style.
What Shoes Should You Wear With Socks and Shorts?
So far we've learned how to take your socks and shorts up a notch, but if you really want your style to stand out this season, you need to finish off your look with the right pair of shoes! After all, the devil is in the details — so let's take a look at the best shoes to wear with shorts and socks.
Amp Up Your Style: Wearing Socks with Shorts and Sneakers
Gentlemen, it's time to ditch the flip flops and step up your summer fashion game. But don't make the rookie mistake of just throwing on any old sneakers and socks combo. First up, choose your shorts wisely — a classic chino or denim pair will never steer you wrong. From there, pick some sneakers that match the vibe you're going for, whether it's athletic, retro or modern. If you're unsure, go for some sleek all-white sneakers (no scuffs, please) that are guaranteed to go with almost anything. And don't forget the socks! A pop of color or playful patterned socks can really take your outfit to the next level. 
Smooth Moves: Socks with Shorts and Skate Shoes
Skater fashion has been around for decades, and it's no surprise why. The laid-back, effortless vibe makes looking trendy a total breeze. Take this cool factor to the next level by pairing your shorts and skater shoes with socks! Opt for a pair of high-top Vans or Converse and let your socks do all the talking with a fun pair of novelty socks. A bold print or bright color can be the perfect addition to your easy-going outfit. So whether you're hitting the skate park or just strolling down the boardwalk, socks with skate shoes is a look that's here to stay!
The Dos and Don'ts of Wearing Socks with Sandals or Slides
When it comes to fashion, the rule book is constantly being rewritten. And while it may seem that wearing socks with sandals is one faux pas that never seems to die, this combo is popping up all over the place in men's streetwear trends.
Worried about looking too much like your grandfather? We're here to help you navigate this style minefield! The key is to ditch the white tube socks and go for a sleeker, more stylish option. Think crew-length socks in geometric patterns, bold colors, or even novelty designs. As for shorts, choose a length that hits just above the knee to balance out the height of your socks.
Wearing socks with shorts can be a tricky endeavor. But when done right, it can add an extra touch of style to your ensembles and help keep your feet comfortable during the summer months. So don't shy away from the shorts and socks look — embrace it!