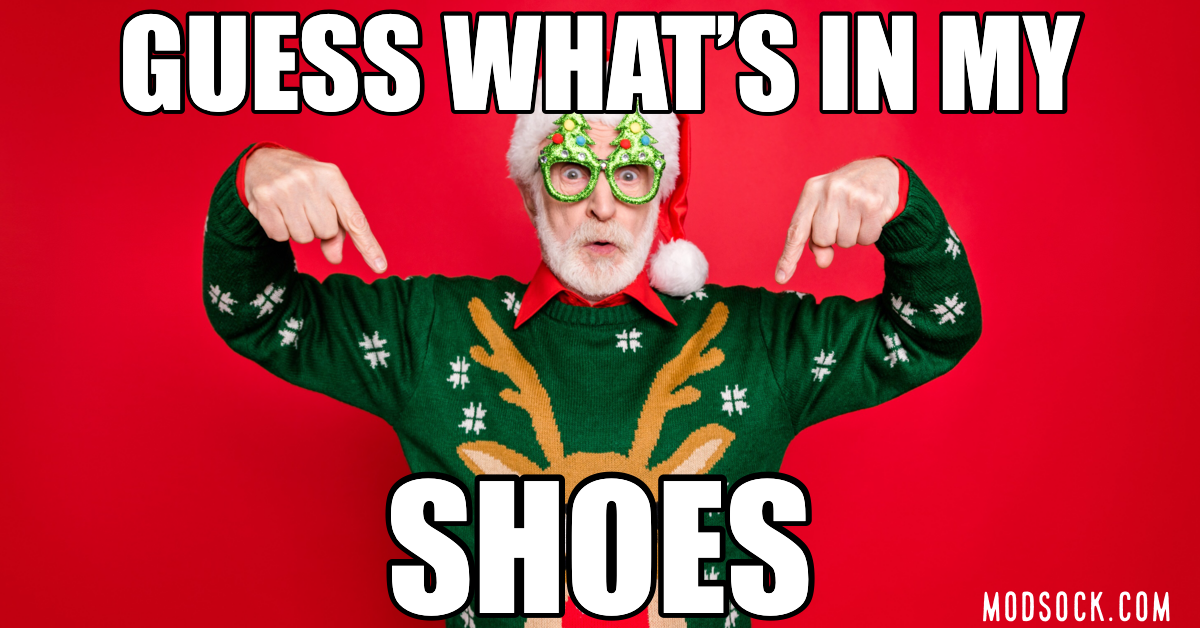 Everyone with a sense of humor should wear an ugly sweater at least once this winter! Ugly sweaters have become so popular that there are now some socks with funny ugly sweater patterns for their designs. If you don't know much about ugly Christmas sweaters or want some tips for wearing them and accessorizing them with ugly Christmas socks, we've got you covered!
What is an ugly sweater?
What does ugly sweater mean? An ugly Christmas sweater is a tacky, silly, overly embellished sweater with a Christmas theme, Christmas characters and lots of red and green. Some sweaters have animals, silly snowmen, Santa or Christmas trees. The best ugly holiday sweaters have lots of extras like jingle bells, sequins, glitter, tinsel and pom poms. You could even get a battery-powered string of LED Christmas lights and make your ugly sweater light up. When you wear ugly sweaters, all fashion rules go out the window and it's time to just have fun! You'll just want to make sure you complete your festive outfit with a pair of ugly sweater socks. . .
Where can you buy ugly sweater socks?
At the sock shop we sell many novelty socks that follow the ugly Christmas sweater theme. If you are hoping to win an ugly sweater contest, wear ugly sweater socks to complement the rest of your clothes and blow away the competition. Here are a few of our favorite ugly Christmas sweater socks, or you can always choose a pair from our Christmas socks collection.
Dinosaur Christmas Sweater Socks
Do you dream of an old-fashioned Christmas? It doesn't get much older (or more fashionable) than these crazy dinosaur Christmas sweater socks for men and women. Wear these fun holiday socks with a tacky sweater design that contains T. rex and Triceratops, Christmas trees and presents. They will make a big splash at your ugly sweater party when worn or used as a prize. You can also give dinosaur Christmas socks as gifts!
Unicorn Christmas Sweater Socks
When you don your gay apparel this Christmas, don't be shy — make it extra gay with these fun and crazy Christmas unicorn socks. Since they are purple and rainbow they look great all year long, but it is their unicorn, snowflake and Christmas tree sweater pattern that makes them extra special at the holidays, especially when paired with your best tacky sweater. These funny unicorn-patterned Christmas socks are available in crew-length for men and women, as well as delightful Christmas knee-high socks.
Ugly Christmas Sweater Socks with Bob Ross
Ugly sweaters have become such a hit that they now have their own special day! What is Ugly Sweater Day? This holiday happens every third Friday in December just so people can wear their best ugly sweater to work or school. We think these funny Bob Ross Christmas Sweater socks are a great choice to wear for Ugly Sweater Day. If you're a kid, you might have seen the artist Bob Ross on YouTube or Twitch, but for adults he was always found on PBS, painting landscapes and quietly talking while sporting a big bushy beard and permed hair. These socks show Bob wearing his own Christmas sweater and also feature soft, fuzzy hair on his head that you can touch, adding a silly sensory experience to already fun holiday socks.
Humping Reindeer Christmas Sweater Socks
Frisky reindeer are gettin' busy on these funny men's Christmas socks parodying the classic Fairisle sweater pattern. If you are looking for gift exchange ideas, Christmas socks with funny patterns like the one on these reindeer Christmas sweater socks are a great gag gift and the perfect thing to bring to a white elephant gift exchange. Shop for these naughty Christmas socks here.