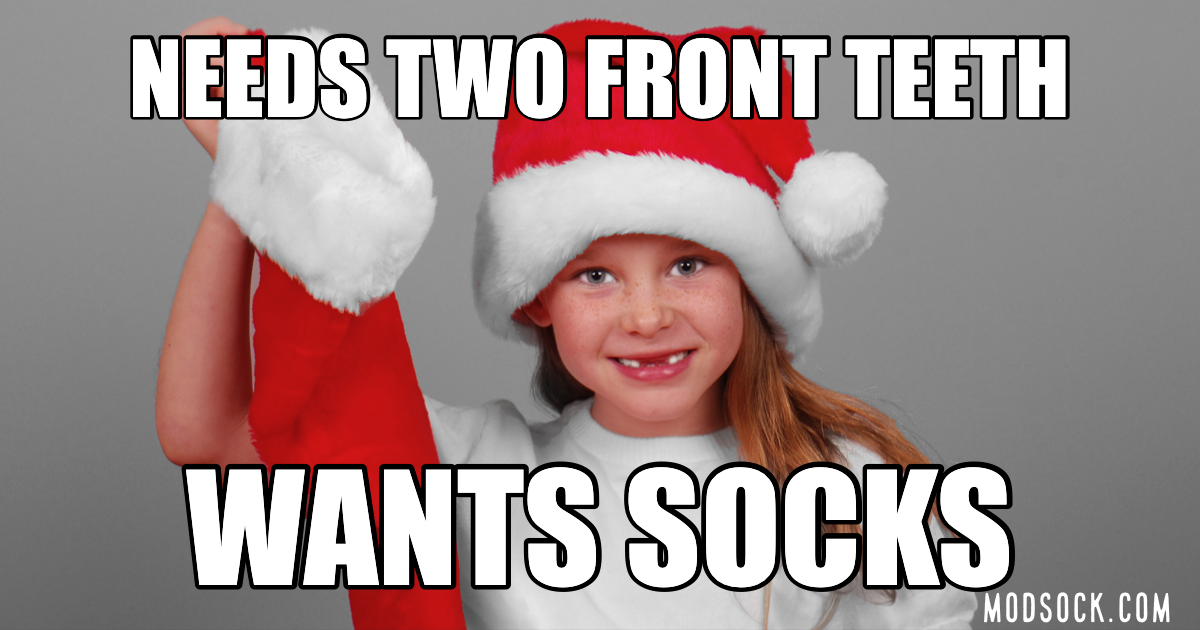 Scrambling to find fun presents and stocking stuffers to treat the loved ones on your list? Worried about how to afford Christmas gifts for everyone? Wondering what are the most popular gifts for 2019?
The ultimate gift idea is SOCKS! Christmas is a day when your heart is warm but your feet might be a little chilly, so it's great to give the gift of comfort and laughter with a pair of fun socks. If you are not sure what to give someone for Christmas, we have this list of reasons you should consider novelty socks as a great gift idea.
Is it OK to give socks as a gift?
Giving socks as a Christmas present is normal and acceptable. Socks as gifts is a tradition that stretches back to the days when socks were still made by hand, and socks continue to be a popular Christmas gift to this day. Socks combine fun and function, which makes socks a present that someone will actually use, but one that is still a joy to receive. Treat your loved ones to a pair of funny socks if you want to make them laugh while giving them something great to wear for the new year and beyond!

But are socks a good Christmas gift?
Even though we have all heard of kids who want toys instead of socks on Christmas, that doesn't really apply to fun socks. The truth is, it is OK to give socks as Christmas presents and many people get more excited for socks than for any other gift. You might just see a family member open their new socks and say, "This is the best Christmas gift ever!" You can also combine socks with another small gift and make a present package that is more than the sum of its parts. Imagine receiving a bottle of wine and a pair of cute wine socks, for example!
What should you bring to a gift exchange?
Need some gift exchange ideas? It always feels good when your gift is in high demand at a white elephant party or work gift exchange. A great way to win the gift exchange is to bring something that makes everyone smile, like funny socks or cute socks. Feel like the hero of Christmas when you show up with a pair of Christmas socks with sayings like these pizza socks that say "Merry Crustmas" for men or women.
What are the best inexpensive Christmas gifts?
Sometimes gifting can be costly, but staying in your budget at the holidays doesn't have to be hard. If you are looking for cheap Christmas gifts you can give to your friends and family this December 25th, socks are a fantastic option. We say, start with a pair of crew socks for men (mostly $10 to $12), women (mostly $8 to $10) or kids (mostly $5 to $8). These socks are totally fun, the perfect length to wear year-round, and best of all: they won't break the bank.
What's a good stocking stuffer?
When you are looking for stocking stuffers, socks are an excellent choice. They are small, inexpensive and fit perfectly with other fun stocking fillers like candy or gift cards. We actually think socks are the best stocking stuffers because they are like Christmas stockings you can actually wear! You could even stay with the theme and fill stockings with Stocking Pupper Socks for men and women.
What do you give someone who has everything?
Fortunately you can never have too many pairs of socks, which makes socks the perfect gift for the person who has everything! Plus scientists have discovered that people lose 1,264 socks over the course of a lifetime so a new pair of socks is always well-received.
Now that you know socks truly are the very best gift, you can start AND finish your Christmas shopping with us!