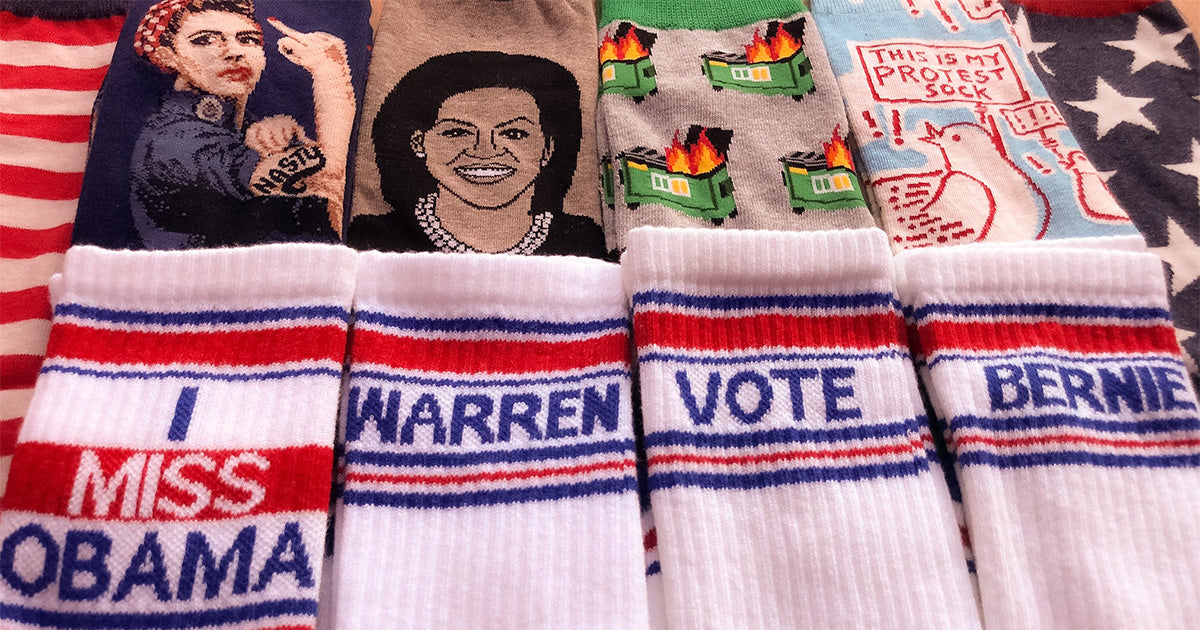 Vote with your feet in a pair of our fantastic election socks. We have political socks with candidates and presidents, and even some sassy styles for the people who just want it all to be over with! If you think politics are boring, liven things up in a pair of these funny socks.
Vote Socks
Are you registered to vote? These election socks just say "VOTE" in a retro athletic style. They are as American as apple pie and politics, and they are even made in the United States! If you don't see your candidate of choice below, grab a Sharpie and make them a write-in on these socks.
Dumpster Fire Socks
Some political campaigns never get off the ground, and some are hot messes from the start. We can think of a few campaigns perfectly captured by these funny socks for men with burning trash bins.
Warren Socks
Elizabeth Warren socks are make in the U.S.A. for all the fans of this cool candidate. Wear these unisex Warren socks with retro vibes and cozy cushioned soles around town and let everyone know you are ready to dream big and fight hard.
Protest Socks
Let your feet do the talking when you wear a pair of these funny protest socks! They can be used to protest just about anything and look great with your special protest pants.
Obama Socks
If you are missing our 44th president these days, put on a pair of these Barack Obama socks for men. We also have smaller-sized Obama socks for women, plus cool socks with Michelle Obama so you could wear Michelle on one foot and Barack on the other. They make a great pair, don't they?
Flag Socks
Whatever your politics, if you are from the United States you can probably rock a pair of these fun American flag socks in men's or women's sizes. Since they are a mismatched pair, one sock has the blue background with white stars and the other has the red and white stripes. If you are super patriotic, stand tall in the stars-and-stripes knee high.
Nasty Rosie Socks
Are you sick of all the misogyny in the world? Do you always choose to vote for women's rights? This time you can vote with your wallet by buying and wearing a pair of Nasty Rosie Socks. Featuring a reimagined Rosie the Riveter flipping the bird, brand ModSocks gives 100% of the profits from this style to Planned Parenthood. 
Feeling just a little bit nasty? Nasty Rosie and Black Nasty Rosie socks are available in a shorter crew style too, part of our feminist sock collection.