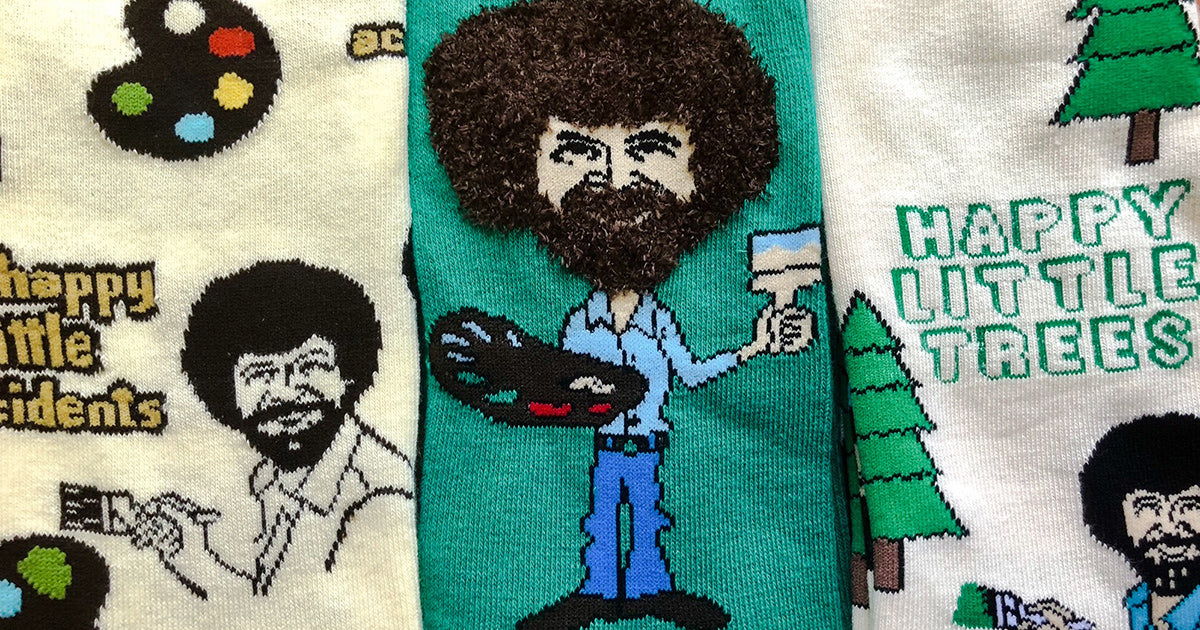 You may be a longtime fan, or you may be wondering, just who is Bob Ross? With all the Bob Ross socks we carry, we almost feel like we know the guy!
Bob Ross lived a fascinating life from his humble beginnings in Florida, to his early love for animals, his military career and finally his time as a painting teacher on PBS where he became known for his soothing voice and permed hair. Read on to learn more about the man and his life:
Robert Norman Ross was born in Florida in 1942. As a young child he would often care for sick and injured animals like armadillos, snakes, and even an alligator that he kept in his bathtub. Later in life he would continue to rescue creatures, especially squirrels, which would sometimes appear on his PBS television show The Joy Of Painting.
Bob's love for the cuddly little critters of the world makes us think he might have gotten a kick out of these Bob Ross fuzzy hair socks for women and men, with 3D perms and beards that can be petted and played with just like a friendly little squirrel.
When Bob turned 18, he joined the military and served in the Air Force for 20 years, where he reached the rank of master sergeant. While he was stationed in Alaska, Bob fell in love with the mountains, snow and especially the trees. He got sick of having to yell at people in the military, so he promised himself that after he retired he would never raise his voice again.
During this time Bob started painting, and nature would become the main focus of his art. He had many catchphrases that he would repeat on his TV show in his soothing and quiet voice. That's why we love these funny socks with Bob Ross painting trees and the words "Happy Little Trees," which is what the artist would often say when he painted a tree. You can find Happy Little Trees Socks for men or women.
Here is one of our favorite Bob Ross quotes:
"I got a letter from somebody here a while back, and they said, 'Bob, everything in your world seems to be happy.' That's for sure. That's why I paint. It's because I can create the kind of world that I want, and I can make this world as happy as I want it. Shoot, if you want bad stuff, watch the news." — Bob Ross
Bob Ross went to work for PBS in 1983, where he hosted the show The Joy Of Painting for 403 episodes. Bob wanted to teach people to paint using a technique called wet-on-wet. He painted nature scenes like winter fields, sunsets, mountains, trees and streams. Bob's former student and the co-founder of the Bob Ross Company Annette Kowalski said Bob rarely included people in his paintings. "If you notice, his cabins never had chimneys on them," Kowalski said. "That's because chimneys represented people, and he didn't want any sign of a person in his paintings."
Bob's style of painting was very forgiving when it came to making "mistakes." Whenever he would put some paint where he didn't intend to, the television painter would say, "We don't make mistakes, just happy little accidents." That is the inspiration for these Happy Little Accidents Socks for women or men. Wear a pair and channel Bob Ross' gentle energy in your everyday life.
Bob Ross passed away in 1995, but he has found new popularity thanks to people discovering his show on YouTube, Twitch and Netflix. Many new fans appreciate him because of the ASMR response they feel when they hear his voice, which they describe as a pleasant sensation or gentle head tingling. Recently a stash of Bob Ross paintings was found packed away at Bob Ross Inc. headquarters in Herndon, Virginia. None of the paintings are for sale, but some will be put up for display at a future exhibit in the Smithsonian Museum. We hope his legacy continues to grow, and that these fun Bob Ross socks are a small part of keeping his memory alive.