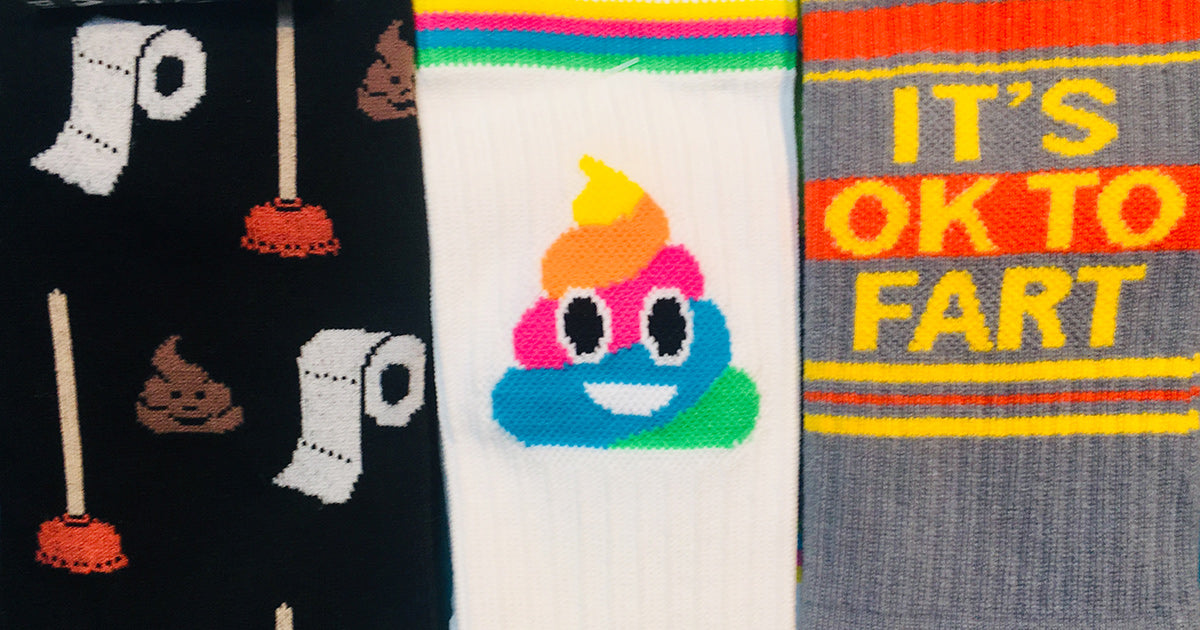 A lot of things are funny, but there is no humor that transcends all ages and cultures as much as toilet humor. Everyone poops, but they also pee, puke and fart, so why not make socks about it? These crazy socks put the fun in bodily functions!
Fart Socks
Farting is an art. When your butt lets loose a symphony of delightful noises, don't fret — just point to your feet in funny socks that say, "It's OK to fart."
In a roomful of kids, there is no better joke than a funny fart — but what if that fart came out of a unicorn butt? Send your child to school in these cute kids' socks with unicorns farting rainbows and smiling cheekily.
Poop Socks
Poop happens. If you're having a crappy day, wipe away your worries with these funny men's poop socks with toilet paper, plungers and happy turds. These are always a big hit on Farter's Father's Day.
We love the poop emoji, but we'd like it even more if it came in a rainbow version. That's where these funny rainbow poo socks come in. Available for both men and women, the design of these cute socks look like ice cream, until you look a little closer and realize you are seeing colorful piles of happy crap!
Or put on a pair of funny "Shitting Rainbows Kind of Day" socks, perfect for those days when you are so full of joy and sweetness that it all comes pouring out of your butt like cute diarrhea.
Pee Socks
We love these women's pee socks because they have great design AND funny sayings. Wear "I HAVE TO PEE" socks for women on your next road trip, and point to them whenever you need to make a detour to the whiz palace. 
Butt Socks
A corgi looks cute from the front, but turn them around for a look at that fuzzy butt and your heart just might melt from happiness. These funny corgi butt socks for men and women show happy corgis sitting, standing and showing off their heart-shaped corgi booties!
These hilarious cat butt socks show an orange kitty's backside, complete with tail held high and bright pink butthole. Underneath the socks are the words, "Check Meowt." Put on a pair and feel as fearless as a feline showing its anus to the world.
It doesn't get much more direct than these silly pink socks with nothing but the word "BUTTS" on them. These butts socks are sized to be unisex so anyone can wear a pair — and since we all have butts, these are socks that everyone can get "behind"!
For those times when it seems like everyone around you is talking out of their asses, why not listen out of your own? These funny men's socks say "Sure I'm Listening With My Butt" and are perfect for those situations where you'd rather tune something out!
Puke Socks
If this list makes you feel a little queasy, excuse us for ending with one of our favorite gross-out socks, these Puking Rainbow Knee Socks for women. With a pair of red lips spewing a stream of rainbow-striped vomit, these socks show your emotional state when you are surrounded by so many potty humor socks that you just can't contain yourself. Keep barfing rainbows and wearing funny socks!