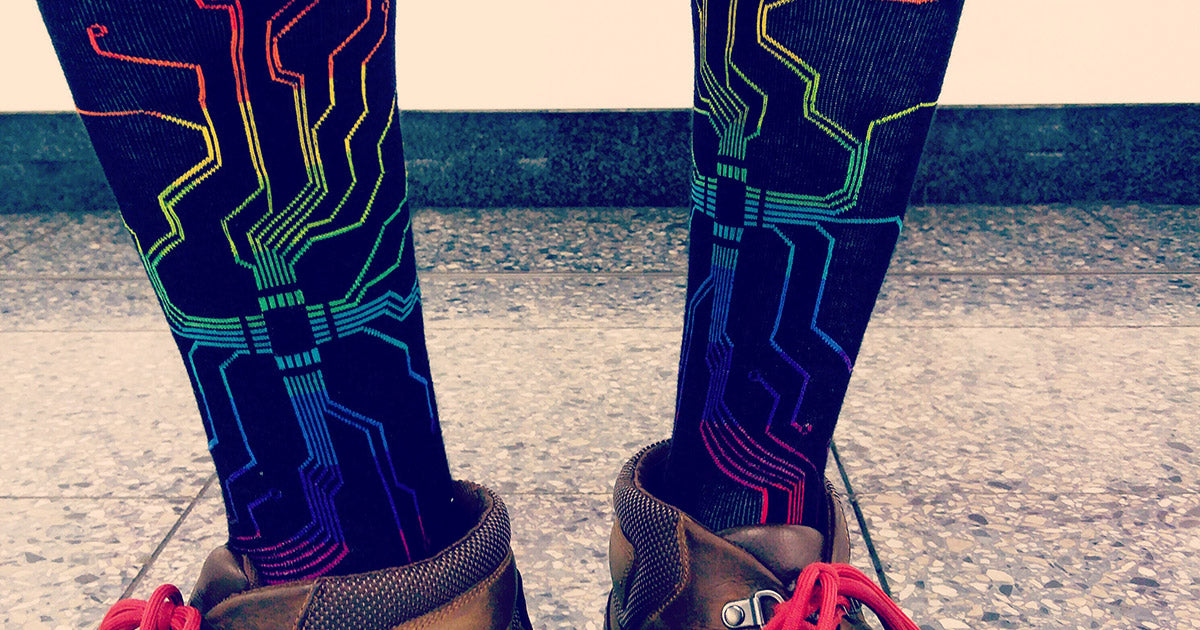 If you're proud to be a nerd, check out these geeky socks with math and science, gaming and other nerdy stuff. Or jump straight to our full collection of nerdy socks.
Wearing a pair of these smart socks will give you mad nerd cred. And remember: nerdy socks > dirty socks.
Gamer Socks
If you can't handle distractions while playing your favorite video games, you are not alone! These funny men's gamer socks show a guy going to town on a console game with the words "F*** Off I'm Gaming" up on the TV screen. Or check out the rest of our great gamer socks in our nerdy socks collection.
Do you work with computers, or are you building your own custom gaming PC in your spare time? Muthaboard socks for men let you cover your feet in rainbow computer guts. Nerdettes may prefer our knee-high version for women, which has a smaller foot size.
Book Socks
Reading books is probably the oldest nerdy activity, which makes these book socks for women (and men) instant classics. Also available in a women's knee high. See the rest of our socks for book lovers in our book socks collection.
Video Game Socks
If you love video games, these red socks with game controllers for men from different systems are for you. Put on a pair and get in the game!
Socks for Readers
Isn't it annoying to have someone interrupt you in the middle of your fourth Harry Potter re-read? Funny book socks with this sassy reader will let everyone know they need to leave you alone when you have your nose in a book.