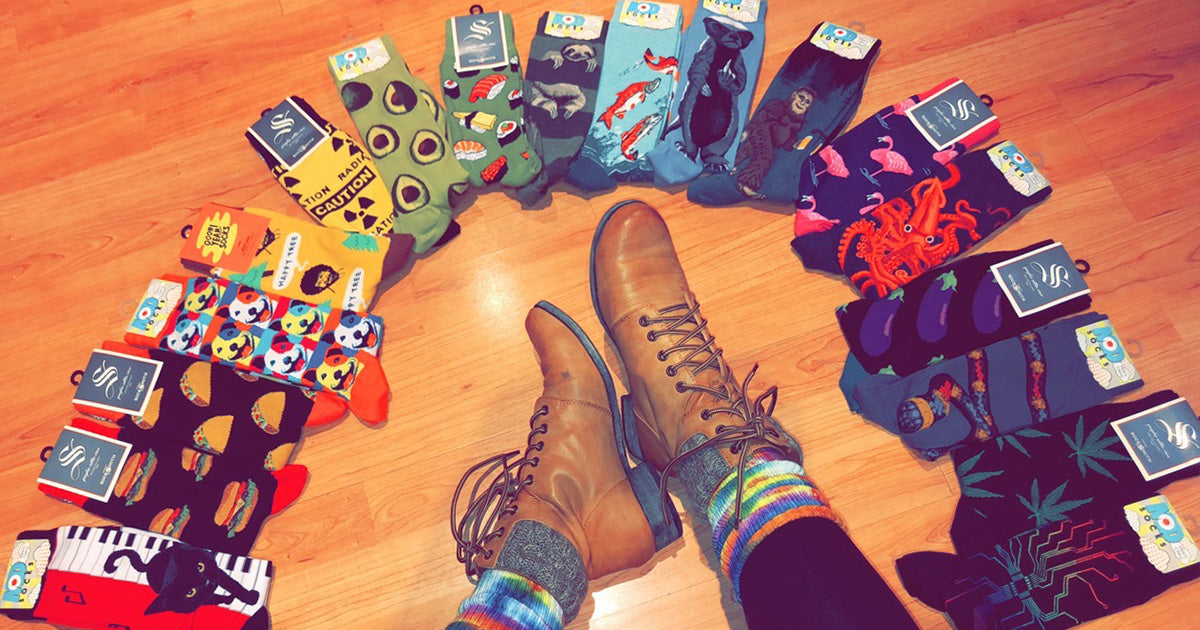 Men love crazy socks! When you want to give the man in your life a gift that allows him to express his unique personality, there is nothing better than fun socks for men. But how do you match a man to his perfect pair? Follow our guide below and you'll be sure to find a unique gift that not only knocks his socks off, but puts a new pair on his feet!
Men's Music Socks
Do you have a friend who rocks out in a band every weekend, a boyfriend who writes you love songs, or maybe a dad who loves to embarrass you by pulling out the guitar and singing the top folk songs of the '70s at the top of his lungs? Any musical man would love a pair of these Classic Guitar Men's Socks with electric guitars and acoustic guitars.
Socks for Sports Fans
If you know a man who is always watching other men hit, kick, throw and swing at balls, help him show off his love of sports with these funny socks that just say "BALLS." Whether he loves football, golf, baseball, basketball or any other ball-related activities, give him a pair of Balls socks for men.
Funny Socks for Men
What do you get when you cross a taco and a dinosaur? Whatever it is, you'll find it on these crazy Tacosaurus Men's Socks. They make a perfect gift for a guy with a great sense of humor.
Socks for Outdoorsy Guys
Do you have a wildman on your gift list who likes to get outside and get his hands (and possibly feet) dirty? If stomping around in the wilderness is his passion, a pair of I Fucking Love It Out Here Socks will help him express his love of the great outdoors.
Socks for Artists
For the man who is moved by the beauty of the night sky, these Starry Night art socks (based on the classic Vincent Van Gogh painting) are sure to make an artistic impression.
Socks for a Gamer
For the gamer guy who plays on hard mode, give a gift that shows he is a part of the gaming elite. These funny socks that say "F**k Off, I'm Gaming" are the way to his heart.
Food Lover Socks
To the man who loves his brunch, these funny bacon and eggs socks for men will put a smile on his face even BEFORE he's had his coffee.
Socks for Dad
Some jokes are corny, some jokes are lame, but there are no jokes that will make you groan more than the ones your dad tries to tell in front of your friends. "Ain't no bad joke like a dad joke" socks for men are perfect for dads who think of themselves as comedians.
Socks for Fishermen
Is your fella a fisherman who loves to get out on the river and reel in dinner? Let him know that he's a real catch with a pair of these Men's Trout Crew Socks.
Christmas Socks for Men
Do you know a man who looks forward to Christmas all year, or likes to get into the holiday spirit by dressing up the family dog? These Corgi Christmas Men's Crew Socks are a festive and unique gift idea.
Still looking for the perfect pair of men's socks? We have all the best men's socks right here!