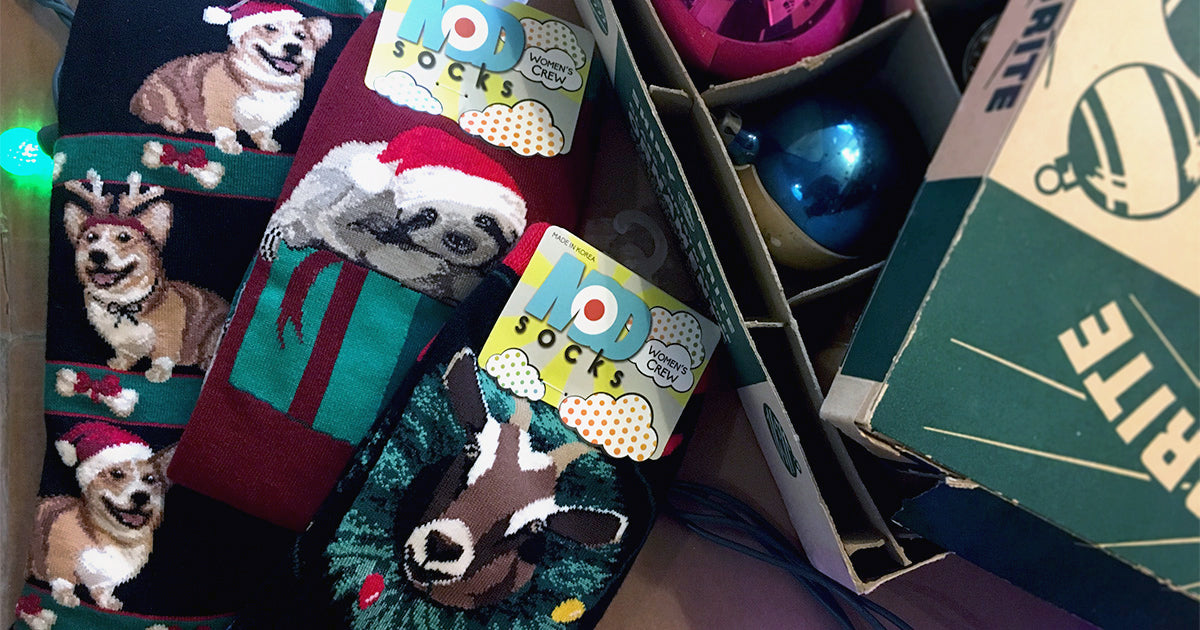 Holidays may be a human invention, but even animals can get into the Christmas spirit! The funny animal socks in this lineup show birds and goats, sloths, otters and moose all enjoying their favorite holiday traditions. Read on and find a pair of Christmas socks with animals to rock this season.
Christmas Moose Socks
Moose love to munch low-hanging branches and shrubs, but what's a moose to do when its favorite food is covered in strange, colorful lights? These funny men's Christmas moose socks show what happens when a moose gets himself tangled in a string of Christmas lights and decides to go for a stroll around the neighborhood. 
Christmas Sloth Socks
He sleeps when you are sleeping, he sleeps when you're awake, he sleeps whether you've been bad or good – so wear some Santa Sloth socks, for goodness sake! These crimson Christmas sloth socks for men and women will be the sleeper hit this holiday season.
Christmas Reindeer Socks
Fuzzy faces, non-slip soles and extra holiday cheer make these Christmas socks with reindeer really stand out. They have a cute Christmas sweater pattern and show a reindeer whose antlers are adorned with red ornaments.
Otter Christmas Socks
Otters love presents, especially when those presents are raw clams! People like presents too, and these cute Christmas otter socks for women and men make a great gift or stocking stuffer. They show Santa-hat-wearing sea otters with Christmas presents resting on their fuzzy tummies as they float through frigid winter waters. Wear a pair and be as merry as a sea otter this Christmas.
Christmas Owl Socks
These sweet Christmas owl socks for women are covered with festive owls dressed for the winter weather in cozy hats and scarves. Wear a pair while you decorate your Christmas tree with owl ornaments! 
Christmas Goat Socks
Unlike the Grinch, a goat probably doesn't want to ruin your holiday — those wreaths and lights were just too delicious to resist. These Christmas goat socks for men and women show barnyard goats eating strings of Christmas lights and wearing green wreaths. Wear a pair and let them remind you not to let holiday mishaps get your goat this year.
We hope you liked these cool socks covered in Christmas critters! For more animal-themed Christmas socks, don't miss our blog featuring Christmas socks with dogs and cats on them!