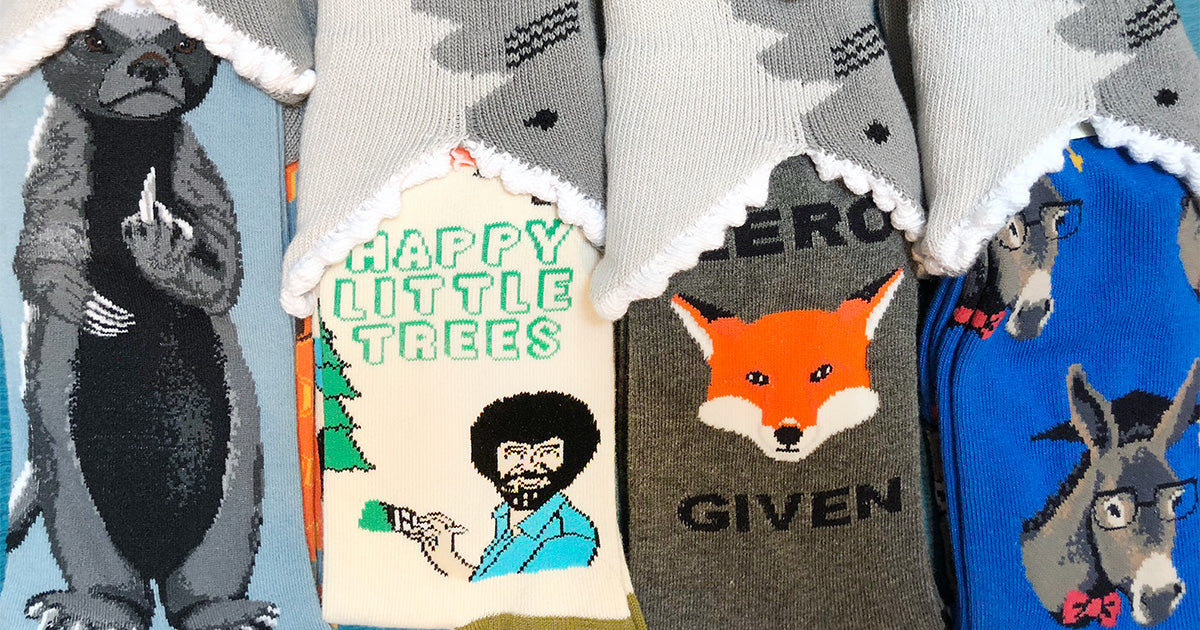 At our sock shop, we offer all the funniest socks for men and women, plus plenty of silly kids' socks. We just love funny socks! It can be hard to buy socks for someone you don't know very well, but with this list of popular and hilarious socks, you will find the perfect pair to tickle their funny bone. If you love humorous socks with sayings or crazy socks with puns that will make the whole office laugh, check out our bestselling funny socks:
Crazy Honey Badger Socks
Honey badger don't care! Socks with honey badgers are funny already, but these honey badger socks for men and women show a badger standing on its hind legs and flipping off a hive of honeybees with its middle finger — or should we say middle claw? This is the crazy, hungry, nasty honey badger you know and love.
Zero Fox Given Socks
These bestselling socks for men are simply pun-tastic. They say "Zero Fox Given" with a picture of a fox face to replace the implied swear word. Let everyone know that you just don't give a fox with funny "Zero Fox Given" men's socks.
My Cat Is Cool As F*** Socks for Cat Ladies
Cat ladies are some of the funniest people we know, and these socks that say "My Cat Is Cool As F***" make a truly special gift for a cat owner in your life. Don't call her crazy — just give her some crazy socks with cats on them!
Bob Ross Socks With Happy Little Trees
Inspire nostalgia, joy and laughter with socks featuring PBS star Bob Ross from The Joy of Painting. With his soothing voice and fluffy hair, Bob Ross created a world of quietstreams, fluffy clouds and most importantly: happy trees! These funny Bob Ross socks for men and women say "Happy Little Trees" with an image of Bob painting a tree.
Funny Shark Socks That Eat Your Feet
Sharks biting people is not funny, so why are these 3D shark socks so hilarious? Great White Shark Bite socks make it look like a pair of sharks is swallowing your feet with their cottony soft jaws. With protruding fins and gill markings, the whole family will love these fun shark socks that come in 3 sizes to fit women, men and kids ages 7 to 10.
This Meeting Is Bullshit Funny Socks for Work
Are you sick of attending pointless work meetings? These hilarious work socks for men and women look innocent, but say "THIS MEETING IS BULLSHIT." If you want someone to know how you really feel you can just lift up your pant leg!
Smart Ass Donkey Socks
It's better to be a smart ass than a dumb donkey, and these funny men's socks with donkeys in graduation caps are as smart as it gets! Wear a pair of smart ass socks for men and show you have a sense of humor to match your snarky attitude.
I F***ing Love It Out Here Socks
These profanity-laced socks are an ode to the great outdoors. If you love funny socks and getting out in nature, try a pair of forest socks for men or women that say "I f***ing love it out here."
Want even more fun novelty socks? Shop our entire funny socks collection.