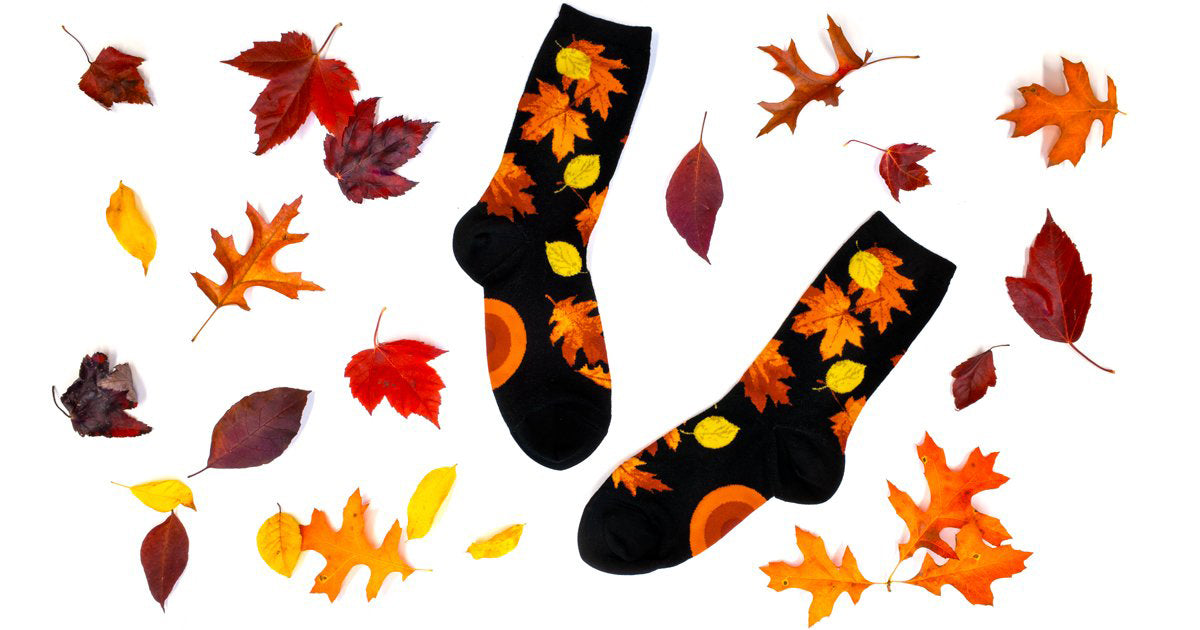 Welcome the fall harvest and Thanksgiving with a pair of these fun fall-themed socks. With everything from colorful leaves to cute animals to tasty homemade meals, these socks are perfect for keeping your feet cozy when there is a nip in the air and decorative gourds on the table.
Fall Leaf Socks
Trees send all their waste materials up into their leaves every autumn right before they drop off, so if you think about it, colorful fall leaves are kind of like tree poop. We hope you consider this while wearing these colorful fall leaves socks for men. We also offer fall leaf socks for women.
Raccoon Socks
Most of us enjoy being surrounded by family at the holidays, just like the adorable raccoons nestled in their tree den on these women's knee-high raccoon socks. Of course, these fun fall socks could also send the message that your family is a bunch of wild animals!
Pie Socks
The best part of Thanksgiving dinner? The pie, duh! These pie socks for women have slices of all your favorite flavors like cherry pie, berry pie and lemon meringue pie. Don't forget the whipped cream. . . or ice cream!
With their thick cozy knit, socks from the brand Solmate Socks are ideal for cool fall weather.
Funny Thanksgiving Socks
As a home cook there is nothing worse at the holidays than a kitchen full of people with no idea what they are doing — changing the oven temperature, misplacing your ingredients and generally being annoying! Get them outta there with these funny socks with a person tasting a pot of soup and the words, "Get the hell out of my kitchen."