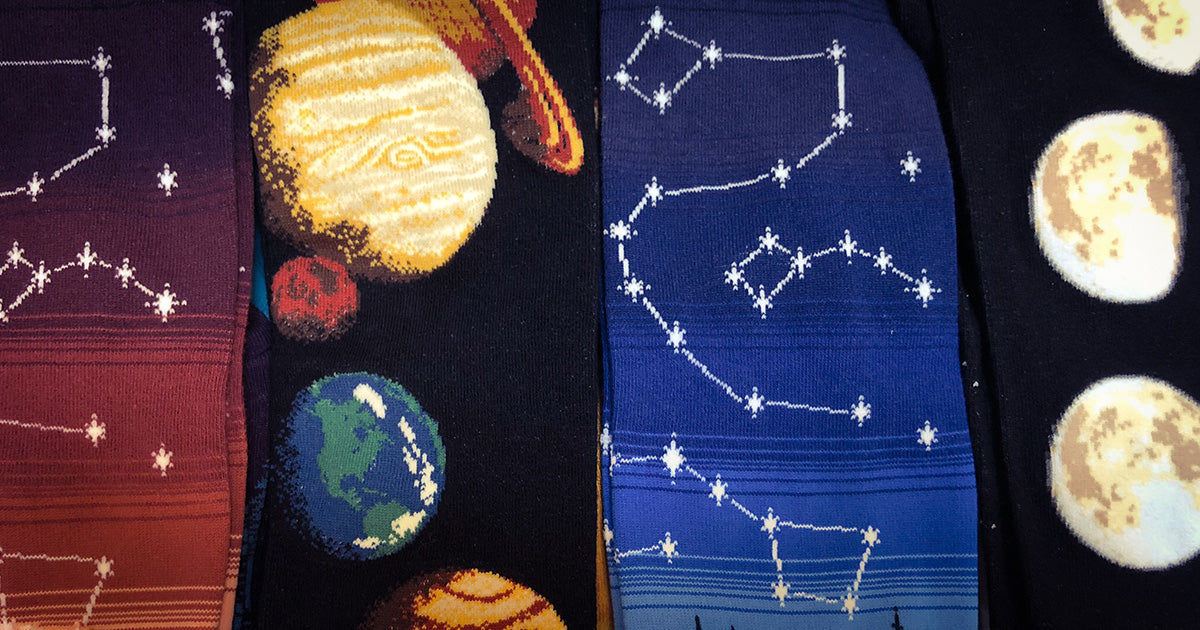 Space socks aren't just for science majors. We can all appreciate a pair of fun socks with stars in the night sky, soothing sunset socks or majestic moon socks for men and women! Look to the skies for style inspiration and add a pair of space socks to your sock collection.
Constellation Socks
Everyone from astrophysicists to astrologers can agree that Constellations Socks from ModSocks are out of this world! We offer these star socks for women in crew and knee-high lengths, and also make men's constellation socks. You will love stargazing with these unique night sky socks. The "Into the Blue" colorway transitions from dark navy at the top of the cuff to a beautiful cobalt blue at the ankle, and is studded with constellations all around the socks. The trees on the socks reflect back, as though they are growing at the edge of a mirror-still lake.
For the same starry socks in a different color, try our Constellations Knee High Socks in the color Afterglow — it looks just like a perfect sunset.
Moon Phase Socks
We love these moon socks because they show off the moon's favorite game — changing phases! Will it be a crescent? A full moon? Is it going to suddenly show up during the day? Plan ahead and wear a pair of knee high moon socks for women or Moon Phases Men's Socks, which show every phase from new to full, with all those fun waxing crescent moons and waning gibbous moons in between!
Planet Socks
With nine planets (Pluto for life!) plus the sun on a black background, astronomy socks never looked so good. Shop Solar System Socks for men in crew length or knee socks for women, and get out there and rock a pair!
For more outer space socks, check out our collection of fun space socks for men, women and kids including NASA space socks and alien socks!