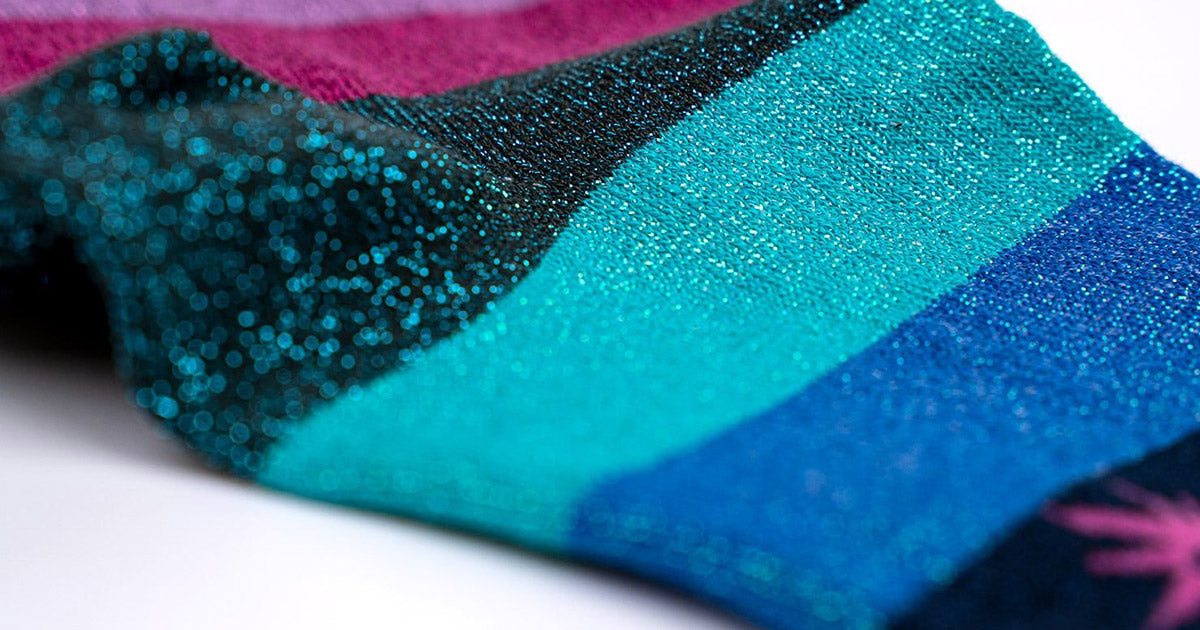 Fashion changes with the seasons, and so does our sock selection! Stay ahead of the curve with this guide to major design trends and the hottest fashion must-haves. For those of us who can't afford a new wardrobe or a garment straight off the runway, new socks are a great way to get your feet into the latest fads.
Here's a look at the hottest trends of spring and summer 2023, so you can update your sock collection with the latest and greatest looks.
Viva Magenta is the Color of The Year, But What Is It?
Long live magenta — or is it red? The Pantone Color Institute, which has chosen a trending color each year since 2000, describes 2023's Viva Magenta as a hue "rooted in nature descending from the red family and expressive of a new signal of strength."
But let's not kid ourselves, Pantone — Viva Magenta is lipstick red! Bright, bold, beautiful blue-toned lipstick red, but red nonetheless. It seems pretty clear that this color trend was inspired by us collectively shedding our COVID masks like a butterfly's cocoon, and embracing the opportunity to once again wear our favorite red Viva Magenta lipstick.
Whether or not made-up lips are your thing, we can all live more boldly with a pair of red socks.
Balletcore Socks Are On Pointe
Elegance, grace and comfort all in one aesthetic? Balletcore style is a 2023 fashion trend that blends athletic wear, retro elements like legwarmers and bodysuits, feminine touches like ribbon and tulle, cozy cardigans and shrugs and of course, ballet flats. Put your hair in a bun and pull on a pair of ballet slipper socks and embrace this dreamy look.
Give Up the Y2K Trend? As If!
If you thought it was overhyped the first time around, we've got some news — not only is Y2K still the biggest fashion trend around, it is not going away any time soon. To put it in movie terms, this trend spans the decade starting with Clueless's pleated skirts, knee socks and blazers, clear up to Mean Girls baby tees, velour tracksuits and plenty of the color pink. Our pink collection is full of socks perfect for Wednesdays (because Wednesdays we wear pink, duh).
Fashion Magpies Spot Metallic Trends
Futuristic fashion was all the rage in the early 2000s thanks to tech booms and dot-com bubbles, so shimmering metallics are another natural fit for the Y2K trend, but they are also part of a larger metallic trend of 2023. Runways for spring were full of sequin dresses, chain mail, liquid silver skirts and golden leather jackets and shoes.
Find a pair of metallic socks to fit this trend and don't be afraid to shimmer and shine in the daytime — this trend was made for bright sunny days.
From Cottagecore to Fairycore to. . . Frogcore?!
In fashion, cottagecore and fairycore are strong aesthetics for people who find a touch of magic in everyday life. With whimsical prints like florals, forest creatures, butterflies and mushrooms, these clothes give a nod to fantasy and fairytales.
Since some of our favorite fairytales involve kissing or being turned into frogs, and with the color green becoming a streetwear staple this season, we foresee frogs hopping onto the scene and onto our socks.
Find a pair of frog socks today and leap into frogcore as the newest cottagecore-adjacent trend.
Raw, Real & Recycled Fibers
Authenticity is in for 2023. In sock terms, this means natural fibers like wool and cotton, plus recycled materials that give new life to old textiles.
A deeper understanding of the fibers in their socks has led many of our customers toward recycled material brands like Solmate Socks, which are made with remnant cotton yarn from the textile industry, or Blue Q athletic ankle socks, which are made with recycled polyester made from post-consumer plastic bottles as well as pre-consumer waste plastics. 
Reduce, reuse, recycle — and rejoice in these reclaimed materials!
Thank you for reading our spring 2023 fashion predictions. Let us know in the comments if you have any of your own — for example, do you think socks with sandals will continue to make a comeback in the coming months?
To see the latest styles all year long, our new socks collection has brand new items added weekly, so it pays to keep checking back for styles that really put the novelty in novelty socks.