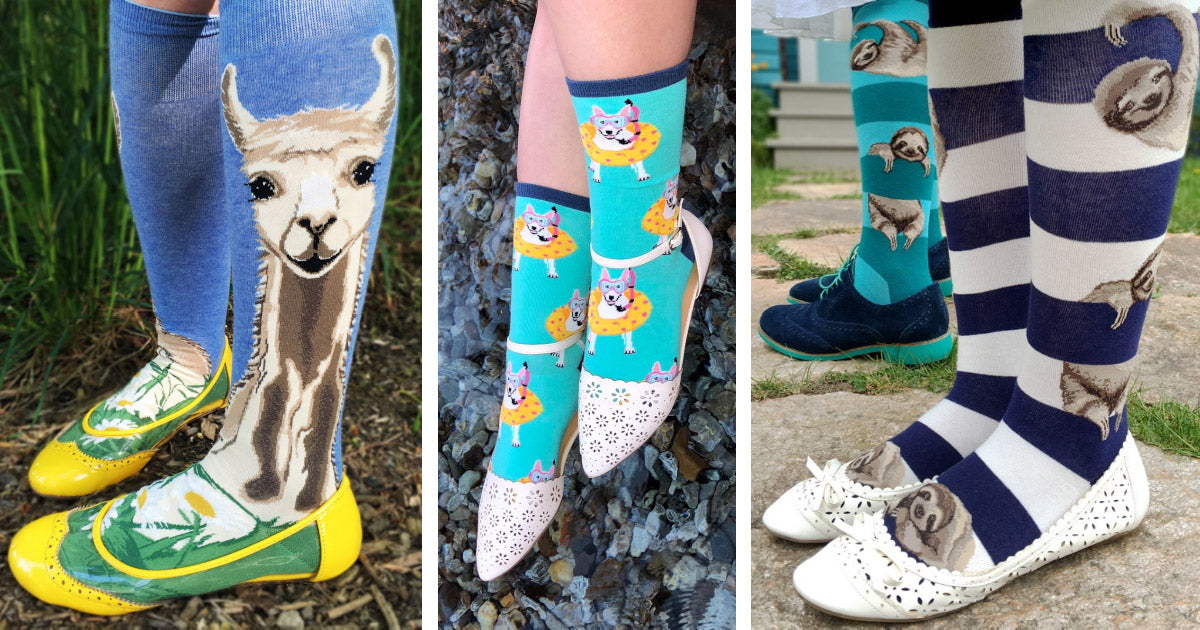 Flats. If you wear them, then you know they are a footwear choice that can be both cute and comfortable. From brogues to ballet flats, a shoe without a heel is usually a good decision. But this leads to another important decision: what socks should I wear with flats? The answer: it depends on the type of flats you are wearing! Here are a few of our favorite combos to get you started.

Sock to Wear With Mary Janes
This strappy style (see above) is a favorite at the shop for the extra peek-a-boo it provides of the tops of your socks. Make the most of your Mary Janes with a pair of socks that has something unique on the top of the foot, like the friendly sloths on these Sloth Stripe Knee Socks.
Ballet Flat Socks
Hugely popular for their lightweight, carefree feel, a pair of ballet flats is a great everyday shoe. But if you wear a pair every day without socks on, you will quickly find your favorite flats becoming sweaty, which can lead to odor. Some people like to wear open-top,no-show socks with ballet flats,but don't think that is your only option.
Ballet flats can be worn with several types of socks. Pictured above are pink ballet flats worn with Crazy For Daisies Knee Socks and a tutu skirt.
With skirts or dresses, pair your ballet flats with knee socks like these fun Llovely Llama Knee Socks, or a favorite pair of tights.
What socks should you wear with ballet flats and jeans? We recommend you go with shorter crew socks. These ribbon ballet flats look great with skinny jeans and Avocado Phase Women's Crew Socks.
Socks That Go With D'Orsay Shoes
Cute and trendy D'Orsay flats are made to show extra skin, but we like them because they show off even more of your socks! Wear these summery flats with a sock that fits their carefree personality. We like these cute socks with dogs dressed for a trip to the swimming pool.
Oxfords, Brogues and Derby Shoes
Just because you see people wearing Oxfords and similar shoes without socks, doesn't mean you should follow the trend. A leather shoe without socks is another recipe for sweat, moisture and eventual odor problems. You could always wear a no-show sock, but why pretend?
These lace-up leather shoes are British wardrobe staples, but which socks go best with them? You can wear any sock that matches your shoe or your outfit, but an attractive knee sock with a skirt and leather Oxfords is a cute and classic look.
Saddle Shoes
Saddle shoes are another shoe that fits into the Oxford category — for a casual look, we like them with a cute pair of patterned crew socks like these Retro Rainbows Women's Crew Socks.
So in conclusion, there are many types of flats out there and all of them can be worn with socks!
What socks will you wear with your flats? Browse our women's sock collection and start getting inspired, or check out one of our other blog posts like How to Wear Socks & Sandals or Socks to Wear With Converse for more sock looks and recommendations.