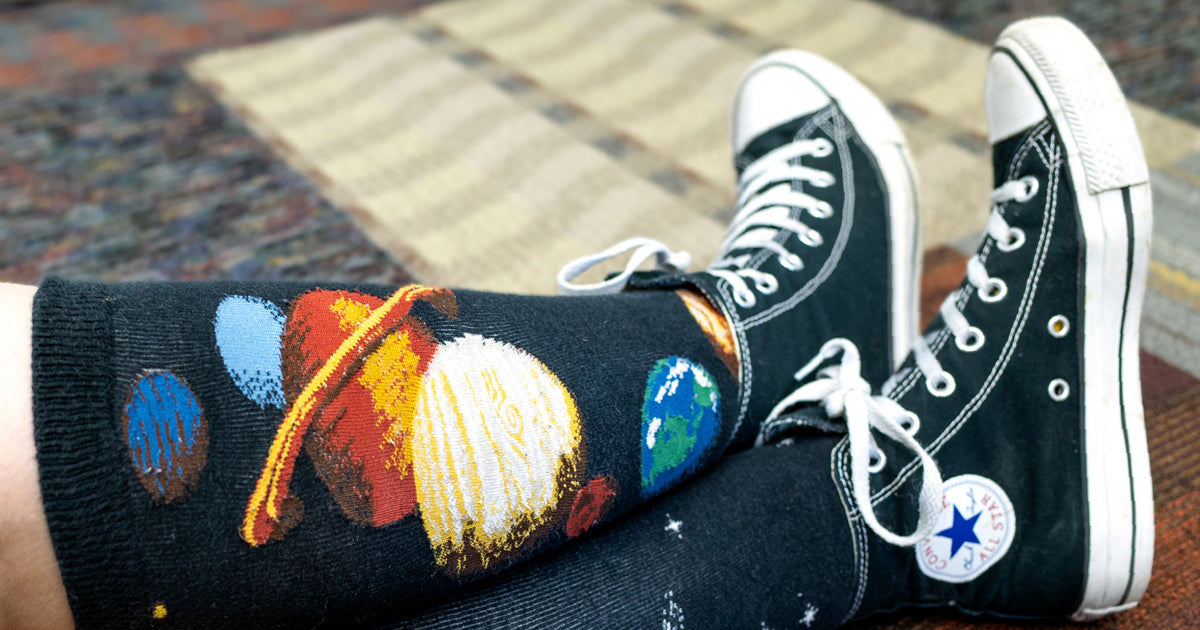 Converse shoes (also known as Chuck Taylor All-Stars) are bold, iconic and look great with fun socks! Wear a pair of funny socks from Cute But Crazy with your sneakers and start a new trend.
Since their invention in the early 1900s, Converse shoes have been worn by basketball players, rock musicians, artists and Hollywood actors. For many, Chuck Taylors are synonymous with the punk rock of the 1970s, when they were worn by bands like The Ramones and The Sex Pistols. The reason they chose Chucks? Because they were cheap!
Today, Converse shoes are as popular as ever. What socks should you wear with Converse shoes, though? When choosing a pair of socks to go with your All-Stars, look for socks that feel great and fit with the unique personality of your shoes. After all, you wouldn't want to wear a pair of basic socks with such a bold statement shoe. Here are some of our favorite looks to get you started.
Rock Some Rainbow Socks
Knee socks look great with shorts or skirts and high-top sneakers. Check out these rainbow knee socks with bright blue Converse shoes!
Check Out My Cheese Socks
You might look for a pair of funny men's socks like these black socks with chunks of cheese on them. We call this look "Chucks and cheese."
All-Stars & Planet Socks
For a more literal "All-Star" look, turn your gaze to these stellar planet socks with our solar system and a sky full of stars. With a pair of black Chucks, your legs will look out-of-this-world.
Fierce & Flightless Bird Socks
A pair of funny ostrich socks worn with Converse will make people smile at your sassy style, and might even help you run a little faster! 
Cannabis Socks with Converse
Harken back to Chucks' countercultural past by wearing pot sockswith your All-Star sneakers. Did you know that Converse once released a line of All-Stars made out of hemp?
Whichever socks your choose to wear with your Converse, make sure they fit your personal style, your mood and most importantly — your feet! Start here with some of our bestselling socks and find your the perfect sole-mate for your Converse shoes.