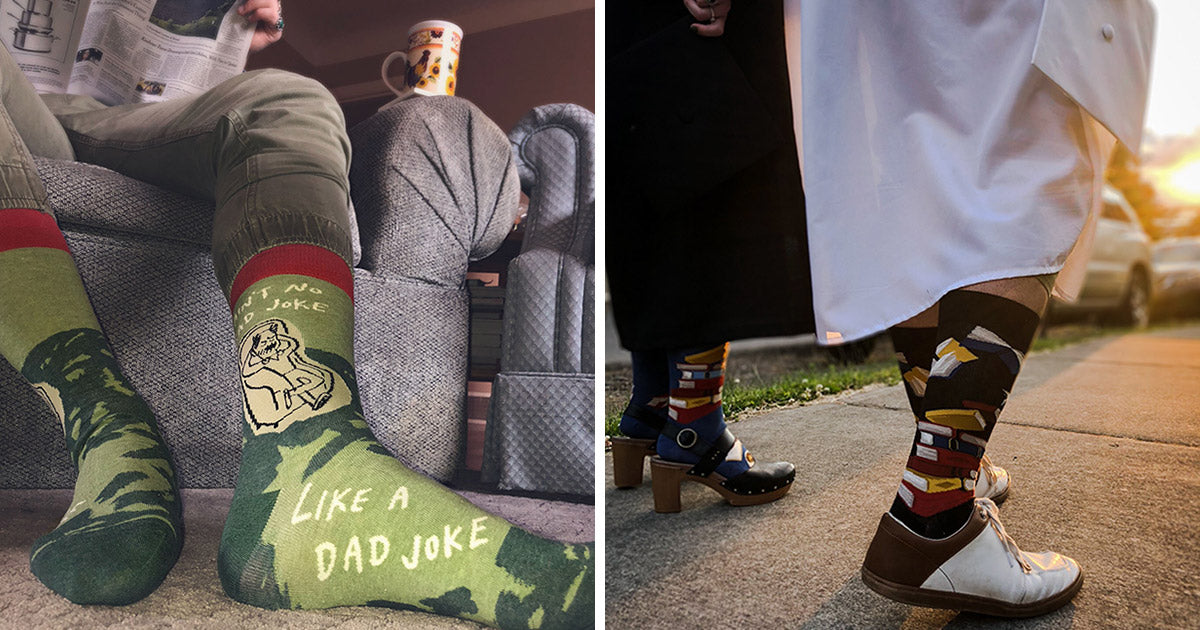 It's that time of the year once again. The flowers are blooming, the sun is shining, and people are buying socks for two awesome groups of people that just happen to rhyme: dads and/or grads. Shout it from the rooftops, chant it in the streets: DADS AND GRADS! DADS AND GRADS! DADS AND GRADS! Ok, that was annoying. How lazy can you get, advertisers?
We tried to think of some alternatives to this worn-out rhyme. It wasn't easy, and the results are pretty grim. Fathers and Former Students? Papas and Postgraduates? Dudes with Descendants and Diploma-Holders? Paternal Figures and People Finally Done With School (Unless, of course, they are going to college, or grad school, or vocational training, or maybe they aren't really sure yet, and they'd appreciate it if you'd stop asking them what they are going to do with their lives every ten minutes)?
Maybe Dads and Grads isn't so bad after all.
Dad Socks
Men's Wine Socks 
For a great Father's Day gift, these socks pair nicely with a bottle of your dad's favorite libation.
Shop for Like A Fine Wine Socks
---
No Bad Joke Like a Dad Joke Men's Socks
You may groan and roll your eyes, but deep down you appreciate all of your dad's terrible jokes. Get him these funny Father's Day socks that say "Ain't No Bad Joke Like a Dad Joke" and give him permission to let the puns fly.
---
Sasquatch Loves Beer Socks
Tell him you want to follow in his footsteps with a pair of Sasquatch Loves Beer Men's Crew Socks, because you really can't beat socks with beer and Bigfoot!
Shop for Sasquatch Loves Beer Men's Crew Socks
---
Men's Solar System Socks
Send your papa on a space walk with a pair of these planet socks for men.
Shop for Men's Solar System Crew Socks
---
Darn Tough Socks
Darn Tough socks are made in America with a lifetime guarantee – any dad can appreciate that.
Socks for Grads
Book Knee-High Socks
These bookish knee socks make a great graduation gift for a gal who loves to read. Also available in Black.
Shop for Bibliophile Knee Socks
---
Squid Women's Socks
Marine bio majors will make waves wearing these awesome women's squid socks with their caps and gowns. Also available in women's knee high and men's crew.
---
Relatively Cool Men's Einstein Socks
Give them a pat on the back for finally passing precalculus with a pair of Relatively Cool Men's Crew Socks.
Shop for Relatively Cool Men's Crew Socks
---
I Love My Job Socks
These socks will give young people something to smile about as they enter the workforce: I Love My Job... Haha Just Kidding.
---
Constellations Men's Socks
The sky is the limit with these Constellations Men's Socks that will inspire your graduate to reach for the stars. 
Shop for Constellation Men's Crew Socks
---
Carpe the F Out of This Diem Socks
Blue Q Carpe Diem Socks: Because now that school is over, it's time to seize each new day without homework!
Shop for Carpe Diem Socks for Women
---