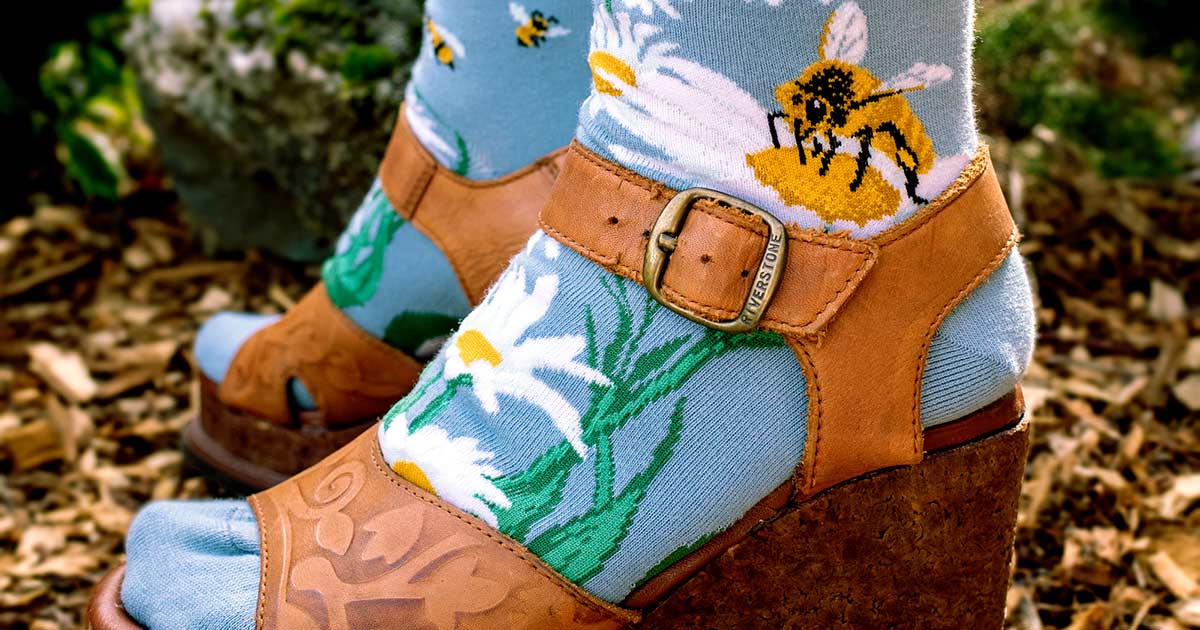 Forget what you have been told — not only is it OK to wear socks with sandals, these days it is actually trendy to rock this once-taboo combo.
The former fashion faux pas of open-toed shoes worn with socks has been everywhere this spring. With so many cute socks to show off, we're willing to bet the socks-and-sandals look is here to stay! We're here with a few simple rules that will help you pair your socks and sandals the right way.
Darker colors are always best
This is the first rule of how to wear socks with sandals! We all love sandals because their open design lets the air flow around our feet on warm days. The downside is that sandals can let in a lot of gross grime along with all that nice air! If you wear white socks with sandals, your socks probably won't stay white for very long. That is why we recommend sticking with darker colors when wearing sandals and socks together.
Mix and Match
Now that you know which socks to choose, which sandals should you wear with your socks? Leather buckle sandals are a classic, as are athletic slides. We love peep-toe heels, strappy sandals, slingbacks — or maybe jellies are your jam!
Sometimes it is fun to wear socks that match your sandals, other times you can mix it up with contrasting colors. These cool mismatched Solmate Socks look great with a pair of equally loud sandals.
Shop these sock styles:

Give Bees a Chance Women's Crew Socks

Garden Goals Women's Crew Socks
Avoid the flip-flop "bunch"
The one place you will run into trouble is with flip-flops or thong sandals. If you try to wear shoes that go between your toes with a regular pair of socks, you will end up with the dreaded toe bunch. The only way to avoid that excess scrunched fabric is to wear a pair of toe socks or tabi socks, a traditional Japanese style with a separate compartment for your big toe.
Have fun with it!
As for the third and final rule, if there is one piece of advice we can give you about wearing socks with sandals it is this: have fun! It still feels a little rebellious to put on socks and sandals together after being told not to for so long. Enjoy your new freedom.
How do you wear socks with sandals? Will you give the socks-with-sandals trend a try? Tell us in the comments.
If you need the perfect pair of statement socks to wear with your sandals, shop for these fun sock styles and so many more at CrazySocks.com.