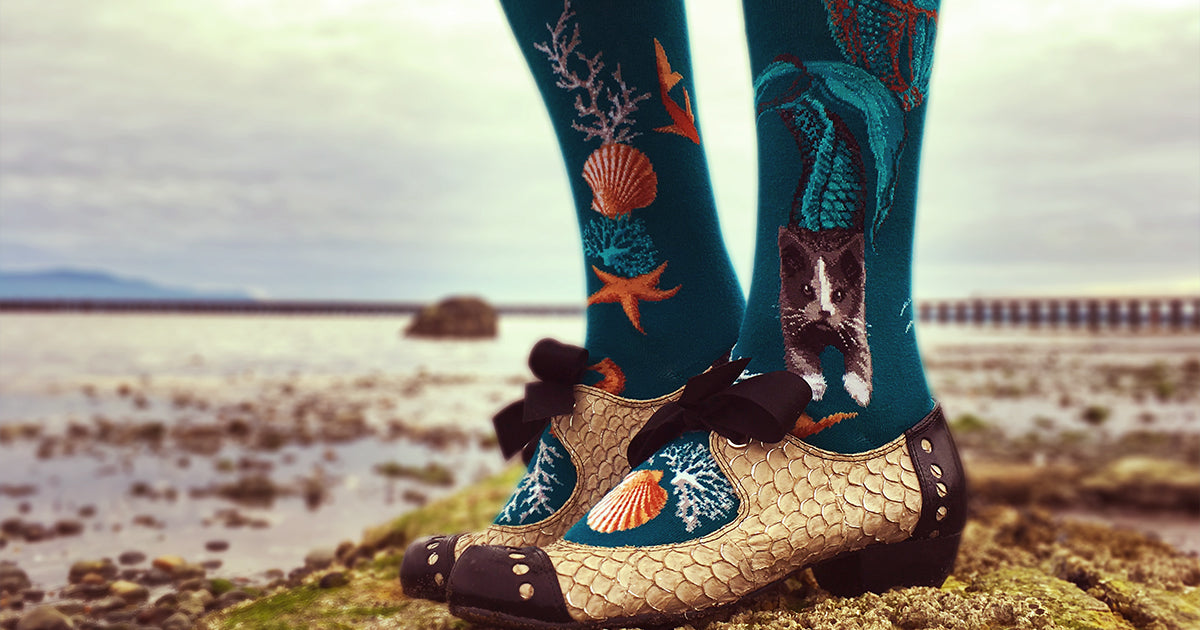 Your cat loves you, and you love your cat. What better way to show it than with a pair of funny socks with cats on them? Whichever felines strike your fancy, we have a pair of socks that will show the world how much you love your funny little furball. Check out all our feline friendly styles.
The Little Purrmaid Socks

A purrmaid is a little bit different from the cat sleeping on your couch. For one thing, it loves to swim! Purrmaids are mermaid cats, and we think you'll love a pair of these adorable purrmaid socks.
Play It Again, Piano Cat Socks

Are your current cat socks falling flat? These piano-playing kitty socks are sharp and stylish. We also offer this funky feline style for men!
Cat Fight
Go in for the kill in a pair of these badass Gato Libre socks with cats in Mexican wrester masks.
Tuxedo Cat Socks

Cat lovers swoon over these perfectly poised Tuxedo Cat Crew Socks.
Nerdy Cat Socks

Men need kitty socks, too. These Kittenster crew socks feature ultra-cool hipster cats wearing glasses, and are available in men's sizes as well as women's.
Reading with Your Cat Socks

What is better than curling up with a good book and your favorite fuzzy lap-warmer? These crew socks combine two of the greatest things ever – cats and books!
Ice Cream Cat Socks

Cats love curling up in strange places, so why not a sweet, crunchy ice cream cone? Add a cherry and a few sprinkles, and you have a purring parfait!
The Coolest Cat Socks
How cool is your cat? If you answered, "as fuck," these are the socks for you.
Springtime Kittens Socks

These spring socks depict those fuzzy willow buds that look just like tiny gray kittens when you squint at them just right.
Smart Kids' Kitties Socks
These crazy cat socks for kids have excellent specs – spectacles, duh!