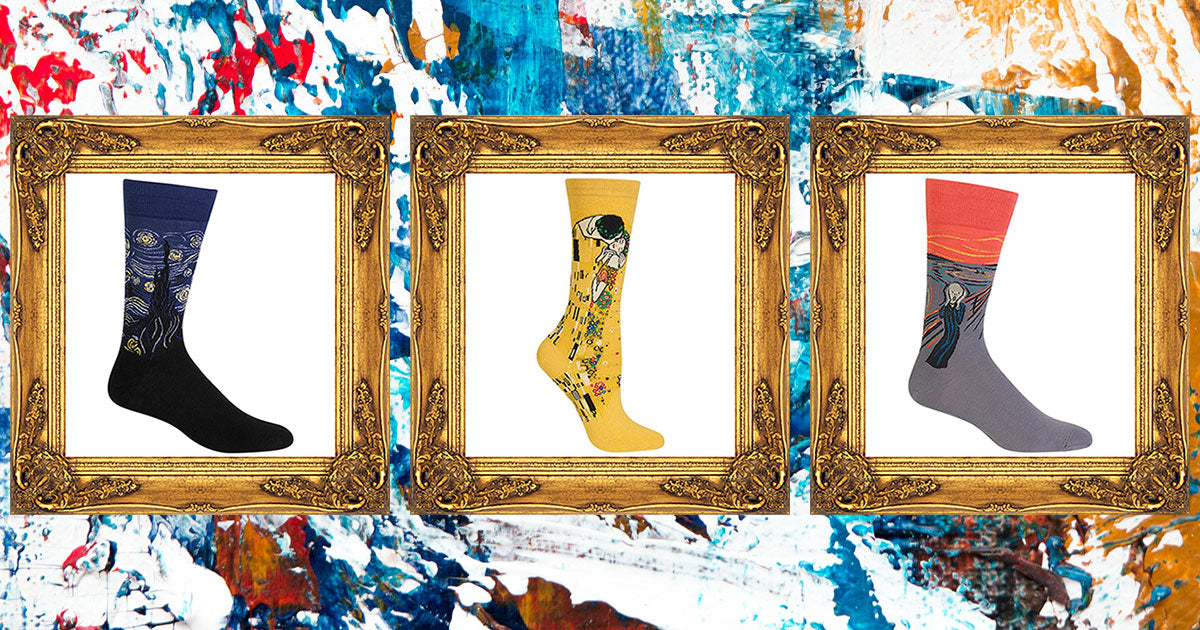 Need a pair of art socks to inspire you? We think all of our socks are works of art, but some of them really are stunning recreations of famous paintings... on socks! Socks withart on them make great gifts for artists and art lovers.
Frida Kahlo socks are perfect for people who live life with passion. We have lots of socks with Frida for women and men, but these Viva Frida socks are our bestsellers.
These Girl with the Pearl Earring socks for women couldn't be better ― they even have a faux pearl bead sewn on for the earring!
Make waves at work in socks with Mount Fuji behind the beautiful waves created by Japanese artist Hokusai. These lovely art socks please Japanophiles and art lovers alike. Great Wave socks are available in both a women's crew style or as a men's crew sock, shown above.
Stargaze in a pair of Starry Night socks for women (and men) inspired by artist Vincent van Gogh. This gorgeous imagining of a night sky ends up on posters, tote bags and coffee mugs, but our favorite Starry swag is this sock!
Gift a pair of socks with the painting "The Kiss" by Klimt to someone you love. Their pretty yellow color and abstract look makes them chic and eye-catching. For bigger feet, we also offer The Kiss socks for men.
Let out your loudest yell in a pair of these men's art socks with "The Scream," a painting by Edvard Munch that was stolen twice, in 1994 and 2004. Or for smaller feet, check out our "The Scream" socks for women.
Whether you greet the night in art socks with Starry Night on them or find your footing in Frida Kahlo socks, climb Mount Fuji in Great Wave socks or make some mystery with Mona Lisa painting socks, we have the art socks you need to put your favorite paintings on your feet. See our entire collection of novelty art socks and find the socks that inspire you!