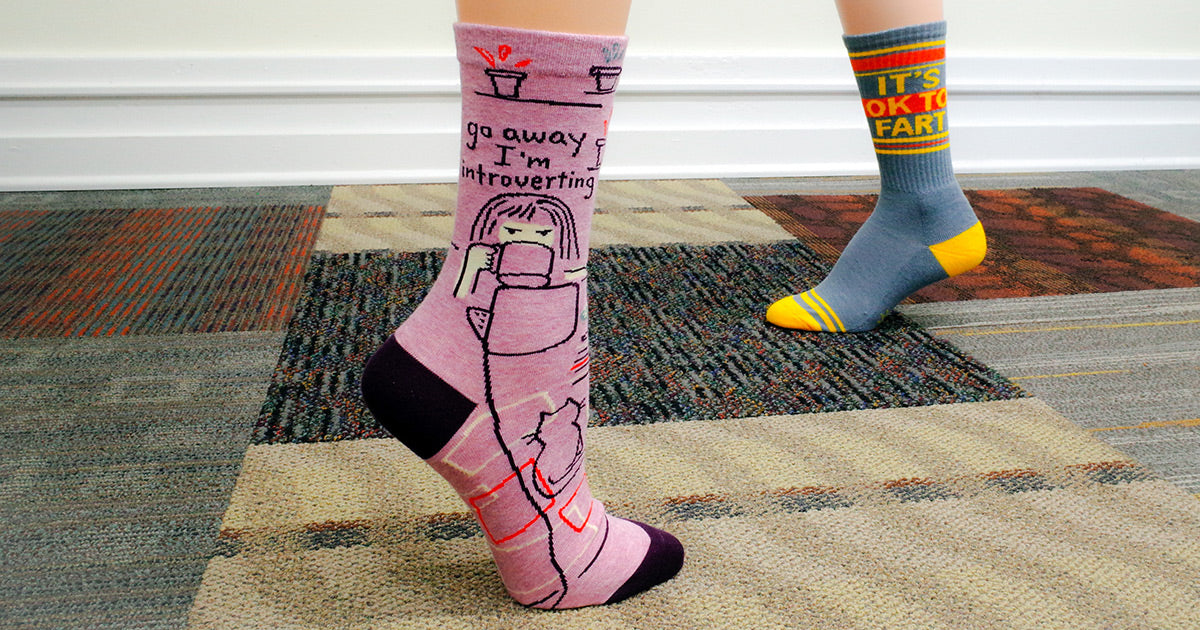 Let's face it — COVID-19 has us all turnt and under quarantine. Since your shoes are off more than usual, you might be noticing that your socks aren't as sassy as they could be now that the boss ain't looking over your shoulder. Well never fear, for we are here to make your indoor life a little more interesting! We believe that sometimes desperate times call for humorous measures, so go the social distance in these self-isolating sock styles that are perfect for those doing their part by working from home and avoiding crowds.
Go Away I'm Introverting Socks
What's usually the perfect introvert gift now works for almost everyone as the world stays home. These funny women's socks will let your "co-workers" (partner, kids, roommates, pets, etc.) know that while yes, you are in your PJ's, you are very hard at work and need to be left alone!
Busy Making a Fucking Difference Socks
Did you ever think that you could make a difference by doing nothing? Practicing conscious isolation shows you care about your community and are helping to flatten the curve. We hope these funny socks for men and women will brighten your mood as you save the world from your sofa.


This Is Why I'm Single Socks
Coronavirus has really made a mess of the dating scene. Even the most qualified bachelors are up creek without a paddle when it comes to meeting new people these days. We get it, man. It's not your fault. These funny men's novelty socks are mismatched on purpose to send the message loud and clear, from the safety of six feet away, that as soon as the pandemic passes, you're ready to swipe right.
I'd Rather be Naked Socks
Because home is where the pants aren't! Okay, so maybe you've got roomies that aren't as "free and easy" with nudity. No worries friend, different strokes for different folks. But if you must wear one thing to satisfy your housemates while you co-quarantine, these socks more or less say, hey — it could be worse! We love these unisex socks because clothes don't define us, confidence does!
This Meeting Is Bullshit Socks
Need a gift idea for those who'd rather work from home forever? If you've been saying all along, "This meeting could have been an e-mail," have we got the sass for you! "This Meeting is Bullshit" socks for men (with a green background) and for women (with a red background) pair perfectly with teleconferences where nobody can see your feet.
If you want to keep browsing our funny socks, find something that makes you smile in our funny socks collection.