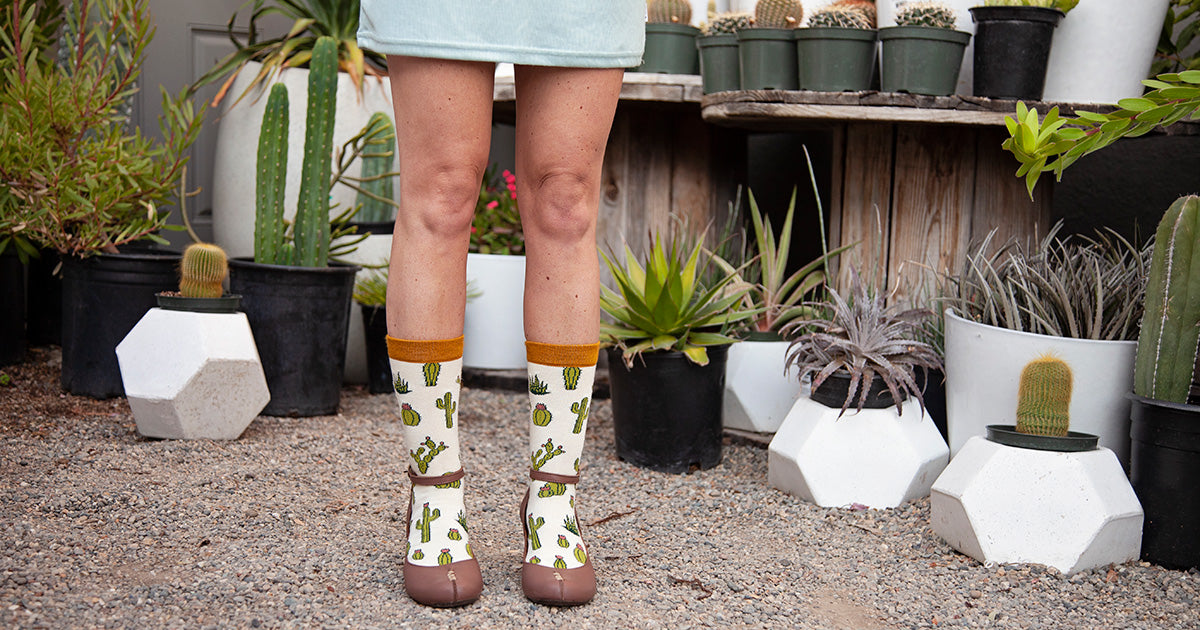 Q. What do you call flowers who are BFFs? You gotta scroll to the bottom to find out! In the meantime, we think that all you houseplant and garden enthusiasts will love our collection of plant socks. We have fun green thumb socks for him, her and them!
Calling all plant lovers — these socks were made for you! Gumball Poodle has designed the perfect plant-themed unisex socks, which also double as comfortable gym socks. These green beauties will arrive to you in gender-neutral packaging, making them the perfect gift for the plant dads, plant moms and non-binary plant people in your life.
Okay, let's get to the point. . . these bamboo socks with cactus plants are simply the softest. Any cactus owner will know these are not succulent socks, but you should still get them while you wait for that magical time of year when your Thanksgiving, Christmas or Easter cactus blossoms!
If crew-height socks are not your thang, then slip your feet into these wonderful plant-themed ankle socks. Houseplant enthusiasts everywhere can rejoice and grow their plant-lover sock collection to include the Blue Q brand, sprouting endless possibilities. If you're known for having funny socks and great gardening abilities, wear these Plants Get Me Socks and maybe one day you can grow plants as big as the ones depicted on the socks!
For all you people with green thumbs, our socks for garden lovers are the perfect gift. With cheerful red watering cans and flowers like daffodils, poppies and tulips, these gardening socks are sure to plant you ahead of the competition in your local gardening association and make your day blossom with endless possibilities.
During your regular ritual of watering your house plants, make sure to put on these comfy Blue Q socks for houseplant lovers. They say "Proud Plant Mom" and they are perfect for a lady who loves to show off all her little green babies. Our houseplant socks collection doesn't stop, as we love to have as many fun socks available to our customers as possible!
Fern Socks
We are very frond of both our crew and knee-high fern socks, which are sure to put a smile on the face of every nature-loving sock enthusiast. Pull these comfy fern and fiddlehead socks over your feet, and picture yourself hiking through a lush PNW forest surrounded by thousands of sword ferns — unless you're driving, then keep your eyes on the road!
We hope you have enjoyed seeing some of our favorite plant socks, both new faves and old classics. So what DO you call flowers who are BFFs? Buds. ;)