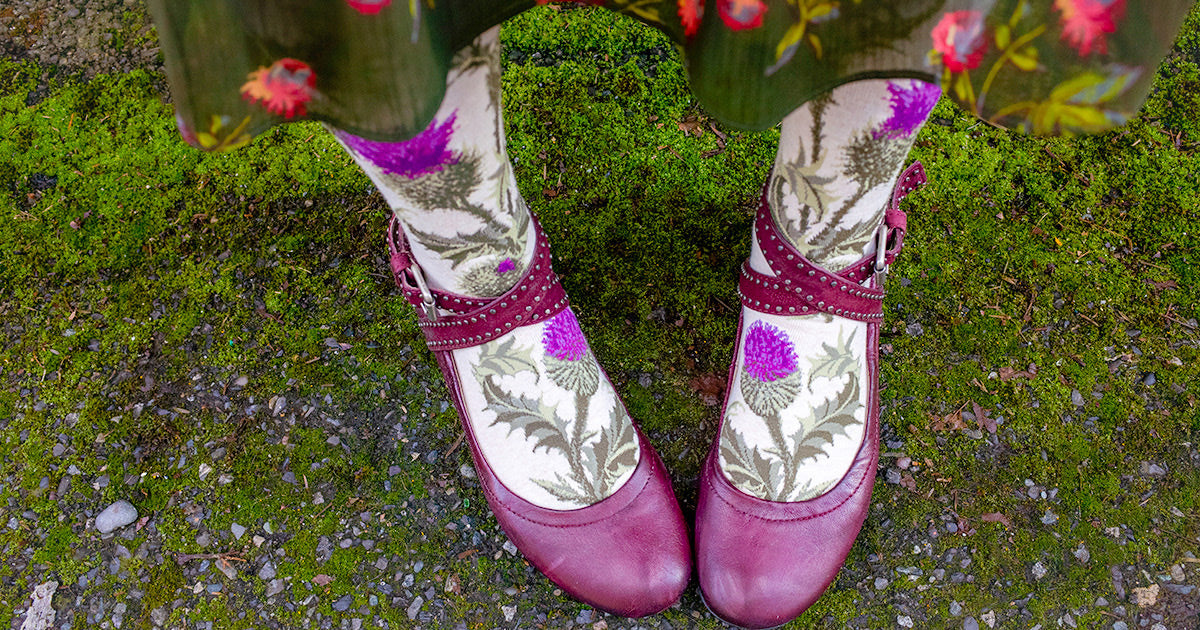 Celebrate your Celtic heritage in March and April with fun socks featuring the national plants of Ireland and Scotland: clovers and thistles! 
Shamrock Socks for Hibernophiles
March is Irish-American Heritage Month and features the popular Irish holiday, Saint Patrick's Day (March 17th). Saint Patrick himself is said to have used the shamrock in his teachings and he is often depicted with a cross in one hand and a shamrock in the other. Wear a pair of shamrock socks to honor the national emblem of Ireland (the clover) or display your Irish ancestry. The knee-high socks for women and the men's crew socks are both covered in gorgeous bright green clovers elegantly arranged on a dark green background. Wear a pair yourself or bestow them on someone you love as an Irish heritage gift!
Thistle Socks for Albaphiles
April is Scottish-American Heritage Month and Tartan Day is April 6th! What better way to observe this day and month and celebrate your Scottish ancestry than to make merry in a pair of thistle socks and a kilt? The thistle is the floral national symbol of Scotland and our thistle socks for men and women feature prickly green thistle plants with purple blossoms. They are available in a women's crew and knee high and a men's crew variant with argyle; any style would make the perfect Scottish heritage gift!
For even more fun flower and plant socks, check out our full floral socks collection.