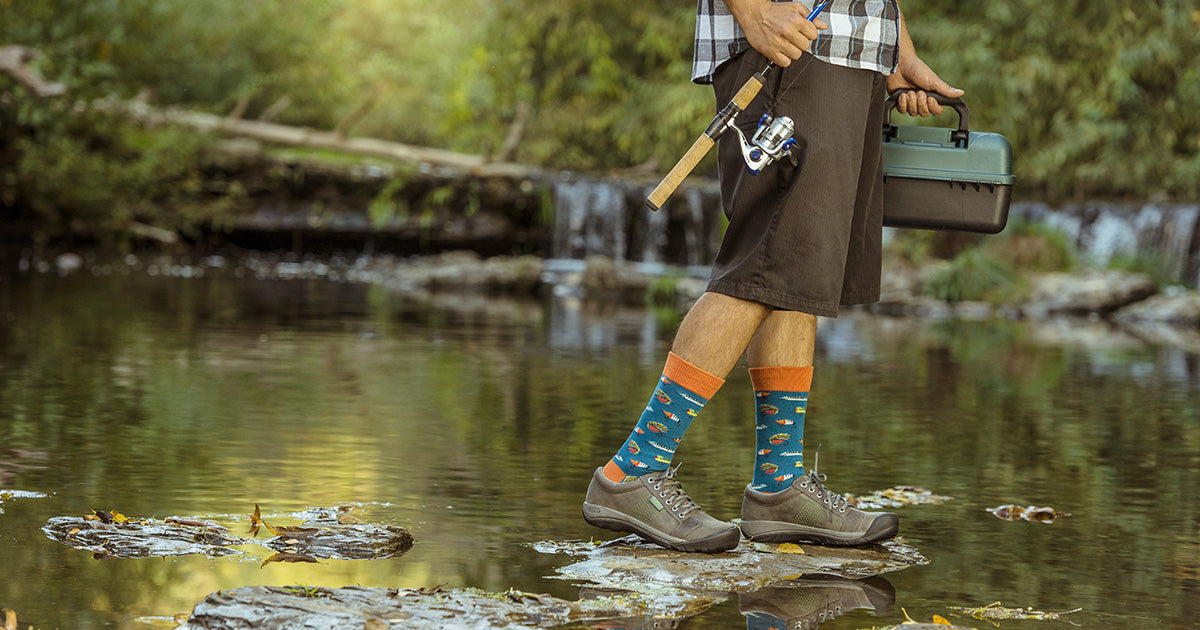 Something smells fishy here at Cute But Crazy and it's not our feet. . . It must be our collection of fish socks! Whatever floats your boat, we probably have it, especially when it comes to a fun assortment of socks for fishermen and fisherwomen. 
Catch of the Day!
Fishing lure socks are a great novelty fishing sock from the Socksmith brand. Decked out with retro fishing lures, these make a great wedding sock for men or a fun work sock for men. Now that we have lured you in. . .
Trout Socks
ModSocks' fish socks for men and fish socks for women are one of our newest designs, featuring cool rainbow trout! These fun socks are blowing the older styles out of the water, but if you happen to find a better fish sock then let minnow.
Salmon Socks
Not just for fishermen, our sockeye salmon socks for men and women can be seen swimming — errr, walking all over the Pacific Northwest. An iconic symbol for the PNW, salmon socks make a great novelty fishing gift.
Your friends will be calling you the catch of the day when they see you rolling up to the weekend sports fishing trip with these socks. Nothing tips the scales like landing a huge tuna or sword fish while out on the water, which is why we had to include these awesome fish socks from Socksmith.
Mermen Socks
The mermen on these socks will flex their muscles wherever you go. They are part man, part fish, but totally dreamy. The perfect funny sock gift for the mermen in your life, or for your friend who just won't ever get out of the bathtub. Our Mermen Socks from Sock It to Me will complement an ocean-themed wardrobe beautifully.