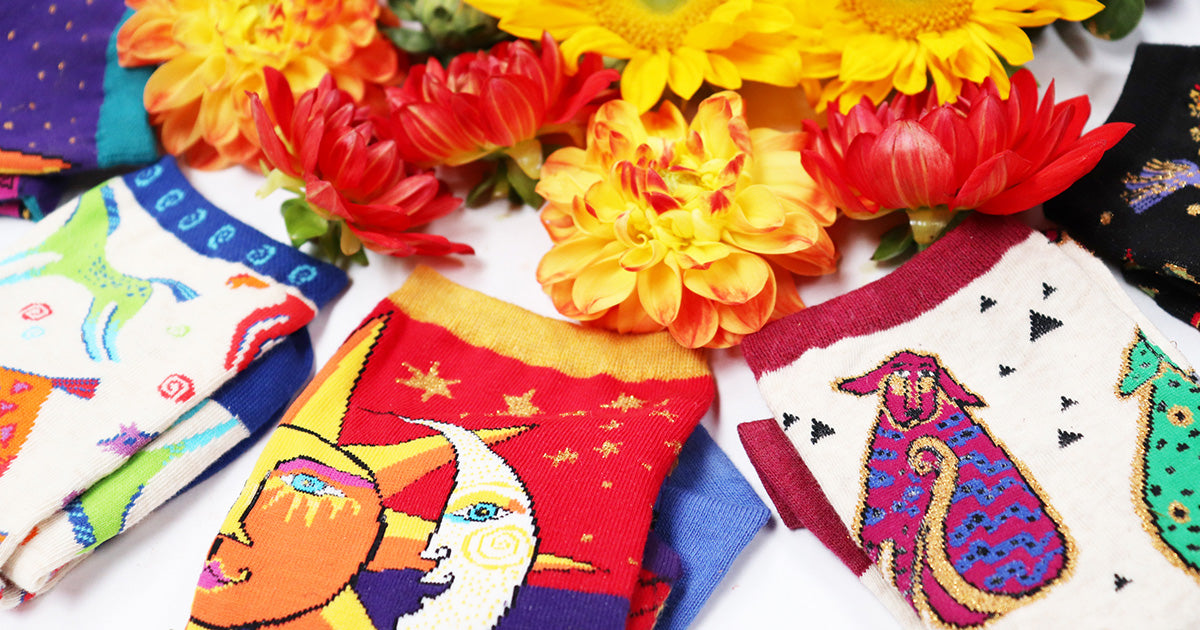 Known for her whimsical designs with animals and scenes of nature, artist Laurel Burch made a name for herself through her hard work and passion. We are proud to offer Laurel Burch socks with designs based on some of her most popular paintings and motifs. See everything we carry by visiting our Laurel Burch collection, or read on for our favorites, plus facts about the artist and her life.
Laurel Burch was born Laurel Anne Harte on December 31st, 1945. She was diagnosed with a genetic bone disease called osteopetrosis at age seven, which led to be frequent hospitalizations. She dropped out of high school and left home at age fourteen, eventually becoming a single mother by age nineteen. To make ends meet, she sold handmade jewelry on the streets of San Francisco that she made by hammering metal on the back of a frying pan. In 1971 Laurel signed a deal to begin to mass-produce her jewelry, which eventually led to a multi-million dollar business with Laurel's art being made into every object imaginable including jewelry, t-shirts, toe bags, coffee mugs, socks and more!
Laurel Burch Socks with Garden Flowers and Creatures
Laurel Burch loved representing nature and all its creatures in her work, and some of her earliest mass-produced designs were of dragonflies, butterflies and flowers. Celebrate Laurel's radiant take on the natural world in a pair of novelty socks covered in her sweet designs. Socks with butterflies and dragonflies represent growth, change and transformation. Hummingbird socks for women show vibrant hummingbirds and flowers that will prepare you for the beauty and color of spring. Wildflowers socks depict fiery blooms with metallic accents on a bright purple background. Wear a pair to make you feel like you're stepping into a magical patch of wildflowers, no matter where you are.
Amid all her success, Laurel continued to struggle with her osteopetrosis. Movements as simple as hugging someone or accidentally bumping into an object had severe consequences including frequently leaving her hospitalized. She broke over one hundred bones in her body during her lifetime. Throughout all this, she never stopped painting. At one point, she even broke her right arm, rendering her dominant hand useless. Ever-determined, she began learning to paint with the left one.
Cute Animal Socks by Laurel Burch
To Laurel, depictions of cats, dogs and other charming creatures were an expression of the pure joy that she sought to put into the world. Cats from her painting series "Fantastic Felines" became a signature of her work. These Laurel Burch cat socks for women feature funky indigo cats and butterflies with swirls of color and elements of gold glitter. If you're more of a dog person, we also have Laurel Burch dog socks! The Doggy Dog crew socks for women are covered in colorful pups wagging their tails.
Laurel Burch loved depicting all kinds of different animals, not just dogs and cats. Horse socks for women feature dancing horses in rainbow hues and are based on wild horses Laurel saw in Elk Canyon, Arizona.
Laurel Burch never wanted to create somber pieces that reflected her pain. Instead, she sought to create beauty and joy with her work. She said, "I want to share things in the world that lift people. I think that's what my jewelry and my art and all the things that I do is about. I want it to convey hopefulness and brightness and goodness."
Celestial Socks from Laurel Burch
Even on Laurel's darkest days, the light of the sun, moon and stars were always there to inspire her. Sun and Moon socks for women feature a stellar scene by Laurel Burch featuring the sun, moon, and glittering stars on a red and purple background. If you're a dreamer with your head forever in the clouds, these are the socks for you! Celestial rainbow socks also show a sun and moon but with the addition of rainbows and colorful shooting stars! Or for something more subdued, cosmic peace moon socks show a floral crescent in Laurel's signature style, surrounded by silver stars and the word, "Peace."
"I refuse to have anything in my life that I can't turn around into something magical and beautiful." — Laurel Burch